Join us for the 2019 College of Design Commencement Ceremony
Monday, June 17, 2019, at 4:00 p.m. on the Knight Library South Lawn (Southwest Campus Green)
Gather—by 3:30 p.m.—at the staging area between the Gerlinger Annex and the Knight Library for the processional. Wear your regalia and bring your name card.
Main University Commencement Ceremony
The main University ceremony is Monday, June 17, 2019. The university graduation celebration begins with an academic parade to the Matthew Knight Arena at 8:15 a.m. The UO Commencement website provides further details about this celebration, including information on ordering tickets.

College of Design Commencement Details
Commencement Speaker
Nate McCoy is the executive director, operations manager, and spokesperson for the National Association of Minority Contractors – Oregon Chapter (NAMC-Oregon), a trade association founded in 1969 to address the needs of minority contractors through advocacy, outreach and business support. McCoy is responsible for building programs that advance the organization's mission as well as resource development and streamlining operations. Prior to joining NAMC-Oregon, he spent seven years as a senior construction coordinator for both the Portland Housing Bureau and Prosper Portland.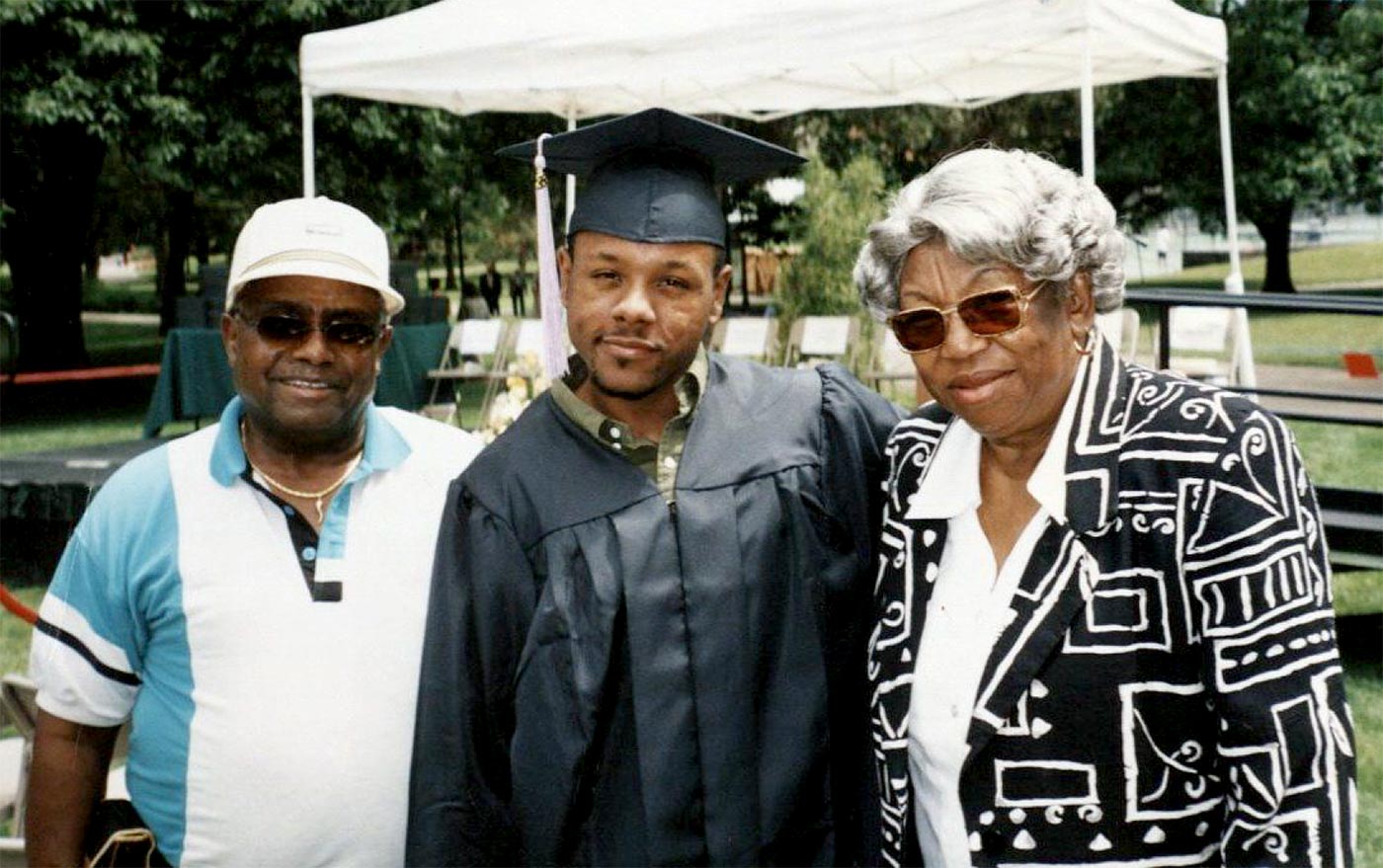 2019 College of Design commencement speaker Nate McCoy pictured at his own commencement ceremony.
Location
The College of Design ceremony will take place on the Knight Library South Lawn. We expect approximately 4,000 guests and seating is limited. No tickets are necessary for guest seating. There is a different college ceremony prior to ours, so guests should not arrive earlier than 3:00 p.m.

Parking
Parking on or around campus on Monday will be difficult and generally unavailable unless you have a permit. Free shuttle service is provided from the Autzen Stadium parking lot to the main campus. Guests with mobility needs or who require accessible transport may visit the accommodations and accessibility page for more information. See the UO Commencement and UO Campus Maps pages for detailed parking and location information.

Staging and Processional
Candidates for graduation are to gather at the staging area between the Gerlinger Annex and the Knight Library no later than 3:30 p.m. on Commencement day. Assemble in a single file line behind the sign labeled with your major/program. The student processional from the staging area will begin promptly at 3:45 p.m. Be prepared to follow the College of Design flag bearer, who will lead the procession in this order: Commencement speaker, dean, College of Design faculty, and graduates.
Pick up your preprinted name card from your major department during finals week in spring term. If you absolutely cannot pick up your name card prior to Commencement day, they remaining cards will be available at the staging area on the day of commencement starting at 3 p.m. Your name will be read aloud from this card. Make any necessary changes on this card. Write legibly and complete the phonetic spelling section if you feel it will help the reader pronounce your name correctly.

Regalia
Although regalia are not required, students are expected to wear caps and gowns for the ceremonies.

Reception and Refreshments
College of Design students along with their families and friends can find refreshments at any of the university's festival sites around campus. Guests, students, and faculty attending the College of Design Commencement ceremony are welcome to visit the Memorial Quad from 1:00 to 3:00 p.m. for refreshments. This is the festival site closest to the Knight Library South Lawn (Southwest Campus Green). The sites will be available all day for visitors to stop by, grab a bite and a beverage, and toast their graduate. Find festival sites and water stations on the commencement map.
What to Expect During the Ceremony
Promptly at 3:45 p.m., you will be guided to follow the College of Design flag bearer, who will lead the procession behind the Knight Library to the commencement site and student seating area. Please wait to sit until you are prompted.
After opening remarks from our dean and words from our speakers, graduates will be called by major and asked to stand. Commencement volunteers (wearing bright t-shirts) will direct you to form a line and proceed toward the stage. Hand your name card to the reader—your name and degree will be read out loud as you cross the stage, shake hands with the head of your department, receive your diploma cover, and have your picture taken.
After crossing the stage, follow instructions from commencement volunteers and return to your seat. After all graduate names are read, commencement will end with brief closing remarks, and you will be asked to "turn your tassel," meaning move it from the right to the left side, thus marking your transition from student to college graduate.
The ceremony is slated to run for about 2 hours, so please plan accordingly.

Special Accommodations
Limited seating will be available as a priority for ADA guests and secondly on an as-available basis. If you want to secure this seating, please plan to be at the ceremony site as early as possible after 3:00 p.m. If you require seating for an ADA accommodation, please contact Tiffany Benefiel at your earliest convenience. There is drop-off access for guests who are unable to walk to the ceremony site, or they can use the ADA-accessible shuttle service referenced in the "Parking" section above.
Contact Tiffany Benefiel, 541-346-3631, to request alternative formats of the printed ceremony program.
If you are a graduating student who needs special accommodations, please contact the Office of the Dean of Students at 541-346-3216.

Questions?
If you have questions about eligibility, program listing, etc. please contact your department. If you have general questions about the College of Design ceremony, please contact Tiffany Benefiel in the Dean's Office, 541-346-3631.