When architect-inventor-visionary R. Buckminster Fuller visited the UO in 1962, he was better known for developing the neo-futuristic geodesic dome than for his Dymaxion Chronofile, a project to document his life every 15 minutes. As he told a gathering at UO about why he devised the Chronofile:  
[What would happen] if somebody kept a very accurate record of a human being, going through the era from the Gay '90s, from a very different kind of world through the turn of the century. I decided to make myself a good case history of such a human being. …
    —Buckminster Fuller, Oregon Lecture #9, p.324, 12 July 1962, UO Summer Academy of Contemporary Arts
Five decades later, plenty of people besides Fuller had "kept a very accurate record" of his accomplishments, which included four visits to UO starting in 1953 to show students how to build his domes. Courses that Fuller taught during his residencies at Oregon foretold what UO's architecture program would become known for:  sustainability through building design, and innovative uses of structure and materials in architectural applications. "Truly functional buildings will soon take their place along with other advances in modern society," he predicted. "As automation takes over, Man will be necessary as a consumer, not as a physical worker," he said in the July 3, 1962, Register-Guard.

Above: Students from the School of Architecture and Allied Arts designed, fabricated and installed this geodesic dome in seven days in April 1953 under the direction of Buckminster Fuller. This and other Fuller dome images in this story are from the Building Oregon: Architecture of Oregon and the Pacific Northwest digital archive. The images were scanned from slides and catalog records.
Fuller's first "continuous tension-discontinuous compression" geodesic dome was constructed at UO in 1959 with the help of students, according to The Dymaxion World of Buckminster Fuller. Through classes, marathon design-and-build sessions, and lectures, Fuller expounded on his thinking about geodesic and tensegrity designs, working with students across disciplines at Oregon to build two domes on campus. Vestiges of one of these structures remain today: a foundation, now part of a parking lot, beside the canoe house north of Franklin Boulevard.
(Geodesic domes are comprised of a network of triangles forming a sphere. The tensegrity—or "floating compression"—dome is more complex, with the tensile and compressive members not touching. The classic geodesic dome can be built using tensegrity-based techniques.)
Fuller's initial 1953 collaboration with forty UO students resulted in construction of an 18 foot X 36 foot geodesic dome crafted from "essentially plywood scraps and a new plastic eventually called 'Mylar,' " recalled Professor Emeritus David Foster in an unpublished essay written for the 75th anniversary of the School of Architecture and Allied Arts. Foster was a graduate student and later faculty member who took an active part in Fuller's visits to Oregon. "DuPont flew it out to Bucky to use on the dome as a skin. We were all very impressed by the mystery of industrial secrecy," Foster noted.
Employing Mylar® at UO was the first practical use of the material, according to an April 8, 1953, article in the Register-Guard. "Not yet on the commercial market, mylar is very clear, dimensionally stable, very thin and tough, and has a high temperature range, according to Fuller," the newspaper reported. The material was used to illuminate sections of the UO-built dome, which used about 500 pieces of lumber no longer than four feet each. It was the first dome Fuller built from wood; previously he had used aluminum and plastics.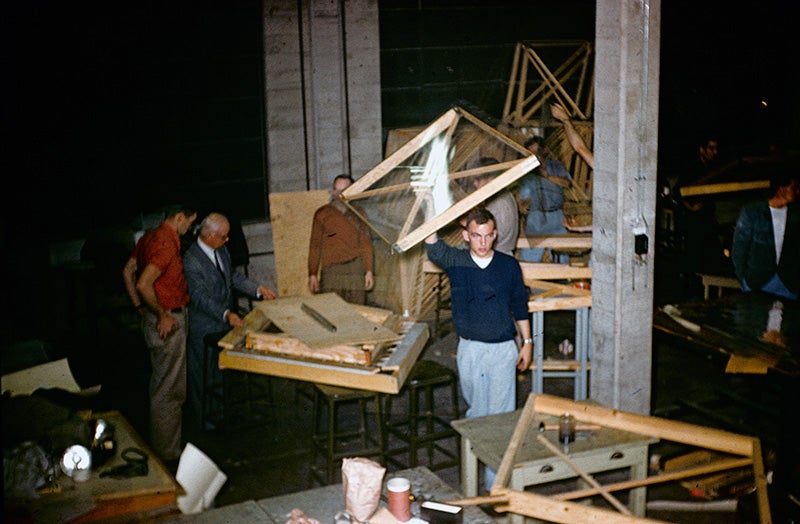 Above: Fuller and students worked late into the night in marathon sessions to complete the 1953 dome. 
To build the dome, the fine arts studios along Franklin Boulevard "were made into a factory to cut and form the many color-coded pieces of the complicated structure," Foster. "Most everyone for those ten days [was] on a twenty-four hour schedule and could be found during the very late or very early hours at a chili and beer eatery across from the railway station," Foster noted. "There was continuous discussion as to who Fuller was and what he was up to. The project was debated all over the place; Fred Heidels' Painting and Drawing Graduate Seminar invested considerable time on it. B. Fuller was fairly controversial in 1953."
Fuller had designed his first commercial dome in 1953 for the Ford Motor Company headquarters in Dearborn, Michigan. That same year he applied for a patent on the geodesic dome, a patent approved in 1954. That UO was able to lure him to Eugene for nearly two weeks during this time was a major coup due in large part to Foster.
Foster had first met Fuller at the New Bauhaus in Chicago, where he had had "many opportunities to hear and work with Bucky so that I felt fortunate in having another chance to work with him" at UO, Foster wrote. Sculptor Kenneth Snelson, a student of UO art professor Jack Wilkinson, had also met Fuller previously, at the avant-garde Black Mountain College in North Carolina. "Snelson fabricated the first model of Fuller's tensegrity concept after hearing Fuller lecture at Black Mountain," Foster noted. 
Fuller's work with students at UO garnered plenty of media attention. "Fuller is trying to bridge the gap between light airplane construction and normal construction," the April 8, 1953, Register-Guard article reported. He theorized that a spherical structure such as his dome "is particularly good for withstanding high external pressure and low internal pressure or reversed conditions. This would be particularly valuable in case of an atomic bomb blast," the paper reported.

Above: Buckminster Fuller, center, works with UO students to cut wood sections for the 1953 dome. It was the first dome Fuller built from wood and Mylar®; previously he had used aluminum and plastics.
Foster realized that the experience of UO students working with Fuller, given his national reputation, was history-making so took it upon himself to film the proceedings—sometimes rather precariously. A student named Plymate, "who was the student procurement manager on the [1953] Fuller project, responded to my request to get a shot over the top of the dome from the air," Foster recalled, so the pair rented "a small plane for $6 an hour. Plymate had a pilot license and away we went. We were very quickly over the dome, some 1,000 feet I guess. I told him I wanted to get 'on center' with the camera. The dome was flashing in the sun like a diamond, we were both intoxicated by the sight.
"He put the end of a wing on the center of the dome and proceeded to turn 360 degrees. I filmed straight down. We were turning on the center! We both suddenly realized that the dome was getting very large. Plymate [shouted], 'LET'S GET OUT OF HERE!' We leveled off at the tips of the poplar trees in front of the sawdust pile [across the Millrace]. Landing gear tickled the treetops as we settled toward the river. The engine was sputtering. While the wing was on the dome, all the gas from one tank had drained into that wing tank and when we leveled off, the tank being used was empty. Plymate quickly realized what had happened and in a second had turned the valve to the other tank on … in the nick of time the engine took hold and we slowly climbed up and out from the river. [Plymate] was cool, thank God he was cool."
Foster also turned his camera on more pedantic scenes. "I filmed 6,000 feet of 16mm film and recorded twenty-eight hours of Bucky's public, class lectures, and impromptu discussions," he said. All the documentation was paid for by Fuller so went home with him, except a copy of the twenty-eight hours of lectures and discussions that Foster shot. 

Above: During his visits to Oregon, through classes, marathon design-and-build sessions, and lectures, Fuller worked with students across disciplines to build two domes on campus. This 1953 version included the first use of Mylar®. It was also the first dome Fuller built from wood; previously he had used aluminum and plastics.
UO art Professor C.B. Ryan, who actively supported the dome-building efforts on campus, was so impressed by the value of Fuller's design that he built a geodesic barn on his property in Pleasant Hill. "Everyone will remember C.B.'s office filled with many models of frequency explorations that he was continually fabricating," Foster noted.
After leaving UO to teach elsewhere for a few years, Foster returned in 1958. "The school was entering a time of exciting change and growth. The faculty felt it, the students felt it," he wrote. "We were making books, films and slide presentations dealing with the growing anxiety over the 'Atom Bomb' as it was known then, the Korean War and 'Brainwashing.' "
The changes on campus were mirrored elsewhere in society, including the emergent focus on ecology, which spurred renewed interest in Fuller's domes. Fuller returned a third time to UO in 1962 to assist students in constructing "a large tensegrity sphere," wrote Foster, who shot more 16mm footage of the process. "Bucky made a big hit with the community at large during his public lecture and charmed his audience during an extended lecture of impromptu insights."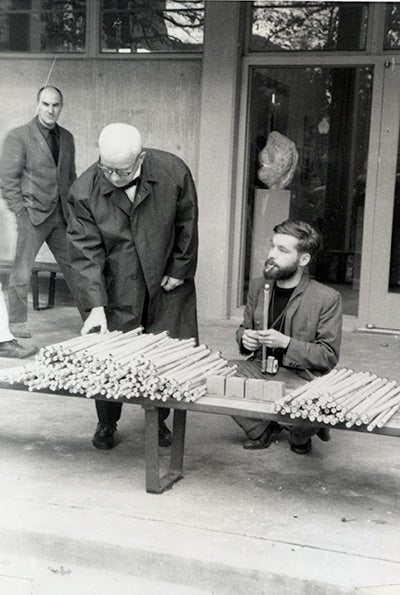 Above: Fuller helps a student organize struts during the 1959 construction of a dome on campus. Photo courtesy George Okamoto.
Emeritus Associate Professor of architecture Don Peting remembers a Fuller lecture during Fuller's 1972 visit to UO. The lecture "was very, very, very long. I enjoyed his making up words," said Peting, noting an attribute that Fuller was known for (among many words and phrases, he coined the term "spaceship Earth"). Peting also appreciated a "unique, special" mannerism of Fuller's during a lecture:  "He would stop when he came to a key point and put his hand on his bald forehead with his fingers extended, and stand there about two minutes, then he would rattle off about forty more minutes of discussion, then stop two minutes with his hand on his forehead. …" 
Peting lent assistance during Fuller's 1972 visit to UO when students, led by Professor John Briscoe, completed the "Transpostructure," a portable arts pavilion based on Fuller's concepts. The 2,000-square-foot tension structure was designed to be erected by a handful of people in a few hours, then disassembled and trucked to the next venue. 
"The idea was to have it tour the state to display artwork and spread information about the quality of fine arts at the [Jordan Schnitzer Museum of Art]," Peting said, with the structure acting as an art gallery and a setting for workshops and lectures for the museum's statewide services. Plans and specifications were also to be made available to other museums, schools, and community agencies nationwide.
Peting notes that, "The structure was gorgeous, and the concept sounded terrific, but it took people with some skill to put it up, and it wasn't easily transported even though it was named the Transpostructure. It finally turned out that it was better to have an events outfit just put up a tent. But people learned from the experience."  
The legacy of the 1950s UO dome projects, however, was longer lasting:  The foundation of the dome built for use as a studio is still extant beside the canoe house across Franklin Boulevard, Peting says. 
"If you get there before people park their cars on it, you can see the concrete pad that [the dome] rested on. It's a little vestige of the time," Peting said. "For years [the dome] was the sculpture studio for fine arts, but it got to leaking so badly from deferred maintenance that they finally took it down" in the 1980s.
Geodesic domes today number more than 300,000, according to the Buckminster Fuller Institute (BFI), ranging from children's play structures to radar installations at the Arctic Circle.
Also according to BFI, when chemists discovered, after Fuller's death in 1983, that the atoms of a recently discovered carbon molecule were arrayed in a structure similar to a geodesic dome, they named the molecule "buckminsterfullerene."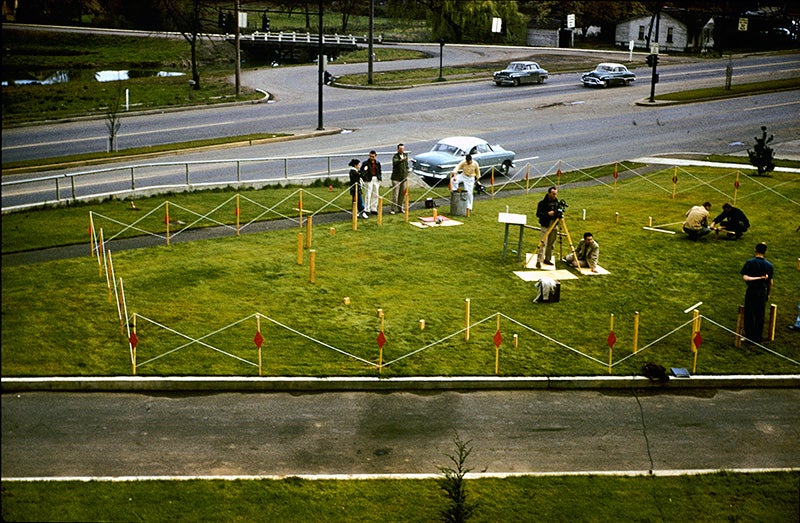 Above: Students stake out the perimeter of the 1953 dome.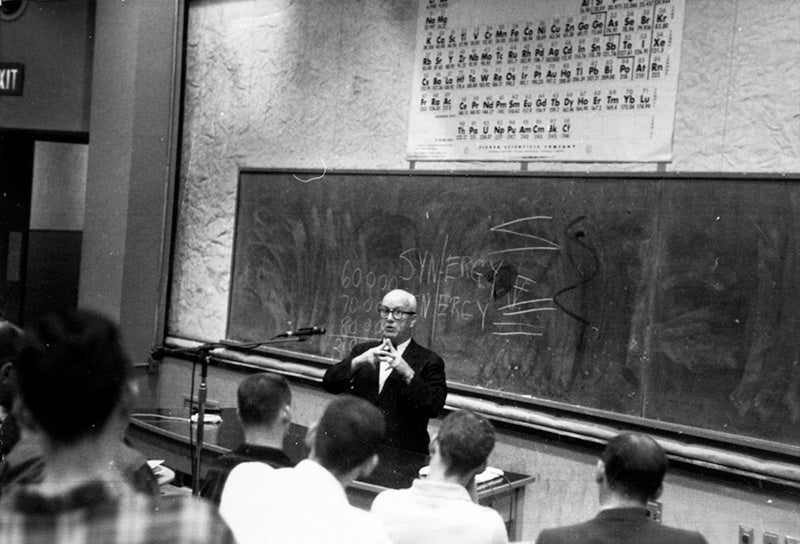 Above: Fuller addresses students during his visit to Eugene in 1959. Photo courtesy George Okamoto.