bachelor of arts '73
Love of fieldwork drives his expertise
Robert Ousterhout has come a long way since his undergraduate years at the University of Oregon. An international career track led him across the Mediterranean, where he's become a world-renowned expert in Byzantium architecture and art history. Today he serves as Director of the Center for Ancient Studies at the University of Pennsylvania, dividing his time between teaching during the school year and summers at his second home in Istanbul, Turkey.

Ousterhout received his bachelor of arts degree in 1973 from the University of Oregon and worked as a commercial artist for a few years, but an abiding interest in Byzantine archeology, art and architecture – and the opportunity to work in Turkey – sealed the deal for his career pathway. Now on the History of Art faculty at Penn, he teaches courses in Byzantine art and architectural history. His field research deals with the documentation, interpretation and restoration of the vanishing architectural heritage of the eastern Mediterranean.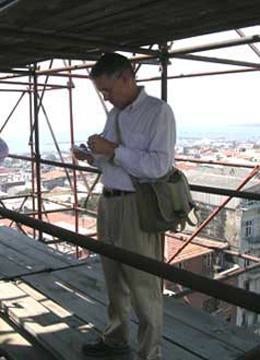 Ousterhout's career path took shape at the University of Illinois at Urbana-Champaign, where he received his Ph.D. He taught briefly at Oregon in the early 1980s before being called back to Illinois, where he served as Professor of Architectural History for more than 20 years. He joined the faculty at Penn in 2007.
His interest in the eastern Mediterranean decided his future. He has surveyed and excavated sites in Greece, Turkey, and Israel, but Istanbul continues to draw him back. "The history, the city surrounded by water, the food and big city hustle and bustle all appealed to me," Ousterhout commented. "I knew I couldn't just work in a library. I needed fieldwork, and I began working directly with the documentation of monuments. I've since also discovered the wonders of working in rural Cappadocia."
Ousterhout's urban fieldwork focuses on Byzantine architecture and monumental art in Constantinople and Cappadocia. His scope ranges from projects such as restoring ancient churches in Istanbul to documentation and analysis of settlements in Cappadocia. Located in a pastoral area of Turkey, Cappadocia has been appreciated since Biblical times for its striking natural beauty, in particular the "moonscapes" of caves, clefts and soft folds in the volcanic rock.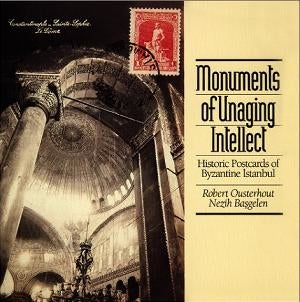 Ousterhout's research has culminated in both scholarly books and museum exhibitions. In September 2010, he helped curate an exhibit at Penn entitled "Archaeologists and Travelers and Ottoman Lands," which features an excavation at the ancient city of Nippur in present-day Iraq. The exhibition – which connects the beginnings of American archaeology to the Ottoman Empire – will travel to the Pera Museum in Istanbul in October 2011.
Additionally, Ousterhout's renown for Byzantium scholarship has gained momentum with numerous books, including The Byzantine Monuments of the Evros/Meriç River Valley in 2008, A Byzantine Settlement in Cappadocia in 2005, Master Builders of Byzantium in 1999 and The Architecture of the Kariye Camii in Istanbul in 1987, as well as a variety of edited volumes and exhibition catalogues.
Ousterhout also serves as Chair of the Graduate Group in Art and Archaeology of the Mediterranean World at Penn and Chair of the Graduate Group in the History of Art. As a part of these duties, alongside his research in summer 2011 he'll conduct a landscape studies workshop in Cappadocia for his graduate students.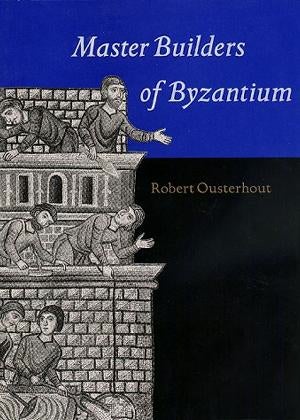 Over the years, Ousterhout has garnered numerous awards for his teaching and research. At UIUC, he was honored as University Scholar (1992-95), Outstanding Faculty in the College of Fine and Applied Arts (1991, 2002), and Associate at the Institute of Advanced Study (1993-4, 2006). He has also held Fulbright and Dumbarton Oaks fellowships and was elected president of the U.S. National Committee for Byzantine Studies (2002-06).  Most recently he received the alumni achievement award from the School of Fine and Applied Arts at Illinois.
But one of the more unique highlights of his career was being asked to go on the "Martha Stewart Show" to host her tour of Cappadocia, shown as part of her "Adventures in Turkey" series. "She was looking for specialists to travel with and somehow found me," laughs Ousterhout of the experience. "I ended up accompanying her on a hot-air balloon ride over Cappadocia, which was a little surreal." A clip from the program – with ample close-ups of Ousterhout pointing out to Stewart dramatic sights from the air – is at http://www.marthastewart.com/271450/cappadocia-by-balloon.
Ousterhout isn't about to let his moment as a television star go to his head. Teaching and conducting fieldwork, he insists, will always be his passion.
"I think the most rewarding aspect of my career is just that I haven't gotten bored yet," he says. "Until I retire, I'll still teach and continue to do fieldwork and research."