master of arts '89
Art history alumnus puts focus on art, erotica as Kinsey Institute curator
When Catherine Johnson-Roehr was offered some boxes of early-20th century condoms, she knew exactly what to do with them: add them to her collection.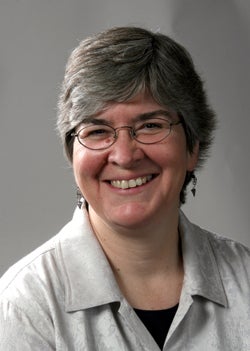 Above: Catherine Johnson-Roehr. Photo by Herbert Ascherman.
Her collection includes more than 7,000 sex-related items spanning 2,000 years, plus 48,000 photographs. They're part of The Kinsey Institute for Research in Sex, Gender, and Reproduction – yes, the very institute infamous for its revolutionary 1940-50s studies of sexuality, including the landmark 1948 publication of Sexual Behavior in the Human Male.
Johnson-Roehr, a UO art history alum, has been the curator of art, artifacts and photographs at the institute at Indiana University since July 2000. As curator, she preserves, maintains, and provides access to a unique collection of fine art, photographs, sexual health materials, and commercial and amateur erotica. She organizes public exhibitions, manages requests from researchers and the media, and works with donors to expand the collection.
A graduate of Tillamook High School, Johnson-Roehr earned a bachelor's in sociology ('80) and a master's in art history ('89) from UO. Although initially interested in curatorial work, she worked for nine years in libraries due to the scarcity of curators' positions. At the Lilly Library at Indiana University, she worked with a collection that included illustrated books and illuminated manuscripts, "so I was able to continue my interest in art but within a library setting. When the curator position opened at Kinsey I saw it as a chance to go into actual curatorial work."
At Kinsey, she's been able to merge her interests in art and history with a topical overlay she didn't necessarily expect to employ. "When I came to Kinsey I certainly expanded my knowledge of what was photographed," she notes, deadpan. And the job had a unique learning curve. "I admit I focused more on American landscape painting with my art history degree – I couldn't claim to have lots of experience working with erotica," before coming to work at Kinsey.
At Kinsey she has organized a variety of exhibitions including "Nature & Nurture: Exploring Human Reproduction from Pregnancy through Early Childhood," "Pre-Revolutionary Queer: Gay Art and Culture Before Stonewall," and "Eros in Asia: Erotic Art from Iran to Japan." Other exhibitions have focused on pulp fiction, comics and Japanese pillowbooks.
Her publications include Documenting Sex: Ceramic Art and Artifacts from the Collection of The Kinsey Institute and Sex and Humor: Selections from The Kinsey Institute. She also has edited several exhibition catalogs, including Sex and Humor and Feminine Persuasion, and recently published an article on the Kinsey Institute photography collections in Visual Resources.
One of her key accomplishments at Kinsey has been developing the gallery, which when she arrived was a static display with little promotion. "Over the past decade we've really opened it up and expanded that program so now we have three to four shows a year and a big juried art show on campus."
One of her ongoing goals is to encourage and provide access to the many resources the Kinsey Institute offers, aided by the institute's having "become less secretive" in recent years.
"Now anyone can pop in and take a self-guided tour. The faculty has begun using it as a resource for their classes in museum studies, journalism, human sexuality, psychology. We're doing research ourselves plus we make information – research, links, and other resources – available to filmmakers, artists, faculty, students, just anyone with research needs. And we have an amazing library."
She also does outreach, for example taking a collection of first-edition Oscar Wilde works to an English class studying symbolism.
In addition to its mainstream website, the institute's second official website, Kinsey Confidential, "is more fun, more youthful in focus," Johnson-Roehr says. "We want people to be aware we're a place to go to get really reliable information about sex and reproduction," she says. But the emphasis goes beyond sex. Recent features include a piece entitled "Loving Your (Fat) Body is Good for your Health," stories on sexual assault issues, and gender equality discussions. It includes Q&As as well as links to podcasts, Twitter, Facebook and YouTube.
The institute also provides "a safe haven" for items people might inherit or find but don't want necessarily to keep.
"Our collection – as broad as it is in size and scope – is almost entirely built through donations. We're at a public university so we don't have resources to allow us to purchase artifacts or art," she notes. "If people have materials that relate to sexuality, gender-reproductive issues, sculpture, novelty toys, fine arts and prints, and so on – if they have something they don't want that they'd like to see someone preserve for research, we're a home for that."