master of arts '12
'Odd objects' guide Kreskey's curatorial instincts
The mere mention of surgery in the nineteenth century may conjure up grotesque images of gore and negligent doctors, but this is one myth that one University of Oregon graduate of the Department of the History of Art and Architecture wants to debunk.
Faith Kreskey wrote and conducted extensive research for the exhibition No Harm Intended: A Medical History of Lane County, which studies the county and its medical history through medical devices and cures from 1840 to 1940. The exhibit is on display until March 31 at the Lane County Historical Museum (730 W. 13th Avenue, Eugene), where Kreskey now serves as exhibits curator.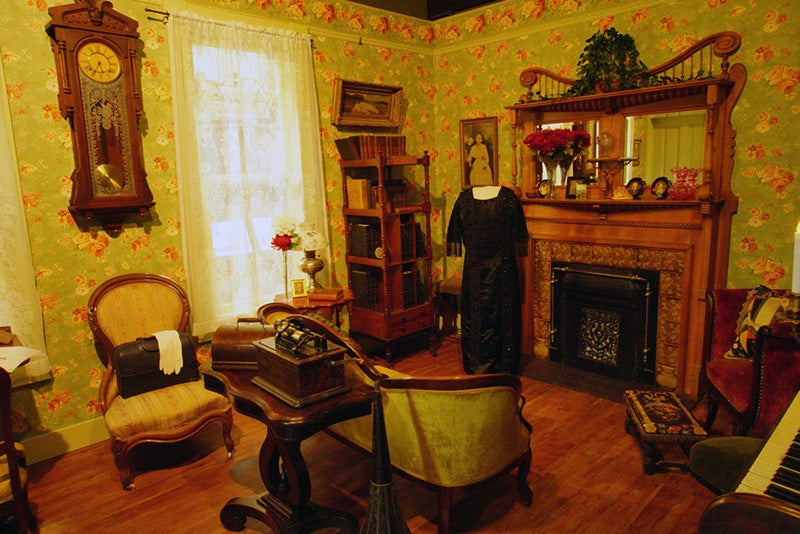 Above: A recreation of the parlor of Eugene doctors Alma Anderson Cannon-Miller and Colbert Hanchett Cannon. Photos courtesy Faith Kreskey.
"That time period covers some of the biggest changes in American medicine," says Kreskey, MA '12. "Medical practices of the past are often dismissed as simply wrong-headed, but I wanted to present a more comprehensive view that provided context for the decisions medical professionals made."
Her research for the exhibition began by looking through the museum's collections to locate materials related to the county's medical history. In doing so, she found a life-size anatomical teaching mannequin made of chromolithographed paper that other museum employees had never seen.
"I have let odd objects or unusual subjects guide my curatorial and research choices, and I am quite proud of my ability to follow through on slightly offbeat ideas," says Kreskey. "Things that are unusual or odd spark the imagination. It creates a view of the past as something that was vibrant and alive."
The historical museum has a collection of some 50,000 photographs and more than 10,000 objects. Mari Baldwin with PeaceHealth Laboratories facilitated the loan of medical equipment from the 1930s and '40s to the museum, which enabled Kreskey to include a component in the exhibit about testing and laboratory science.
Kreskey, a Reedsport native, says much of the museum's collection of medical equipment and ephemera had not been displayed before.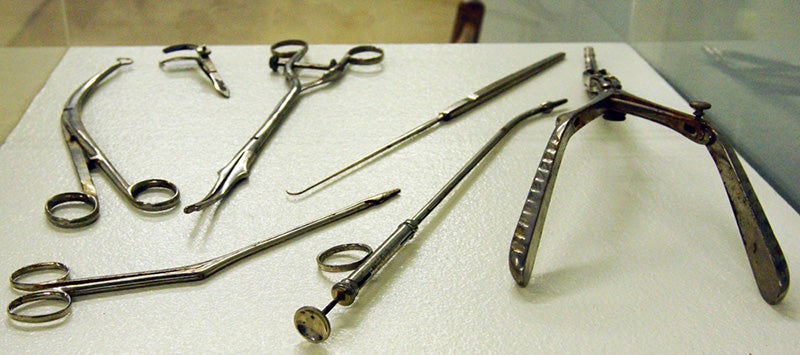 Above: A selection of surgical tools from the late 19th and early 20th century.
Akiko Walley, Maude I. Kerns Assistant Professor of Japanese Art in the UO Department of the History of Art and Architecture, was Kreskey's primary thesis advisor. She says Kreskey's contribution to this little-known subject of Lane County's medical history is significant.
"In addition to being informative, I thought the exhibition was wonderfully well-paced and the objects on display fascinating," says Walley. "It is such a rare experience to go through an exhibit, think of a question reading a text panel, and have that very question answered in the next panel."
Anne Rose Kitagawa, the Jordan Schnitzer Museum of Art's chief curator of collections and Asian art, supervised Kreskey during her internship at the JSMA. She eagerly toured Kreskey's exhibition at the historical museum shortly after it opened.
"In a relatively short time and without a huge staff or budget, Faith was able to present the collections and ideas in an engaging manner that will effectively help visitors to better understand the context and development of medical care in Lane County," says Kitagawa.
She adds, "I think that No Harm Intended is a spectacular consideration of a fascinating topic and that the historical museum's display has never looked better. I am so proud of the terrific job that Faith did preparing the exhibition and can't wait to see what she chooses to focus on for her next project."
Dr. Lee Michels, a retired radiologist based in Eugene, said No Harm Intended offers interesting context for the development of medical advancements.
"It was fascinating to me to be reminded of the technological progress of medicine," says Michels, who had previously worked with Kreskey when she helped catalogue his collection of Japanese prints. "There was quite a bit of enthusiasm for electro-magnetic shocking, which has fallen completely out of favor. [The exhibit] really talks to medical enthusiasms. … You can understand back then how the scientific method wasn't something that was regularly applied to medicine."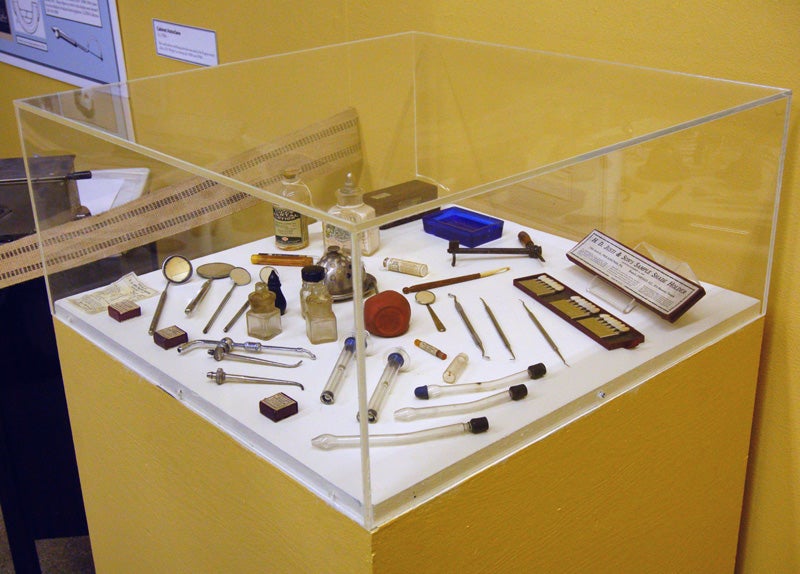 Above: Dental tools from the early 20th century.
Kreskey's role as exhibits curator at the historical museum puts her in charge of creating the museum's exhibition content, including research, writing, graphic design, and installation.
"I really enjoy this job because it involves so many different aspects of museum work," she says.
This is Kreskey's first large-scale exhibit. Along with her work at JSMA, she served as gallery assistant at the White Lotus Gallery in downtown Eugene. At UO, she was awarded a Laurel Internship at the JSMA, where she worked from fall 2011 through spring 2012, when she graduated with a master's in art history. From fall 2012 to spring 2013, Kreskey selected prints for a JSMA gallery rotation titled Impressions from the Vault: The Rare, the Beautiful, and the Bizarre. This was the focus of study for hundreds of UO students taking Japanese art history classes.
Lane County Historical Museum Executive Director Bob Hart is pleased with Kreskey's performance in her role at the museum.
"Faith has brought a new level of energy and professionalism to the museum," he says. "I look forward eagerly to her next exhibit production. In a word, she's awesome."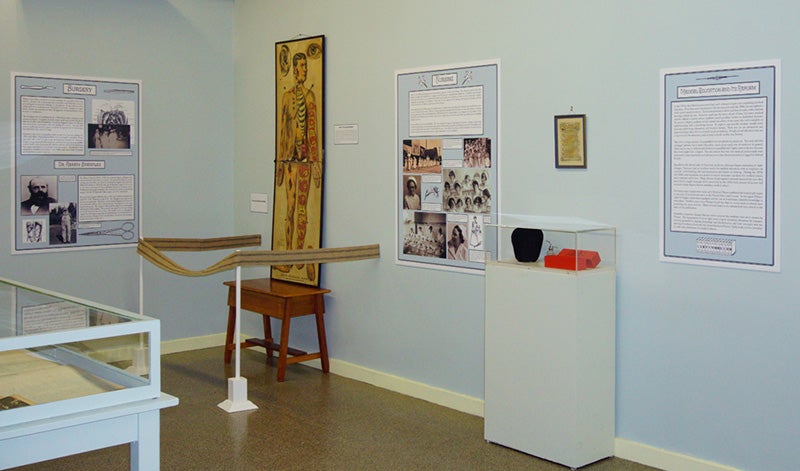 Above: A view of one section of the exhibit, including a life-sized paper anatomical teaching aide.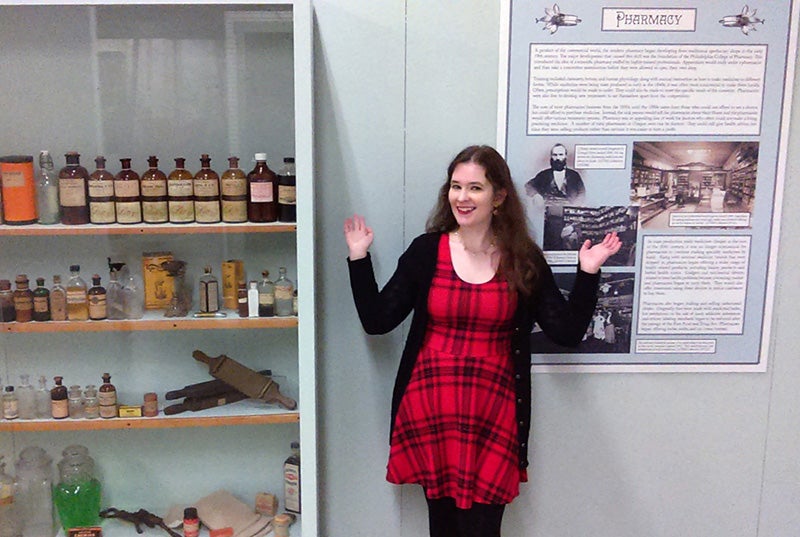 Above: Faith Kreskey stands with the pharmacy section of No Harm Intended.