master of science '08
Arts and Administration grad shares her love of the arts with the community
Betsy Bostwick says she has the best job in the world. As public art manager at the Clackamas County Arts Alliance, Bostwick is able to bring her enthusiasm for art into the community everyday. "I just love telling people what I do," she said, and when she does, it opens their eyes to the public art all around them.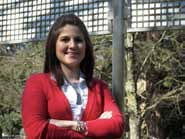 Bostwick, a 2008 graduate of the arts and administration (AAD) program, selected the UO because of its all-encompassing arts engagement and its emphasis on the business side of the arts, not the arts side of business. Other programs she considered were housed in the business school, she said. And she was inspired by the department's mission to educate cultural leaders in the community. "When I looked at a list of classes," she said, "I wanted to take all of them."
The program exposed her to a broad range of arts, something she felt was lacking in other programs. "My time in AAD got me to appreciate other types of art that I hadn't pursued when I was younger," she said, such as attending the symphony. "It's not just my own little world of public art." An undergraduate musical theater major from the University of Wisconsin-Green Bay, Bostwick concentrated in community arts management at UO.
For her master's thesis, "Going Green with Public Art," Bostwick reviewed environmental standards in public art policy, a research topic that she said has largely been unexamined. With encouragement from her advisor, Professor Doug Blandy, she drew upon two lifelong interests that she attributes to her parents: her mother was a music teacher and her father, a member of the Sierra Club. Her expertise on the topic was one reason she landed her job, she said, since Clackamas has a commitment to sustainability. All artists must address it in their project proposals.
As public art manager, she manages programs for local artists to exhibit in public buildings and organizes committees for the vision and selection of public art. At each step she involves community stakeholders, such as residents, business owners, and architects, because, she said, "we take the public part of public art very seriously."
Originally published in the A&AA Review, Fall 2009