bachelor of arts '98
Finds niche at Sports Illustrated
Visual artist and UO alumnus John Jaxheimer has crafted a niche in his hometown of New York City with jobs including photo editor, graphic designer, creative director, creative brand consultant, and startup founder. His images have appeared in Sports Illustrated, Vanity Fair, Town & Country, Vogue, Elle, and elsewhere.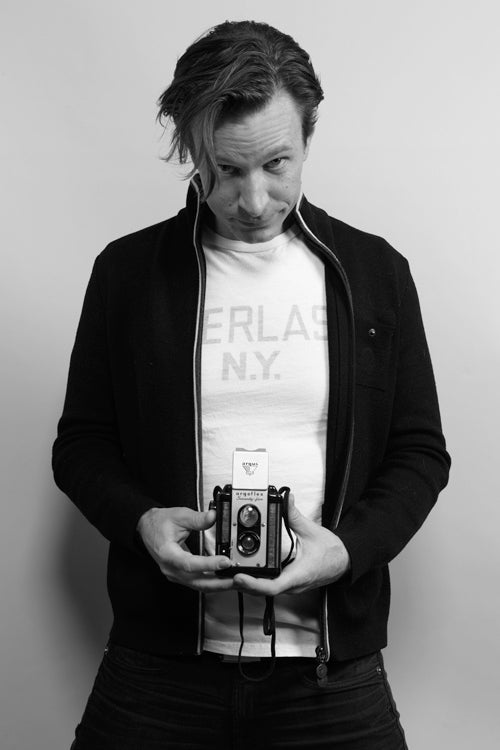 Above: John Jaxheimer. Photo by John Jaxheimer.
Born and raised in New York, Jaxheimer says he chose to attend the UO for the school's broad range of strong programs. He began as a law major, switched to creative writing, and by his junior year settled on art history. "For the first time in my life I was enjoying every class in which I was enrolled. I learned more about history, religion, various cultures, and art then I ever expected was possible in two years," he says. "Art history was the key that unlocked the door to my career."
After graduating from UO, Jaxheimer returned to New York City and was hired by the Robert Miller Gallery. "I was amazed they would let a 21-year-old kid run around the city with Georgia O'Keefe paintings tucked under his arm, or inventory the entire Robert Mapplethorpe estate. … It was as if my class books had come to life in the palms of my hands."
That job introduced him to photographers and artists who worked as referrals for other work, including an internship at Rolling Stone. "My first assignment there was going through the archives in search of prints, negatives, and contact sheets of that year's Rock and Roll Hall of Fame inductees. This may have been the best non-paying job I've ever had—being granted access to the Rolling Stone archives was like striking gold and winning the lottery simultaneously."
Before long he was offered a paid job at Rolling Stone, working his way up to senior designer in the Creative Services department where he developed creative products for such brands as Coca-Cola, Nissan, Chevy, HBO, DirecTV, Apple, AT&T, Canon, HTC, Miller Lite, and roughly 70 others.
He moved on to Sports Illustrated, where his work involved overseeing all creative promotion and marketing of SI properties and brand extensions, including Sports Illustrated magazine (including the annual "Sportsman of the Year Award" and "Swimsuit Edition" issues), Golf Magazine, Golf.com, SI.com, SI Kids Magazine, SI Video, SI Books, SI Mobile, SI Experiential Marketing, social media, and custom presentations.
"In retrospect, art history was a great foundation for my career path, although I didn't realize it at the time," Jaxheimer says. "Understanding composition, symbolism, and visual communication as it relates to a variety of mediums has proven invaluable."
Jaxheimer remembers two UO professors in particular as influential to his work: Tracy MacEwan, fine art photography, and Sherwin Simmons, art history, who introduced Jaxheimer to Dadaism. 
While Jaxheimer has played a significant role in many branding and creative initiatives at SI, with his help, SI also successfully launched a campaign to promote swimsuit apps for the iPad and other devices.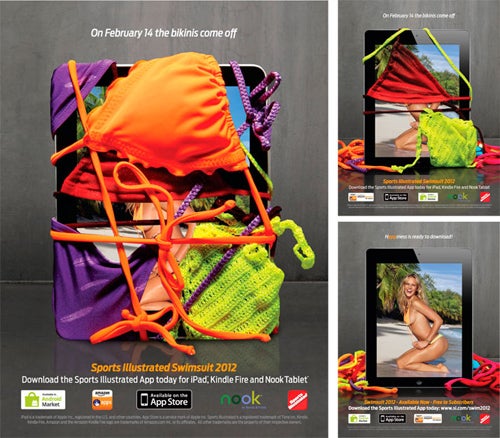 Above: Jaxheimer conceptualized this sequence of three ads.
Aside from his SI projects, Jaxheimer says he is particularly pleased with "La Prochaine Fois," the short video made for Pret-A-Surf in 2011. "We had planned for (and scouted on) a beautiful summer day but were greeted in the morning of the shoot with a heavy mist, forcing us to adapt the entire look and feel on the fly," he says. "What we ended up with was great because we wanted a dream-like vibe."
While Jaxheimer has always primarily been drawn to photography, digital technology sparked his interest in using video as a medium.
"The way in which we view and consume content these days has shifted to be more focused on video than ever before, so this adjustment is also driven by necessity," he says.
In addition to photography, he produced and directed short films and brand videos. New York presents an endless stream of ideas, he says. "Inspiration comes from all around and can hit at any time – walking around, riding the subway, cooking."
For Jaxheimer, New York has always been home. "No matter where you live, you have to get out every now and then, or you'll lose your mind," Jaxheimer said. "I love living in, leaving, and returning to New York City."