Bachelor of landscape architecture '62
Eugene's parks, performing arts center among Ed Smith's significant legacy
The city of Eugene, Oregon, can thank Ed Smith, BLA '62, for its first-class parks system, including numerous community centers, pools, and trails. But the city's cultural legacy also is beholden to Smith's service to the City of Eugene.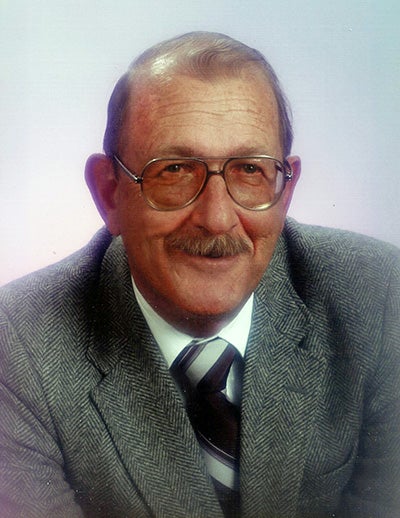 Smith's dedication to Eugene started at the University of Oregon, but that was long before he set foot on campus as a student. At age 10, he lived with his mother over what today is the UO Bookstore; back then, it was the Lorayne Studio of Beauty, his mother's shop.
Smith grew up skating on campus sidewalks, canoeing and swimming in the Mill Race, playing sports on campus fields, and attending junior high in today's Agate Hall and high school in what is now the College of Education. But it would be a while before he'd leave campus with a college degree.
He worked in a Texaco lab in Wyoming for a year after high school, returning to enroll at UO in 1952. In 1953 he was drafted for the Korean War. He spent the next two years in the Army as a company clerk, where he became known for the ocelot cat that paced on his desk during the day.
He was back in Eugene by 1955, and in 1962 graduated from UO with a bachelor's degree in landscape architecture. Along the way he'd acquired a wife and produced three children (a fourth would follow). Immediately after graduation he spent a year designing landscapes, freeway interchanges, and rest areas for the Oregon Highway Department, and became acquainted professionally with Oregon's state parks system. 
In 1963, he accepted a position with the City of Eugene Parks Department as its first full-time landscape architect, a job that would lead down a long path of civic service to Eugene.
"Anyone looking for an example of government taking meaningful long-term action need look no further than [Ed] Smith's service to the City of Eugene," friend and colleague Henry Dizney wrote in a letter to The Register-Guard after Smith died in November 2014. "Imagine Eugene without its first-class parks system; the Hult Center for the Performing Arts; our swim and gymnastics centers; the many programs for the young, the old, those in the prime of life and our special citizens."
A March 15, 1991, Register-Guard story about Smith's retirement noted that he was "credited with spearheading voter approval of two serial levies and a bond measure for buying park land in the south hills, along the river and in the Bethel-Danebo, Willakenzie and downtown neighborhoods. Some of the money also was used for building the Amazon, Sheldon and Westmoreland community centers, Echo Hollow and Sheldon pools, and improving Kaufman Senior Center and Petersen Barn Community Center." The land acquisition included areas that comprise Eugene's Ridgeline Trail system, now a National Recreation Trail.
One of Smith's initial projects for the City was to design and build Westmoreland Park on West 18th Avenue on the former location of the Eugene Airport. His approach to the job set the tone for his entire career. 
"Ed and his friend, Bob Bayly, had torn down the old airport buildings to earn extra money while in high school, however the asphalt runways were still on the property," his widow, Marjorie, wrote in the loving essay she penned about Smith. "Getting rid of the asphalt was a serious and potentially costly design problem. The least expensive solution would be to bury the asphalt under dirt mounds that would be landscaped. By consulting with the neighbors who were concerned by the possible disruption of their view, he [worked] with each one [to] adjust the height of the mounds to either let them see the park grounds or raise them higher so only the landscaping could be seen."
His success with involving neighbors in projects continued throughout his career. "He responded to requests from individuals by suggesting that if they could show that their neighbors would support their desired projects, he would have more success in convincing the City Council and general public" of each project's worth and feasibility, Marjorie wrote.  
"Ed's creativeness and love of problem solving resulted in an unexpectedly long career in Eugene," Marjorie noted.
Smith was only 31 when he became director of Eugene's parks department. He worked with the Oregon Legislature, the Nature Conservancy, and other resources to assist with the acquisition of land for Mount Pisgah, and he encouraged the creation of the Willamette Greenway. Smith also helped organize an annual "Parks Maintenance School" in Washington state to train personnel to better manage the wide variety of facilities and space inherent in state parks systems. 
His hard work, determination, and creativity led to a job offer of increased responsibility with the City of Eugene.
In 1978, "the Eugene city manager called on a quiet Saturday morning to request that Ed be the construction manager for the new Eugene Performing Arts Center (the Hult Center for Performing Arts)," Marjorie wrote. "What an opportunity! That was followed by the opportunity to be director of the theater complex. Ed's last city position was as director of the combined Department of Parks, Recreation and Cultural Services from 1989 to retirement in 1992."
Smith told the Register-Guard in 1991 that overseeing the design and construction of the Hult Center and the adjacent Eugene Community Conference Center from 1979-82 was the greatest challenge of his career. 
"It's a once in a lifetime situation—especially a performing arts center," he said. "That really established a cultural history for the city of Eugene."
The Hult Center was literally a resounding success. A blog by Charlie Henry about the Hult Center noted that "Harry Belafonte telephoned Smith [from] Rio de Janeiro one afternoon to say, 'Smitty, after singing in some 40 performance venues in Europe and South America, I like yours best and I'll be back.'"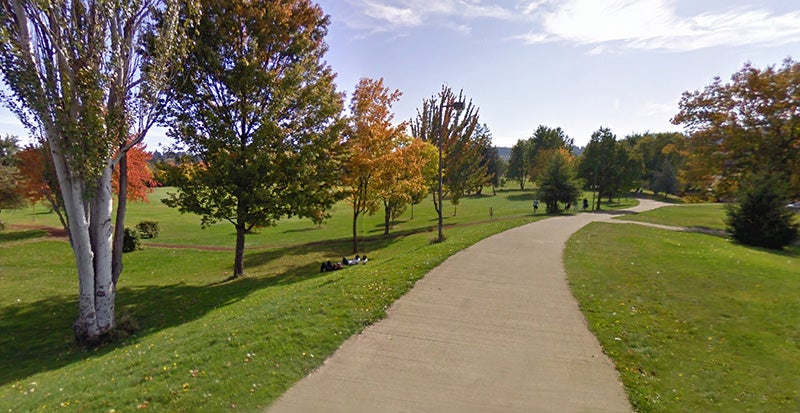 Above: Smith worked with residents adjacent to today's Westmoreland Park to assure that the park's mounds—which conceal asphalt from a former airfield—wouldn't obstruct homeowners' views. The park today, with its undulating hillocks, includes a popular Ultimate Frisbee course as well as plenty of space for other recreation.
Paul Dustrud (BArch '98) was operations and technical director at the Hult Center for four years, during its construction and early years of operation. "Having just completed building the [Hult] center, [Ed] was tasked with operating it and he rolled right into show business without skipping a beat. He earned the respect and admiration of all of the Hult center staff and endeared himself in many ways as a smart and savvy administrator as well as an understanding and thoughtful leader and a major champion of the arts in this community," Dustrud wrote in the online guest book in The Register-Guard following Smith's obituary.
Former Register-Guard arts reporter Fred Crafts stated it this way at the memorial celebration for Smith: "[Ed] struck me as one of those people who are always three moves ahead of you, and when you're around them you need to bring your 'A' game. He was also a man you couldn't help but admire and like. Which is why I suspect so many people—in and out of government—were eager to assist him [and] why he was able to get so much done. Ed was the consummate public servant but one who transcended that role into being a civic watchdog and patriarch. He always did what he thought was best for his beloved city."
Smith's obituary in the Register-Guard brought numerous online guest book entries from people who had worked for Smith or who simply, as citizens, enjoy the results of his hard work and creative design.
"Ed was highly instrumental in planning, creating or preserving much of what makes Eugene livable today. Whether we hike, bike, swim, picnic, skateboard or attend the symphony—or just enjoy the unsullied views of the Ridgeline and Spencer Butte—we all owe a debt to Ed," wrote colleague Bruce Steinmetz.
"Ed was a driving force during the golden age of Parks and Rec in Eugene and a great part of what we enjoy today is due to his ability to bring a shared vision to fruition," wrote Carol Brewster.
"I always remember him coming in at 8 a.m., flipping the little red arrow to 'in' on the board, then kicking the bottom of my desk on his way by and uttering 'good morning, Smiley' as he headed back to his office," wrote Vicki Lewis.
"Even though I started my park career after Ed's retirement, I feel as if I knew him personally. It is that often that his name comes up and his impact is felt. All of us who love Eugene and the amazing access we have to the great outdoors owe Ed our gratitude. We can only strive to carry on his legacy," wrote Carrie Peterson.
"He was a father figure to me and encouraged me to finish my degree at the U of O. I loved his sense of humor, sound advice, and dedication to getting the job done correctly the first time," wrote Karen Richman.
Marjorie sums up her husband this way: "Ed's calm demeanor, wry wit, curiosity, smiling eyes and wise counseling were the evidence of a gentle soul."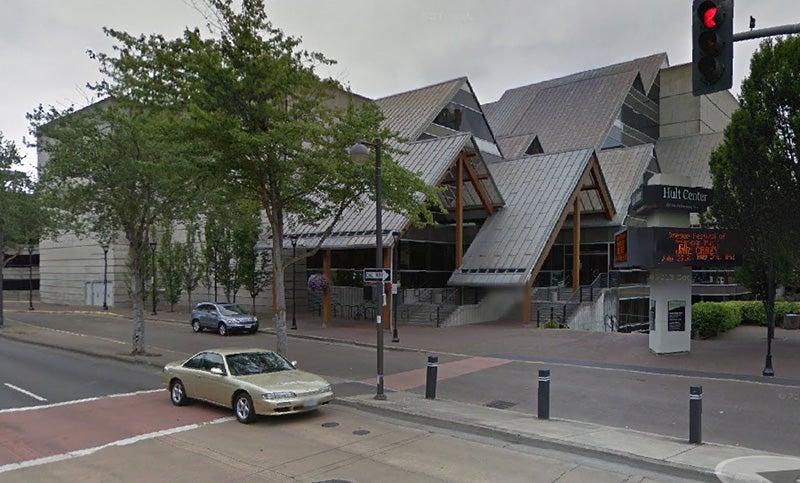 Above: "It's a once in a lifetime situation—especially a performing arts center," Smith said of the project to build the Hult Center for the Performing Arts in downtown Eugene. "That really established a cultural history for the city of Eugene."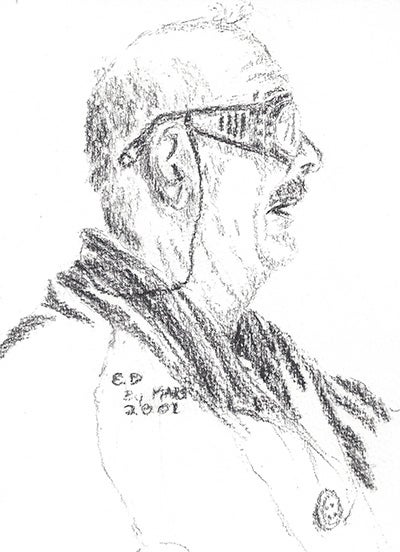 Above: Ed Smith, as sketched in 2001 by his wife, Marjorie Smith.