master of arts, art history '97
master of arts, arts management '97
Curator fosters public art for Chicago Cultural Plan
Wendy Miller, MA arts management, art history '97, recently made the leap from self-employed principal of WM Arts Management in Portland, Oregon, to curator of public art for the City of Chicago Department of Cultural Affairs and Special Events (DCASE).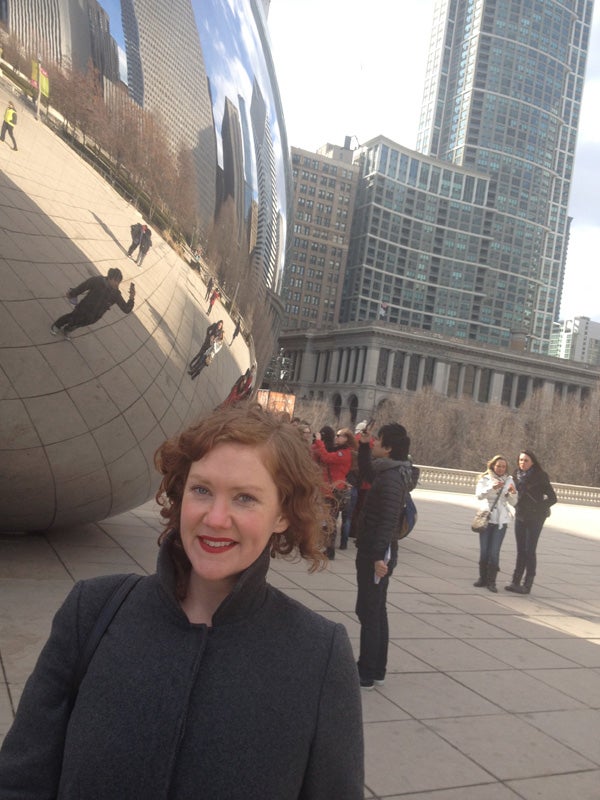 Above: Wendy Miller, curator of public art for the City of Chicago, graduated from UO with arts management and art history degrees in 1997.
At DCASE, Miller works to enrich the city's artistic vitality and cultural vibrancy by advancing the goals of the Chicago Cultural Plan. The plan includes numerous citywide initiatives that aim to foster a more robust, healthy arts community where artists, cultural organizations, and creative industries thrive.
"With the launch of the Chicago Cultural Plan in October 2012, this couldn't be a more exciting time to be an arts and culture activist in Chicago," she says.
In her role at DCASE, a position she began in early 2013, Miller is engaged with research and development of new public art policy for the city, including updates to Chicago's Percent-for-Art Ordinance. In addition to investigating the practices of other public art programs around the country and abroad, she's been facilitating dialogues with local artists and curators to "learn how public art intersects with their practice, what inspires them on an international scale, and their important insight about what's unique to Chicago."
Miller realized she wanted to be an activist for artists at age 21. "I see how much support individual artists need and the immense value they bring to society," she says. "I've always felt compelled to devote myself to strengthening the ways that artists are acknowledged and appreciated for their important contributions to society, including the economy, perhaps especially the economy. It's an ideal, I realize, but I long to live in a world where the cliché 'starving artist' is obsolete."
Originally from the northwest Chicago suburbs, Miller earned a BFA from the University of Illinois in Champaign-Urbana before relocating to Eugene for graduate school. She moved to Portland after earning her masters at UO and quickly acquired a job at the Regional Arts and Culture Council (RACC). While there for nearly six years, she connected with hundreds of artists, arts organizations, and advocates in her position as public art coordinator. In 2003, she left RACC and launched her own company, WM Arts Management, to work with diverse clients in Portland's arts ecosystem. The firm offered a host of services that included professional development counsel and advocacy for individual artists; strategic planning; project, exhibition, and event management; communications; brand platform development; earned media and public relations campaigns; grant and proposal writing; research; and editing.
Miller consistently uses skills from her past twenty years of experience in Portland and Eugene as the City of Chicago's Curator of Public Art. "It's an honor, and genuinely so much fun," she says, "to experiment with and expand opportunities for artists to create meaningful experiences in the public realm."