master of arts, art history '11
Curator, art historian Gibson embraces contemporary art, new media
Ashley Gibson was still a graduate student at UO in 2011 when she was approached to curate a show at the Jordan Schnitzer Museum of Art (JSMA), but JSMA Executive Director Jill Hartz knew Gibson was the right fit for the unique exhibition on contemporary Cuban artists.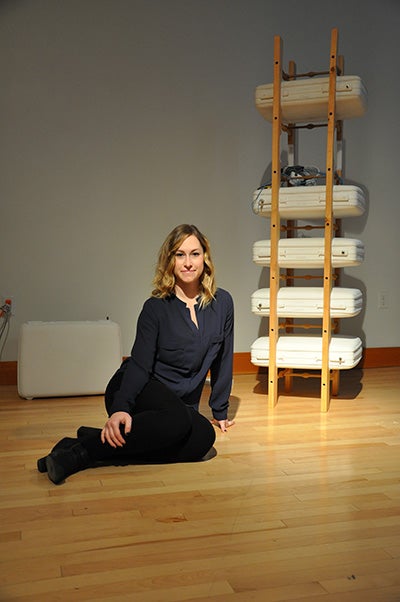 The 2011 show, "Diaspora, Identity, and Race: Cuba Today," featured contemporary Cuban artists who reflect the multicultural heritage of African, European, and Asian influences in the Caribbean, as well as the prolonged racism in Cuban society. The bilingual exhibition revealed new themes of Cuban identity in the complexities of race, gender, and sexuality, with some artists tackling important issues prohibited in Cuban socialist society.
"It is rare (to have students curate a show) but we give our students important opportunities that will further their studies and careers," Hartz said. "This is what a teaching museum can do well. Ashley's field is contemporary. She was incredible—thorough research and a love of the art."
A steep learning curve required Gibson to brush up on her contemporary Cuban art knowledge to hand select pieces—from installation to static works—for the exhibit. Additionally, such a massive undertaking required Gibson to organize every minute detail, from writing labels for each piece to creating model layouts for the entire exhibition.
"I knew little about contemporary Cuban art before working on the exhibition," says Gibson, who also served as the Laurel Award Curatorial Fellow at JSMA. "I read every source on Cuban contemporary art that I could get my hands on before beginning the process of selecting pieces for the show. The research period was intense and rewarding."
High-quality research has been essential to Gibson's career, which has been bolstered by her varied interests: video art, new media, feminism, art theory and criticism, and intersections between art and cinema.
Since she graduated from UO, she has worked for the Portland Institute for Contemporary Art as a "Time-Based-Art Festival" visual arts curatorial assistant; at the Graeter Art Gallery in Portland in various posts including gallery manager and curator of the Art Leasing Program; and as an adjunct faculty member, teaching an interdisciplinary art history class entitled "Art and Cinema" at the University of Oregon in Eugene, and "Critical Theories in Art" at Portland State University. 
More recently, she was gallery manager and exhibitions coordinator for the White Box at the UO in Portland. While at White Box, Gibson compiled content, directly oversaw design, editing, and layout, and wrote the essay for the 2011-2013 White Box catalog. She also curated the inaugural second-year MFA exhibition at the UO, again writing the essay for that catalog. Her exhibition publications to date include We Are Here, 2014,  "Shock, Risk and the Institution," an essay in White Box 2011-2013, published in 2014, and the essay for "Diaspora, Identity, and Race: Cuba Today," University of Oregon Press, 2011.
"I am passionate about creating experiences that connect audiences to new artwork and that produce exciting and challenging conversations," she says. "I believe interdisciplinary collaboration is the key. I am constantly inspired by the artists, scholars, and students that I work with and am motivated by the willingness of the public to engage with issues of contemporary art."
Her role curating a major exhibition while still a student undoubtedly helped launch her professional career on the right footing: it was challenging, it gave her creative leeway, and her creativity guided the show's innovative integration of technology.
"The [Cuban] exhibition was an interesting experience in terms of showcasing video side-by-side with two- and three-dimensional works" using flat-screen displays with headphones, she says. "I've run into similar media challenges since, planning for and executing video works at White Box. The Gray Box has incredible potential for showcasing video and new media works and I've loved to see how the space encourages artists to dream big and attempt projects and take risks they normally wouldn't." (The Gray Box is one of two spaces comprising the White Box; the Gray Box is designed to accommodate film, digital projection, interactive installations, and experimental sound work.)
Gibson's career to date has featured precisely the types of opportunities that, as a student, she'd hoped she'd experience. "My end goal is to have a curatorial job at a contemporary arts center," Gibson said when selected to curate the Cuban show. Curating the show "was just an incredible opportunity. I couldn't believe how well it all came together."
To develop the Cuban show, she collaborated with the UO's cultural anthropology department and the Center for Latino/a American Studies to develop themes—a practice in interdisciplinary engagement she has followed since.
"It was a fantastic experience," Gibson says of the opportunity she was able to develop while a UO student. "There were many interdisciplinary partnerships happening and everyone I worked with was supportive of my ideas. It was the step forward I needed and cemented the idea that curation was what I was meant to do."