bachelor of landscape architecture '73
Rice promotes global approach to design education
The third time that the Soviet police officer approached Art Rice he wasn't so friendly. This time, instead of a nod and casual walk away from the man in uniform Rice found himself face first on the ground, and, ultimately arrested. The 1973 UO landscape architecture alumnus would later describe this experience as comedic, and also insightful into the culture of the Soviet Union, as he befriended many of the officers he encountered at the station.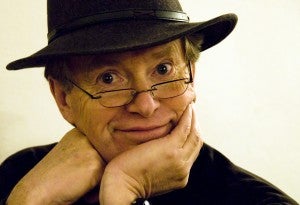 Rice was merely photographing the local scene of a black-market pet shop that day in 1979, however his purpose for being in the Soviet Union at the time was to work as a visiting faculty member at the Moscow Engineering and Building Institute. Rice has traveled the world giving speeches and teaching studios on landscape architecture and design, mostly notably in Russia, Spain, the Czech Republic, Venezuela and Peru. He has worked extensively on international committees aimed at providing the framework for landscape architecture education.
Today, Rice serves as a professor of landscape architecture and associate dean for graduate studies, research and extension at North Carolina State University in Raleigh. He previously taught at Harvard Graduate School of Design, where he received his master's in landscape architecture degree with distinction in 1978, Tufts University and the University of Washington. He has received numerous awards and recognitions including the prestigious Charles Elliot Traveling Fellowship, which enabled him to go to the Soviet Union. Rice recalls his experience there, "It has profoundly affected the way I think about the world. It helped me begin to understand the complexity out there. And I was only arrested once."
Since then Rice has strongly promoted the importance of international studies and exchange. He was one of the founders of N.C. State's Prague Institute, which offers students the chance to study at the medieval center of the city for up to a year. Study abroad is required for all landscape architecture students at N.C. State, and Rice's experiences in the Soviet Union and additional past travels have helped to shape his attitude and approach towards design education.
Rice handles administrative, research and teaching duties at N.C. State, including graduate course that he co-teaches with Gene Bressler, former UO faculty member in landscape architecture. Rice served as a teaching assistant for Bressler as a student, and credits him for influencing his teaching career, "He really showed me how to build a student's creativity and expose their individuality."
Rice labels his time at the university as "the best time of his life," and was fully engaged in the cultural, social and academic aspects during his time here. His work across the U.S. and the world has provided effective landscape architecture and design education for students, and proudly represents the work and influence of the UO.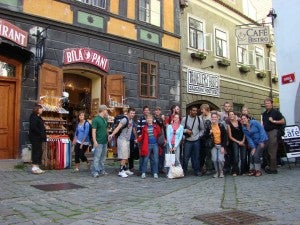 Above: Art Rice with NCSU students
Originally published August 27, 2009