Bachelor of architecture '73
Lee leads prolific MulvannyG2, finds dedication in charity
A graduate from University of Oregon is one of the influential forces behind one of the world's largest architecture firms, the Bellevue, Washington-based MulvannyG2, where he's worked since 1975.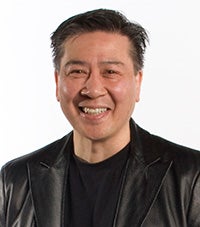 Jerry Quinn Lee served as the firm's chief executive officer, stepped down in 2006, and currently works as the firm's board chairman. MulvannyG2 has partnered with Costco Wholesale, Nike, Inc., and several other retail outlets. They have built more than 600 Costco warehouses, 500 Targets, and 125 Nike Factory stores.
The firm currently employs approximately 400 people, which makes it the 16th largest architecture firm in the country, according to Seattle Business magazine. In 2013, the magazine awarded Lee with the Lifetime Achievement Award in the first Executive Excellence Awards program.
As a UO student, Lee enrolled in two design studios offered by Professor John Briscoe. Those courses influenced his professional practice, Lee says.
"He was more structurally oriented than design-oriented," Lee says of Briscoe. "I think that had a big influence on me, looking at what was practical versus a fancy design. Practicality in design really impacted my business and what I did here."
After graduating from A&AA in 1973, Lee packed everything he owned into his '71 Ford Pinto and drove across the country. Lee took to the East Coast and targeted Boston as the place to launch his career. But he didn't have any job interviews lined up, didn't know anyone in Boston, and ran out of money in Pennsylvania before he could reach Massachusetts.
Instead he found work as a draftsman for a structural engineer at a firm in Philadelphia, but financial difficulties led to some less-than-optimal circumstances.
"When I ran out of money, I was down to [eating] cereal," he says. "I had cereal, but I didn't even have money for milk until the first paycheck came. I poured water onto it and it was this nasty taste of water and cereal."
Lee looks back on this culinary nadir as a reassuring footnote.
"Throughout my career I always remembered that as a low point. I said, 'Hey, it wasn't that bad.' That gave me the confidence to do a lot of decision-making as the firm was growing because I had nothing to start with," he says. "That beginning gave me the confidence to make decisions."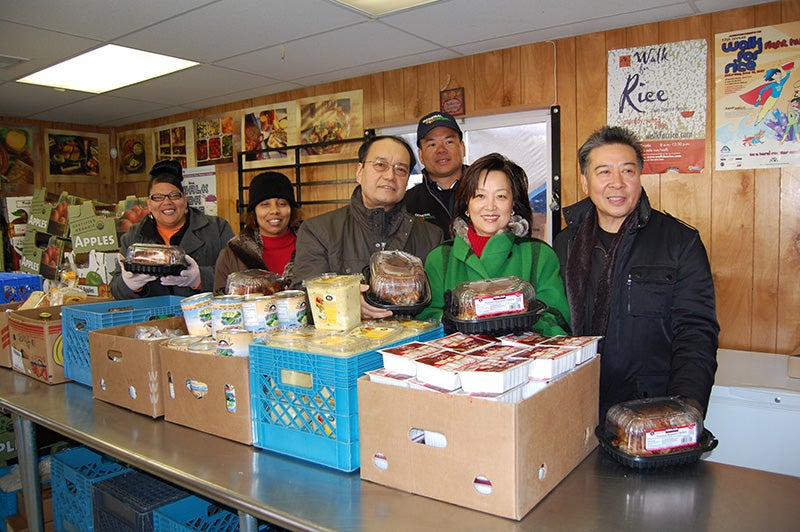 Above: Jerry Quinn Lee (far right) distributes rotisserie chickens at the food bank in the Asian Counseling and Referral Service in Seattle, Washington. His wife, Charlene, stands beside him. Photo by George Liu/Northwest Asian Weekly.
Lee stayed in Philadelphia until 1975, when he married his good friend Patricia Chikamoto, whom he had met while at UO. They then moved back to the Pacific Northwest so Patricia could attend nursing school in Seattle, Washington. 
He was hired as the fourth employee at Mulvanny, a firm run out of a windowless little office in downtown Seattle. The firm carved out a design niche with hardware and drug stores.
Lee worked his way up to partner and principal shareholder and wound up buying the practice when founder Doug Mulvanny retired in 1993.
Over the years, Lee learned to provide chances for those who might otherwise be overlooked. He recalls one man from Colombia who applied to the firm. He spoke little English and had been turned away by other firms. What others disregarded as a negative, Lee and others at Mulvanny perceived as a great advantage and decided to hire him. The man worked for Mulvanny for sixteen years and led a large contingent in Mexico, where he became responsible for multimillion-dollar projects.
Mulvanny repeated this practice and eventually found designers in China, Japan, and Korea.
"Had others been more generous with their time and exhibited a little more patience, they would have found a treasure trove of interested, loyal employees," Lee says.
The firm merged with G2 Architecture in 1999 to become MulvannyG2 Architecture, and expanded to China in 2002. The firm has been awarded for its development of shopping centers, skyscrapers, and other buildings, including the Grand Hyatt Seattle, the Tacoma Convention Center, and the Shanghai Fudan Hotel.
The only thing that could possibly match the breadth of Lee's architectural career is his work in philanthropy. Lee has been active with the Susan G. Komen for the Cure Puget Sound Affiliate since 1995, after losing his wife to breast cancer. Finances raised for the charity endorse breast cancer research and provide mammograms to those who cannot afford them.
In 2011, Lee personally logged 500 hours of community service and his work was recognized the same year when he received a Gold Level Presidential Volunteer Service Award from President Barack Obama's Council on Service and Civic Protection.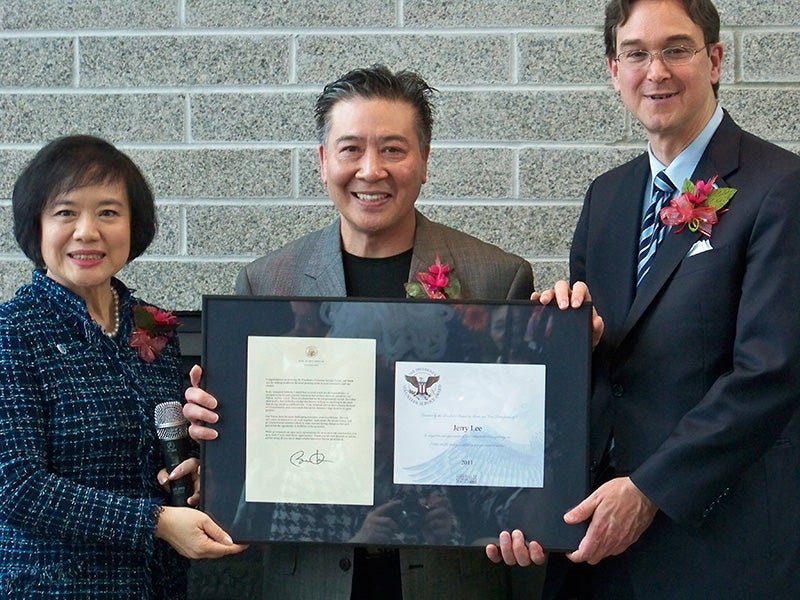 Above: Lee (center) receives a Presidential Volunteer Service Award in 2011. Image courtesy of MulvannyG2 Architecture.
He helped form one of the firm's three charitable efforts, "Swing for the Cure," a golf tournament that has raised more than $1 million for the Susan G. Komen for the Cure. During one of the Foundation's Race for the Cure walks, he met a breast cancer survivor named Charlene Furuta, who became his wife.
He serves as an advisory council board member for a Susan G. Komen affiliate and has been awarded as one of the "Pink Tie Guys," someone who consistently exceeds the call of duty advocating for breast cancer awareness.
"If you look at numbers, we've probably saved hundreds of lives just by the numbers of money we've pumped into Komen," he says.
In 2009, Lee recalls witnessing several people lined up in 17-degree weather outside the Asian Counseling and Referral Service food bank in Seattle's Chinatown.
He and a friend made calls to gather funds and contribute more than 400 roasted chickens to supplement the food bank's meals. Lee continues this tradition twice a year, every Thanksgiving and Christmas.
"It's been really rewarding talking to these elderlies because they're really happy to get it," he says. "It's just a $4.99 chicken but, the emotion and happiness – it's just one charitable event, but this one touches me the most."
Lee has also donated to the Seattle Children's Hospital Foundation's "Circle of Care." He serves as a board member of the College Success Foundation, the Martinez Foundation, the Bellevue Art Museum, the Komen affiliate, and several other agencies.
He says that his charity efforts have proven that altruism and generosity can be an activity that pays back in many multiples.
Lee was invited to Washington State University to speak for the commencement address in 2003. The basis for the address: "When you give, you get back more in return."
"The reason I'm telling you this is because you need to decide what type of person you're going to be," he said to the university's graduating class. " … You need to make a conscious decision to operate a certain way in life. Hopefully, it's in a manner that is grateful."
"This is the perfect time in your life to make that decision, so I hope that today gives you pause to consider taking that next step. The act of giving does not necessarily come naturally. Sometimes it takes significant loss to teach us how to give. And sometimes we need to learn by example. Find out how good it feels."