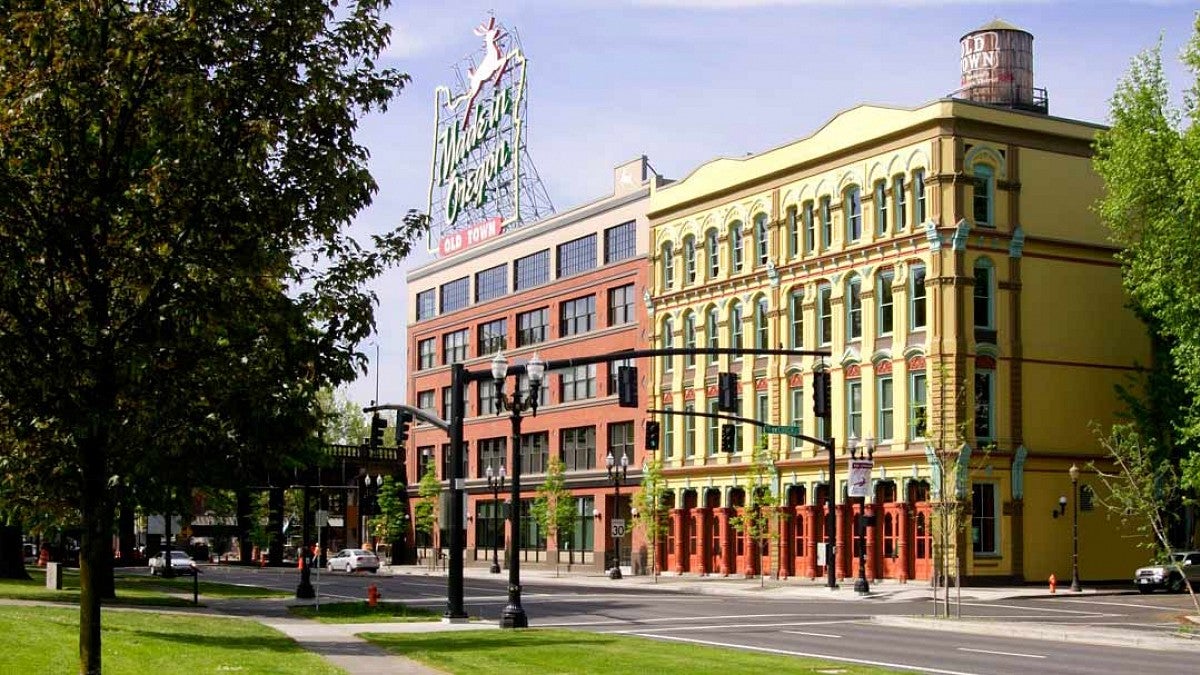 Portland is an extraordinary urban laboratory for our students and faculty members. The College of Design programs at the University of Oregon in Portland connect with the city through teaching, research, creative work, and community activities. The historic White Stag Block that houses the College of Design programs offers state-of-the-art technology, light-filled workspaces, and a superb art and design library—all located in the heart of Portland's Old Town and Chinatown.

College of Design Programs offered in Portland
Collaborative and Creative Community
Portland is recognized for being a highly collaborative and creative arts and design community. Portland residents are also known for their enthusiasm for the outdoors. A breeding ground for design-based innovators, the city is home to Columbia Sportswear, Leatherman, Nike, and Adidas to name a few. Students at the UO in Portland work with local nonprofit organizations, academic institutions, and industry leaders as part of their professional education and creative pursuits.
---
The Student Experience
Our students study in the newly renovated, historic White Stag Block, where studios and workspaces overlook Waterfront Park. The building houses a university library and provides access to the collections of more than 30 additional libraries. The Fab Lab, a fabrication laboratory, provides a creative workshop for shaping materials with both digital design and woodworking processes, and an output room provides students with graphic printing services. The UO in Portland hosts lectures, special events, and exhibitions that encourage thoughtful exchanges on issues of importance to the city and region.
---
Hands-on Environment, Urban Laboratory
The City of Portland is a national leader in urban sustainability policies. The city's downtown regeneration, urban design innovations, regional growth policies, and land-use-transit planning are considered national models and are the subject of many national and international publications.
Portland students and faculty members have worked with the Portland Development Commission staff on an extensive series of projects, with many funded by research and community design grants. UO students and faculty members have partnered with Portland METRO, one of the nation's few regional governments, on a number of projects including greenhouse gas reduction measures and a habitat competition.
Many regional and national environmental organizations are also headquartered in Portland. The University of Oregon maintains close ties with groups such as Cascadia Green Building Council, EcoDistricts, the Portland Building Enclosure Council, and the Portland chapter of the American Institute of Architects.
---
Enrich Your Academic Experience
---
Visit Us
We welcome you to visit the Portland White Stag Block to view the facilities and meet faculty members and students. Located in Portland's historic Old Town Chinatown district, the White Stag Block is at 70 NW Couch Street, in convenient walking distance to public transportation and a SmartPark lot at NW Naito Parkway and Davis Street.
Please contact your department of interest to set up your visit.
---
Portland News
---
Portland Events
To limit the spread of COVID-19, some events are being held remotely. If you have questions about a specific event, please contact the event organizer or see the event description in the UO Calendar.