Kathy Bevers, master of architecture '06
Gina Livingston-Smith, master of interior architecture '05
Helping solve world health care crisis motivates UO alumni
Two A&AA alumnae applied their talents to green health care design for the Asia Challenge design competition. The team of two interior designers and two architects from the firm Boulder Associates in Colorado, secured fourth place in the International AMD Open Architecture Challenge competition. Their award was announced in July.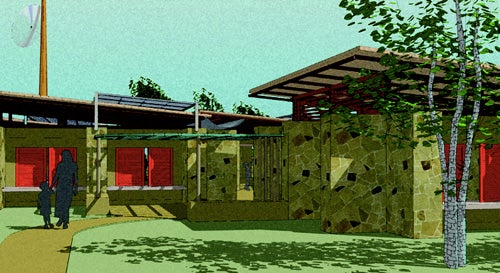 Kathy Bevers, M.Arch.'06, and Gina Livingston-Smith, M.I.Arch.'05, and their teammates worked in their spare time to design a health care facility for families in remote, rural Nepal. The team members estimate they put in more than 120 hours each on the project. The proposed building with a telemedicine center would connect local residents with top medical professionals worldwide. The region surrounding the site in Sanfe Bagar is in a health care crisis with an AIDS and tuberculosis epidemic and few health care providers.
"It was fun and a lot of work," Bevers said of her team's placement in the top ten.  "I got a chance to put in all the passive solar and water management strategies as well as some very helpful strategies to produce energy."  The designers credit architecture professors Alison Kwok, John Reynolds, and G.Z. Brown, and Kwok's recent publication, The Green Studio Handbook, for informing the sustainable ideas in the team's final design.
Orignally published in the A&AA Review, Fall 2009