master of architecture '12
UO alumnae helps restore Minnesota state capital
When University of Oregon alumnae Chelsea Karrels was hired at a firm in Minnesota, she knew her new job involved assessing the condition and integrity of distressed materials in buildings, bridges, and monuments, making recommendations for any repairs, and designing repair details.
She didn't anticipate, however, that her job would take her rappelling down a thirteen-story Mayo Clinic building.
"It was kind of scary at first and definitely something I never expected to do as an architect," she says. "It's a lot of fun and one of the many things I love about my job. I spend a lot of time outside being hands-on with buildings, which not a lot of intern architects can say."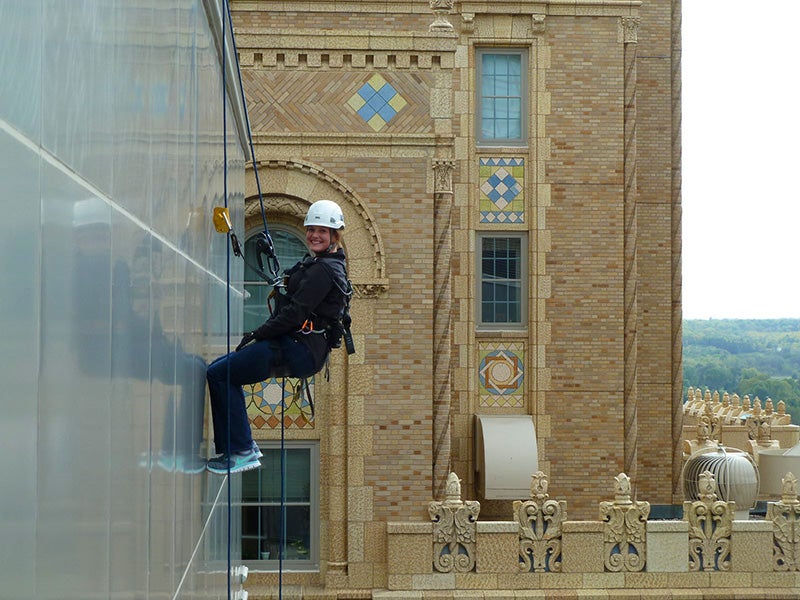 Above: Chelsea Karrels rappels off a Mayo Clinic building while completing a condition assessment of the metal panel and glass tower.
After completing the UO master of architecture program, Karrels was hired as an architectural associate for the consultancy Wiss, Janney, Elstner Associates, Inc., a consultancy of architects, engineers, and material scientists that investigates the structural, architectural, and material issues in new and existing buildings and proposes restoration and repair solutions.
The consultancy has worked on hundreds of large-scale projects, from repairing the Alcatraz Cellhouse in San Francisco to damage inspections of New Orleans following Hurricane Katrina, to a condition assessment of The Washington Monument in Washington, D.C., after an earthquake had cracked the stone.
An interest in historic preservation developed during her time at UO when she took courses from the Historic Preservation Program, which she says "broadened [my] interests and gave a bigger background to step into the workforce."
She also attended courses in construction and residential construction from Associate Professor Rob Thallon.
"He's the person who first taught me to look at the details of a building and think critically about how a building goes together," she says. "That's not the focus of every course in architecture school, but that turned out to be what I became really interested in. It's what I do now professionally. It's all in the details."
Through the UO, in 2011 Karrels also had the opportunity to travel with other students and professors for the Croatia Conservation Field School. There, the students documented an abandoned village on the island of Drvenik Veli. Karrels focused on the village-made doors and windows.
She says this immersive experience in Croatia may have helped her land a job at WJE Associates.
"It gave me fieldwork and documentation experience, which you can't get in the classroom," she says. "For a company like WJE, fieldwork is critical. We pride ourselves on going out to buildings and being hands-on. There's no way to re-create the experience of fieldwork in a classroom setting. I think that experience combined with the strong technical courses were probably the biggest things that A&AA really offered me that got me to where I am now at the start of my career."
Since her first day with WJE, Karrels has worked on the exterior stone restoration of the Minnesota State Capitol building as part of the stone consultant team. The building has had a few restorations since its opening in 1905, but the current project is its most comprehensive repair to date.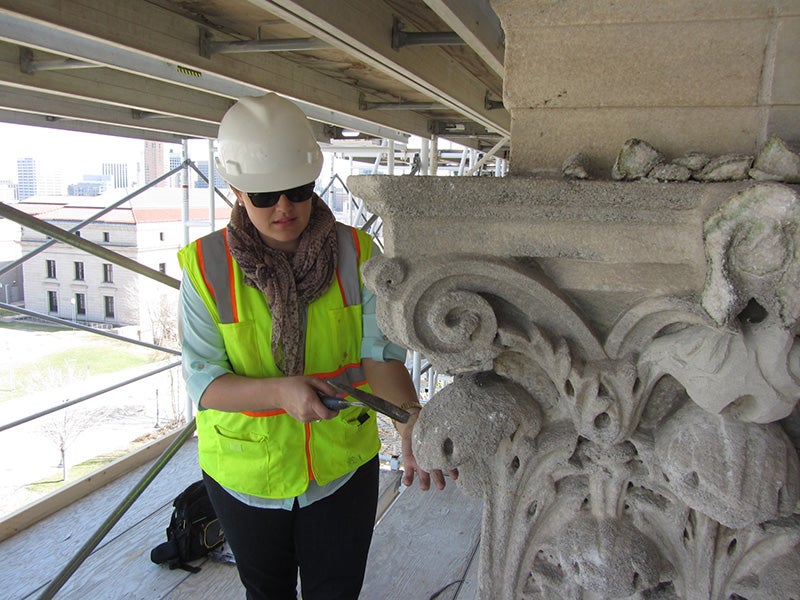 Above: Karrels assess the stonework on the pilaster capitals of the Minnesota State Capitol.
The building's exterior, made from Georgia marble, is not particularly well-suited for Minnesota's climate, which can cause ice and snow build-up for six months out of the year. The deteriorated original material is beyond repair and will be replaced with marble from the quarry in Georgia from which it was originally produced. Karrels has participated in assessing the condition of the stone, assigning repair types to each stone, and developing anchoring and flashing details for the new and existing stone.
"We are using the same stone, the original stone, and the reasons for that are mainly based in historic preservation principles of, whenever possible, using the original material," says Karrels.
Karrels says that although she works on roughly four to eight projects at any given time, the State Capitol building currently takes the majority of her time. The construction began in 2012 and is projected for completion by 2017.
"It's probably the most significant building in the state, and it's a beautiful building and a piece of state history. Getting to climb all over it and study it and make important decisions that will affect how the building performs over time and what the public sees when they come to visit, that's a big responsibility and something we don't take lightly," she says. "I'm very proud of the work and happy to see how it's going."
The first section of scaffolding was taken down after the first week of repair was finished in August 2014.
"It was the first time in two years we could step back and look at the repairs from the ground rather than up close," says Karrels. "It was a really amazing feeling to know that those were our decisions up there."
Other projects on Karrels' docket include numerous condition assessments and repair designs throughout Minnesota, including working with the state of Minnesota at the Minnesota History Center, multiple historic and contemporary buildings at the Mayo Clinic in Rochester, and a condition assessment and construction observation services at the Pillsbury A-mill, an historic flour mill for Pillsbury Flour Company situated by the Mississippi River in Minneapolis. The mill, constructed with limestone, will be converted into artists' lofts.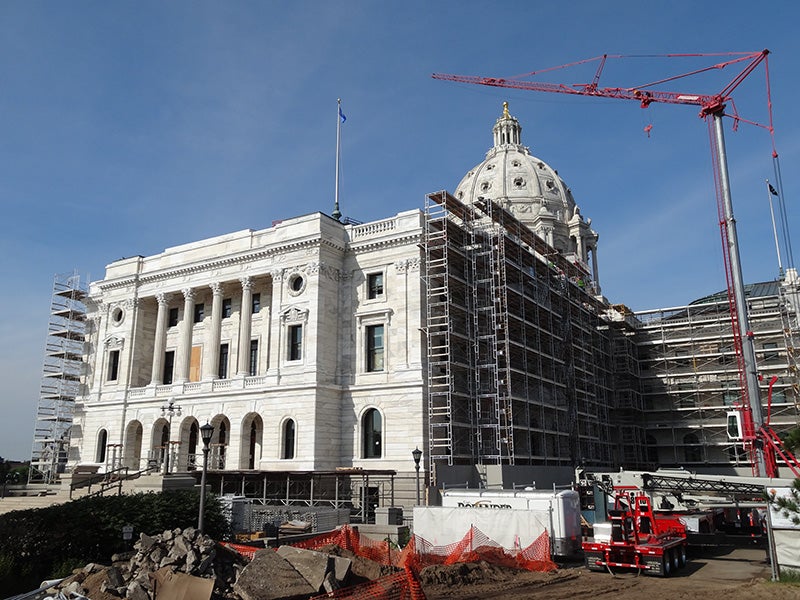 Above: The east façade of the Minnesota State Capitol after scaffolding was removed following two years of a five-year restoration plan. "It was the first time in two years we could step back and look at the repairs from the ground rather than up close," says Karrels. "It was a really amazing feeling to know that those were our decisions up there."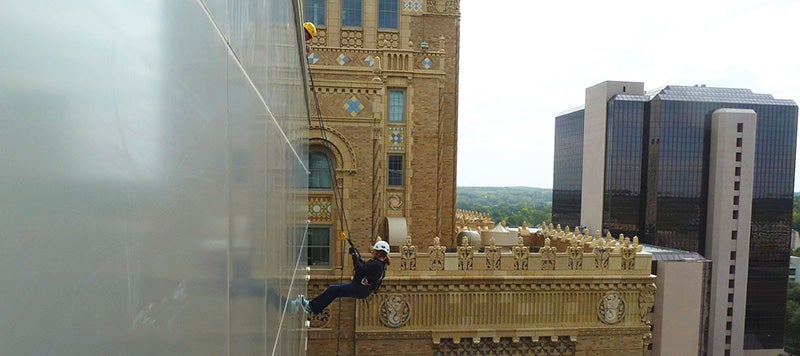 Above: Hanging off a building thirteen stories above the ground "was definitely something I never expected to do as an architect," Karrels said. "It's a lot of fun and one of the many things I love about my job. I spend a lot of time outside being hands-on with buildings."