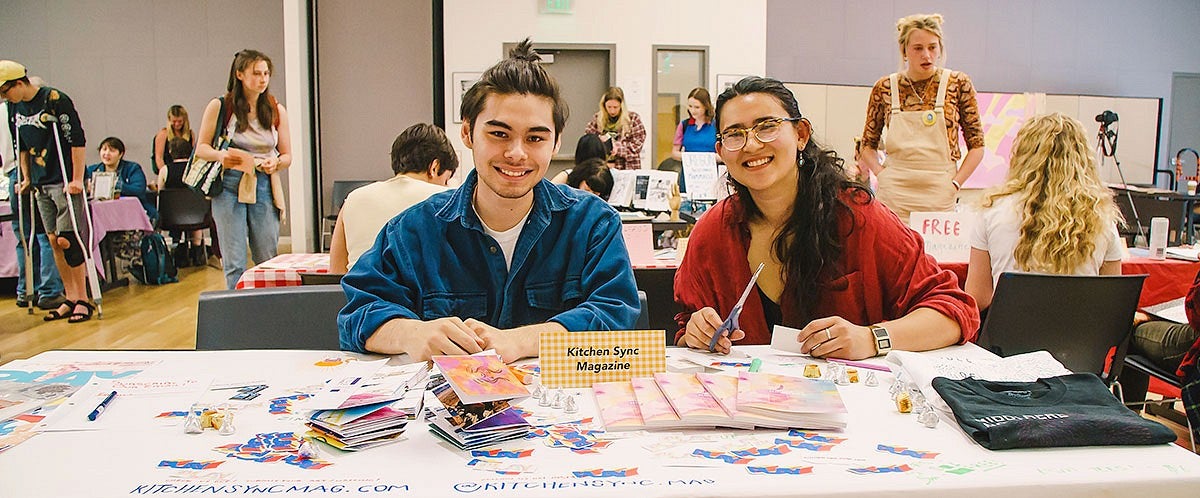 Get involved!
The College of Design has a number of student groups that represent a variety of our majors and related interests. Student groups are a great way to connect with peers and professionals, and develop skills though projects and leadership. Review the list below and consider getting involved.
For student group leaders and members: Below are a few college and campus resources to help you with event planning, developing leadership skills, and identifying campus funding sources.
---
Student Groups
Art History Student Association (AHSA)
Contact: ahsa@uoregon.edu   
Website: https://arthistoryassociationoregon.wordpress.com/
The Art History Student Association facilitates and promotes educational and professional development opportunities for students interested in the history of the visual arts, regardless of major field of study. We are affiliated with the Art History Department at the University of Oregon.
---
American Institute of Architecture Students (AIAS)
Contact: oregon@aias.org   
Website: https://sites.google.com/aias.org/oregonaias/home   
Instagram: @aias_uoregon
The mission of the American Institute of Architecture Students is to organize architecture students in a combined effort for advancement in the field of architecture. We strive to provide a stronger connection between the educational environment and the professional world. Our goal is to supplement architectural education with specific events that connect students with professionals in the field of architecture.
---
Associated Students for Historic Preservation (ASHP)
Contact: ashp@uoregon.edu
The mission of the Associated Students for Historic Preservation is to advance knowledge and understanding among students, professionals, and educators throughout the nation. Members of ASHP are responsible for publishing ASHP Journal, organizing Historic Preservation Week, arranging special lectures and events, and sponsoring field trips to historic sites.
---
American Society of Heating, Refrigeration, and Air Conditioning Engineers, Oregon Student Chapter (ASHRAE)
Website: https://uoashrae.uoregon.edu/   
Instagram: @uoashrae
The University of Oregon ASHRAE Student Branch was established in Spring 1999, under the sponsorship of the Oregon ASHRAE Chapter. We are the first student chapter in the state, and our membership is primarily comprised of architecture students. Through branch activities, we seek to understand the integration of environmental systems, the codes and standards related to produce energy-efficient, healthy, and comfortable environments, and we want to participate in the networking and career opportunities that can help us to design better buildings. Understanding the processes by which architectural and engineering professions can work together is a critical goal of this branch.
---
American Society of Landscape Architects (ASLA)
Contact: asla.uoregon@gmail.com   
Website: https://blogs.uoregon.edu/uoasla/   
Instagram: @asla.uoregon
The student ASLA mission is to serve as a resource and link between UO Landscape Architecture students, National and Oregon ASLA, and the professional community. We support the Landscape Architecture student body, promote professional development, and provide educational assistance throughout the academic year.
---
College of Design Portland Student Council
Contact: aaapdx@uoregon.edu
A student group focused on connecting students in architecture, art and technology, product design, sports product design, and historic preservation.
---
Freedom By Design
Contact: freedombydesignuo@gmail.com  
Website: https://sites.google.com/aias.org/oregonaias/freedom-by-design?authuser+0  
Instagram: @fbd_uoregon
Freedom by Design is a program within AIAS that utilizes the skills and talents of architecture students in service to their community. Our projects better the community, promote skill building, and foster relationships. FBD empowers students to become owners in a process that radically impacts the lives of people in their communities through design, construction, and engagement-based solutions. We seek to address what the major barriers are that our local community faces, take note of specific situations and challenges that FBD service can tackle, and draw upon these different situations, noting what solutions can be done. 
---
Holistic Options for Planet Earth Sustainability Conference (HOPES)
Website: https://hopes.uoregon.edu/   
Instagram: @hopesconference   
 
Get involved with this student-run conference! The Holistic Options for Planet Earth Sustainability (HOPES) conference is an annual event that creates the opportunity for students, faculty, community members, and visiting scholars to discuss the relationship between ecology and design, and how this connection can produce sustainable buildings.
---
Industrial Designers Society of America (UOregon IDSA) 
Contact: ducksidsa@gmail.com   
Website: https://www.facebook.com/IDSAUO/   
Instagram: @uoidsa
The University of Oregon IDSA chapter is a great resource for students who are seeking networking connections and extracurricular resources. IDSA offers student workshops, hosts design firm and studio tours, and brings speakers from around the country to campus.
---
International Interior Design Association (IIDA)
Website: https://www.iida-or.org/students/student-member-benefits   
Instagram: @iida_uo (IIDA UO Student Chapter)
IIDA is a professional organization dedicated to commercial interior designers. At the University of Oregon, our student chapter strives to promote the interior design profession, connect students with their peers and professionals, and prepare future interior designers for the transition from school to the profession. Through involvement with IIDA, emerging professionals can participate in various events such as: networking opportunities, guest speakers, design charrettes, project tours and much more.
---
LGBTQIA+ Affinity Group
Contact: dsgnaffinity@uoregon.edu! 
Looking to build LGBTQIA+ community, share perspectives, or expand support networks? Join us every other Tuesday from 4-5pm in Lawrence 277 for discussion, activities, and snacks! We have the option to be action-oriented if necessary, or can be a completely socially-oriented group. The purpose is to make this space whatever we need to further enhance the LGBTQIA+ UO campus experience. Questions? Ideas for future meeting topics? Reach out at dsgnaffinity@uoregon.edu! 
---
LiveMove
Contact: livemoveuo@gmail.com   
Website: http://livemove.org/   
Instagram: @livemove_uo
LiveMove's mission is to promote healthy, sustainable communities by integrating transportation and livability through collaboration, education, research, and outreach. We bring together undergraduate and graduate students from a variety of backgrounds and disciplines to focus on the planning and design of transportation systems. We offer opportunities to collaborate on planning and design projects, to gain leadership skills, to bring in high-profile guest speakers, and to network. LiveMove receives generous funding through a grant from the National Institute for Transportation and Communities (NITC) to support University students to attend educational conferences, workshops, or seminars to enhance their understanding of transportation-related issues.
---
PPPM Student Community Organization
Contact: sco3pm@uoregon.edu   
Instagram: @scopppm
Planning, Public Policy & Management's Student Community Organization provides professional development, networking, and community building opportunities for the school of PPPM and wider UO community. Our mission is to support community development and resiliency through the refinement of personal skills, support for professional passions, and nurturing of interpersonal connections.
---