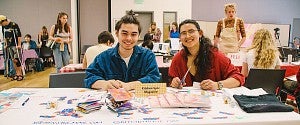 Get involved!
The College of Design has a number of student groups that represent a variety of our majors and related interests. Student groups are a great way to connect with peers and professionals, and develop skills though projects and leadership. Review the list below and consider getting involved.
For student group leaders and members: Below are a few college and campus resources to help you with event planning, developing leadership skills, and identifying campus funding sources.
---
Student Groups
AHSA Art History Student Association
Contact: ahsa@uoregon.edu
Website: https://arthistoryassociationoregon.wordpress.com/
The Art History Student Association facilitates and promotes educational and professional development opportunities for students interested in the history of the visual arts, regardless of major field of study. We are affiliated with the Art History Department at the University of Oregon.
---
AIAS American Institute of Architecture Students
Contact: oregon@aias.org
Website: https://sites.google.com/aias.org/oregonaias/home
Facebook: https://www.facebook.com/aiasuo
The mission of the American Institute of Architecture Students is to organize architecture students in a combined effort for advancement in the field of architecture. We strive to provide a stronger connection between the educational environment and the professional world. Our goal is to supplement architectural education with specific events that connect students with professionals in the field of architecture.
---
ASHP Associated Students for Historic Preservation
Contact: ashp@uoregon.edu
The mission of the Associated Students for Historic Preservation is to advance knowledge and understanding among students, professionals, and educators throughout the nation. Members of ASHP are responsible for publishing ASHP Journal, organizing Historic Preservation Week, arranging special lectures and events, and sponsoring field trips to historic sites.
---
ASHRAE American Society of Heating, Refrigeration, and Air Conditioning Engineers, Oregon Student Chapter
Website: https://www.facebook.com/uoashrae/
The University of Oregon ASHRAE Student Branch was established in Spring 1999, under the sponsorship of the Oregon ASHRAE Chapter. We are the first student chapter in the state, and our membership is primarily comprised of architecture students. Through branch activities, we seek to understand the integration of environmental systems, the codes and standards related to produce energy-efficient, healthy, and comfortable environments, and we want to participate in the networking and career opportunities that can help us to design better buildings. Understanding the processes by which architectural and engineering professions can work together is a critical goal of this branch.
---
ASLA American Society of Landscape Architects
Contact: studentpresident@aslaoregon.org
Website: https://blogs.uoregon.edu/uoasla/
The student ASLA mission is to serve as a resource and link between UO Landscape Architecture students, National and Oregon ASLA, and the professional community. We support the Landscape Architecture student body, promote professional development, and provide educational assistance throughout the academic year. Learn more...
---
CASL Center for the Advancement of Sustainable Living
Contact: casl@uoregon.edu
Facebook: https://www.facebook.com/groups/58119248161/
The mission of the Center for the Advancement of Sustainable Living (CASL) is to demonstrate ecologically and socially sustainable technologies and living practices in a residential setting, to provide hands-on experiential learning opportunities for the University of Oregon community, to collect and disseminate information about such technologies and practices, and to facilitate original research in this field. CASL is dedicated to challenging the notion that living lightly is difficult or burdensome.
---
DFA Design For America
Website: http://designforamerica.com/studio/dfa-oregon/
Design for America (DFA) is an award-winning nationwide network of interdisciplinary student teams and community members using design to create local and social impact. They teach human centered design to young adults and collaborating community partners through extra-curricular, university based, student led design studios tackling national challenges in Education, Health, Economy and Environment.
---
EDC Ecological Design Center
Contact: edc@uoregon.edu
The Ecological Design Center (EDC) promotes a sustainable relationship between the built and natural worlds. The EDC educates University of Oregon design students with the awareness, sensitivity, and expertise necessary to lead communities toward sustainability. The EDC is currently focusing on advocating for an interdisciplinary ecological design curriculum, cultivating networking opportunities between design students and professionals, creating a forum for ecological design dialogue, and encouraging the implementation of ecological design at the University of Oregon. EDC initiatives include: the annual HOPES conference, the installation of solar panels on the Student Recreation Center and the EMU, the installation of solar hot water array on the Student Recreation Center, and numerous lectures and educational events.
---
IDSAUO Industrial Designers Society of America
Contact: idsa@uoregon.edu
Website: https://www.facebook.com/IDSAUO/
The University of Oregon IDSA chapter is a great resource for students who are seeking networking connections and extracurricular resources. IDSA offers student workshops, hosts design firm and studio tours, and brings speakers from around the country to campus. This group coordinates through OrgSync.
---
IIDA International Interior Design Association
Website: https://www.iida-or.org/students/student-member-benefits
Facebook: University of Oregon IIDA
Instagram: iida_uo (IIDA UO Student Chapter)
IIDA is a professional organization dedicated to commercial interior designers. Here, at the University of Oregon Campus Center, we strive to promote the interior design profession, connect students with their peers and professionals, and prepare future interior designers for the transition from school to the profession. Through involvement with IIDA, emerging professionals have the opportunity to participate in various events such as: networking opportunities, guest speakers, design charrettes, project tours and much more.
---
LiveMove
Contact: livemoveuo@gmail.com
Website: http://livemove.org/
Facebook: UOLiveMove
LiveMove's mission is to promote healthy, sustainable communities by integrating transportation and livability through collaboration, education, research, and outreach. We bring together undergraduate and graduate students from a variety of backgrounds and disciplines to focus on the planning and design of transportation systems. We offer opportunities to collaborate on planning and design projects, to gain leadership skills, to bring in high-profile guest speakers, and to network. LiveMove receives generous funding through a grant from the National Institute for Transportation and Communities (NITC) to support University students to attend educational conferences, workshops, or seminars to enhance their understanding of transportation-related issues.
---
OFAS University of Oregon Fine Arts Society
Contact: UOFineArtsSociety@gmail.com
The Oregon Fine Arts Society is a group of students within the College of Art and Design working to advocate for arts education and help students gain practical knowledge in the fields of curating and gallery management. The Oregon Fine Arts Society promotes the exhibition of student artwork around campus and plans and hosts events which showcase student's skills in arts management and display design.
---
PPPM Student Community Organization
Contact: sco3pm@uoregon.edu
Facebook: https://www.facebook.com/scopppm/
Planning, Public Policy & Management's Student Community Organization provides professional development, networking, and community building opportunities for the school of PPPM and wider UO community. Its mission is to support community development and resiliency through the refinement of personal skills, support for professional passions, and nurturing of interpersonal connections.
---
College of Design Portland Student Council
Sports Product Management Progress for Portland
UO Portland Student Council
Women of Sports Product Management