Lawrence Medal '01, McMath Award '11, bachelor of arts '60
Enrolled more than 1,500 listings in the National Register
Elisabeth Walton Potter's longtime role as a public historian specializing in architectural history and historic preservation has earned her high praise and recognition – including A&AA's 2001 Ellis F. Lawrence Medal and the 2011 George McMath Award.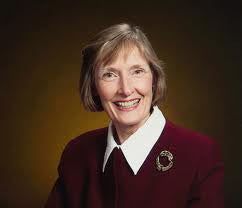 In 1998, Potter, BA '60, retired as coordinator of National Register nominations for the State Historic Preservation Office in Oregon. In three decades, she had enrolled more than 1,500 buildings, structures, districts, and objects in the National Register of Historic Places in Oregon and Washington.
Potter graduated from the University of Oregon with a bachelor's degree in art history, having studied architectural history under Marion Dean Ross. She received her master's in art and architectural history from Pennsylvania State University, followed by another master's degree from the University of Delaware in Early American Culture.
In the mid-1960s, Potter returned home to Oregon and began working for the state, assessing and reviewing historic sites as potential parks. That career move dovetailed with passage of the National Historic Preservation Act of 1966, which brought matching federal funds to states to protect significant places and objects, and established State Historic Preservation Offices, of which Potter became the first staff member in Oregon.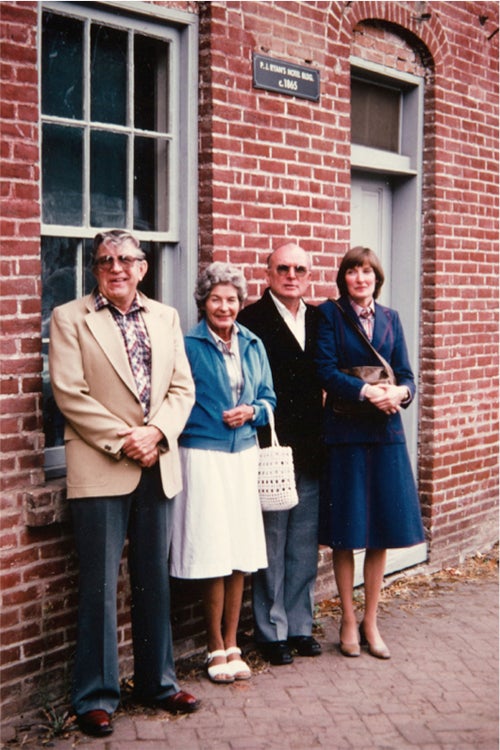 Above: Jacksonville, Oregon, preservation advocates (from left)Eugene Bennett, Virginia Cotton, and Robertson E. Collins join the first Oregon State Historic Preservation Office employee, Elisabeth Potter, in front of P. J. Ryan's Hotel Building (c. 1865) in the Jacksonville National Historic Landmark District. Photo by Marion Dean Ross, 1982.
Her thesis at UO focused on the buildings and furnishings of Oregon's Methodist Mission in Oregon. She was founding member of the Mission Mill Museum Association, incorporated in 1964 for the purpose of preserving Salem's Thomas Kay Woolen Mill, which occupies the original site of Jason Lee's Methodist Mission in Oregon. Potter also prepared the report recommending the four-and-a-half acre site become a historical interpretive park.
Her interest in historic cemeteries led her to prepare National Register Bulletin 41, "Guidelines for Evaluating and Registering Cemeteries and Burial Places," in cooperation with National Park Service coauthor Beth Boland.
She coauthored with James Hamrick documentation of the Oregon State Capitol in observance of the building's 50-year anniversary in 1988.  She also co-authored "A History of HABS and HAER in Oregon 1933-1983" (1984) with the late Alfred Staehli, the manuscript for a presentation and exhibit of the 50th anniversary of the founding of the Historic American Buildings Survey in 1933.
Potter also prepared comprehensive revised documentation in 1998 for the Wolf Creek Tavern, a historic inn accommodating travelers over the Siskiyou Mountains since the days when stages linked unconnected sections of railroad.
"Elizabeth Walton Potter has been an inspiration to me during my tenure at the University of Oregon," said Kingston Heath, director of UO's Historic Preservation Program, when he presented her the McMath Award in 2011. "I have known Elisabeth as a tireless preservation advocate and supporter of student interests. Her depth of knowledge regarding preservation policy, university campus architecture, and Oregon history has shown through in our various meetings. I consider her a valued colleague of the highest rank."
Potter is a veteran member of the Marion Dean Ross/Pacific Northwest Chapter of the Society of Architectural Historians, which she has long served as archivist and adviser.
In 2007 she served as co-coordinator of the chapter's annual conference.