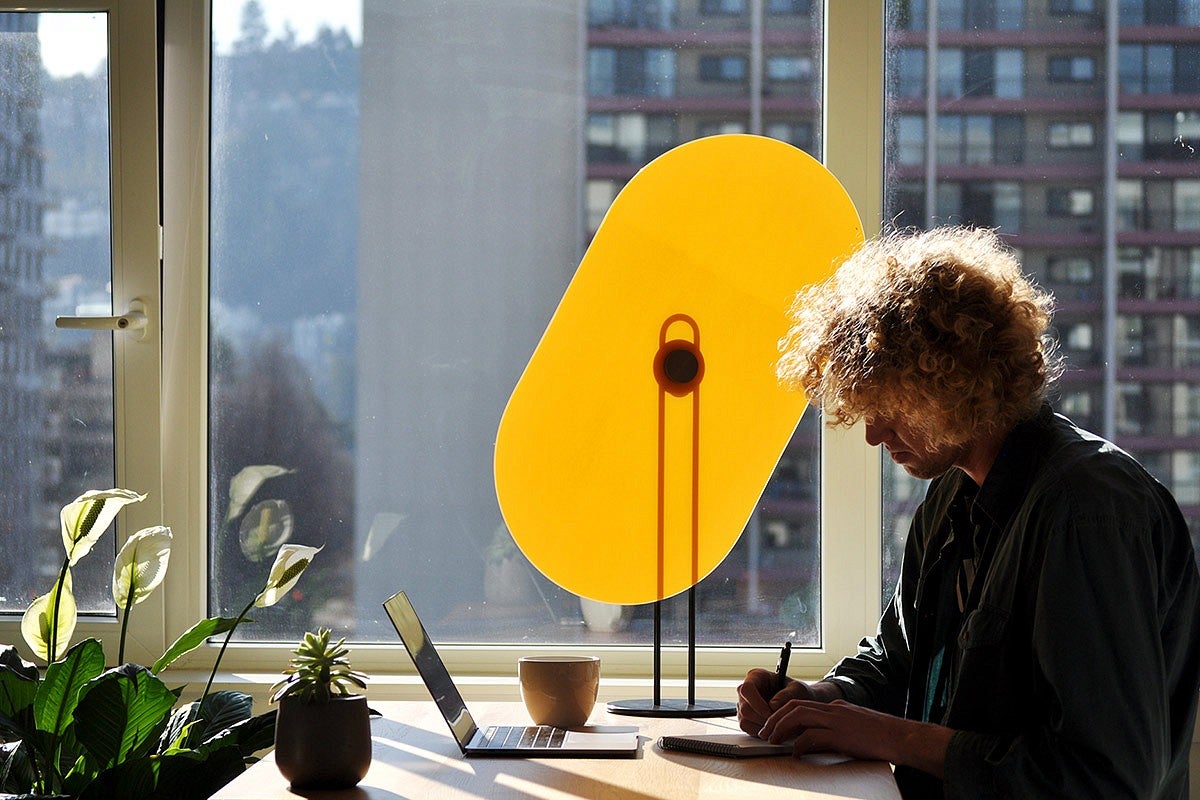 Architecture Professor Kevin Van Den Wymelenberg and a team of students wanted to create an improved, healthier workspace, where the natural and built environment coexist.
Together, they designed Taskshade to tackle the universal problem of glare from the sun, while not compromising the health benefits of daylight. The Taskshade is a "personal shading companion," an intentional product that fits easily on a desk to adaptively provide shade for its user.
As explained by Van Den Wymelenberg—the director of the School of Architecture & Environment (SAE) and the Institute for Health in the Built Environment—the human species has become a mostly indoor creature, spending 90 percent of our time indoors.
"Historically, it has been difficult to allow sunlight in our spaces without causing glare," the Taskshade team explains on their website. "Direct sun or indirect reflected sun glare can cripple our ability to see tasks or work effectively. If you shut the blinds to block the sun, you miss out on all the benefits of daylight and view."
"I was fortunate to have found this interdisciplinary and collaborative team of students. The students elevated the concept, and pushed it further than I ever could have imagined."  
Unmitigated glare can cause migraines, eye strain, and fatigue—all factors that erode well-being and productivity. Conversely, abundant daylight is highly desired by office occupants and is commonly listed as a top amenity among users and sustainability strategy among designers.
Over the past two years, Van Den Wymelenberg has developed the product and co-founded Taskshade LLC with an interdisciplinary team of students and now alumni that includes Austin Gutierrez, MArch, '20; Peter Van Liefde, BFA Product Design '21; Garrett Leaver, BArch, '21; and Serena Lim, MArch I, '18.
Taskshade emerged from the intersection of architecture, product design, and digital arts, and relied on the team's diverse design skills to become a viable product on the market. Serena Lim began the project when Van Den Wymelenberg joined the University in 2016. She quickly iterated through dozens of prototype designs and then facilitated further exploration with a team of students in one of Van Den Wymelenberg's seminars. Lim prepared and delivered a conference paper and then graduated. The project was picked up soon after by Gutierrez and Van Liefde.
"I learned that individual preferences and thresholds for visual discomfort vary widely, hence the need for a highly adjustable device," Lim explained. "Seeing the end result now, after working on those early prototypes, I've also learned the value of collaborating with people who have specific expertise in critical areas."
Gutierrez says everyone on the team has worn several hats on this journey. To the team, he brought the sense of clarity and craft in architectural work he gained while a graduate student in SAE. He was also able to gain experience in managing relationships with manufacturers and suppliers, developing brand standards, design development, and media production.
Working with product design students has been eye-opening," Gutierrez explained. "Often times, architects tend to design more than just the building: furniture, hardware, art and sculpture, etc. So, at the start of this project, I initially thought all sectors of design were not that different from one another. I was naïve. I've learned an incredible amount from the product design students."
Van Liefde, whose background is in 3D visualization and prototyping, helped design the physical product of Taskshade.
"Being the only product designer on the team I had biases that were different than theirs," he said. "So, I eliminated those biases and started from scratch. It was a humbling and valuable experience, and it prepared me for working with people from other disciplines in my future." Together, they took Van Den Wymelenberg's initial idea for a shade design and brainstormed how to visualize and execute it.
"Austin and I sat and stared at the whiteboard for hours until we fleshed out every idea, good and bad, until we reached a novel solution."
"Austin and I sat and stared at the whiteboard for hours until we fleshed out every idea, good and bad, until we reached a novel solution," Van Liefde said. "It couldn't just be another 'thing' in the world. It needed to have purpose and intention."
Leaver had been working on motion graphics and video work on a previous project about mitigating COVID-19 for Van Den Wymelenberg when he joined the team. The Taskshade project provided an opportunity for Leaver to put his passion to work creating at the threshold of the digital and the analogue. He developed the website and its video content.
"Kevin is really inspirational; he's always learning," Leaver said. "He has really strong ideas and still can give you the space to collaborate."
He added, "This team is partially why I would like to move towards a career in a more interdisciplinary space."
Van Den Wymelenberg notes, "The students behind Taskshade exemplify why I was so excited to join the University of Oregon community six years ago. Cultivating sustainable solutions, connecting with nature, and innovation and entrepreneurship are central to our UO mission, and this mission attracts talented and principled students from around the globe. I was fortunate to have found this interdisciplinary and collaborative team of students. The students elevated the concept, and pushed it further than I ever could have imagined."