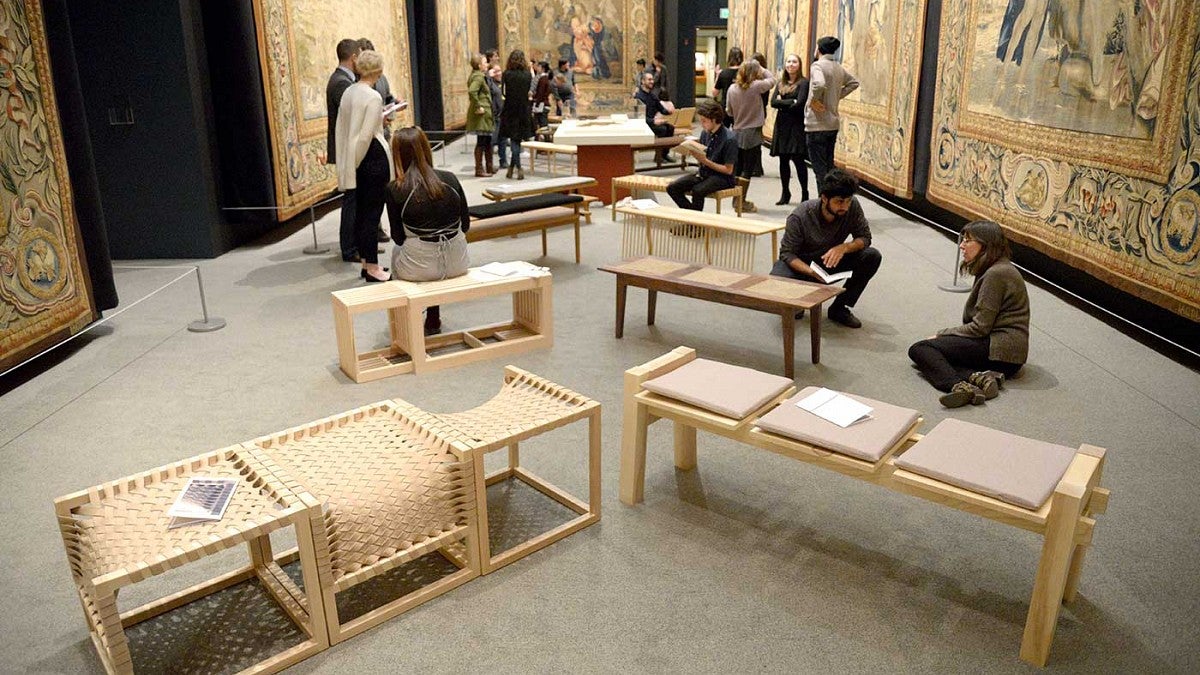 Above: Interior Architecture Program Director and Associate Professor Linda Zimmer (seated on floor, right) engages in a critique with Architecture graduate student Shradhan Shrivastav about his walnut and jute bench.
Interior Architecture and Architecture students in Tom Bonamici's furniture-making class (IARC 486/586) designed and built beautiful benches to accompany the Jordan Schnitzer Museum of Art's special exhibition of "The Barberini Tapestries: Woven Monuments of Baroque Rome." Using 12 stunning, intricately patterned Italian Renaissance masterpieces from the 17th century as their inspiration and backdrop, the students spent six weeks designing and constructing their pieces to suit the space and the exhibit.
A public reception was held during the exhibition to view the benches in situ, and speak with the students about their work. The benches were then on display for an extra day so that museum patrons could walk around and view them.
"It was such a great opportunity to bring people together and give the work a wider audience that might not otherwise be available to the normal studio process," Bonamici says.
The student's work was inspired by the form and construction of the tapestries, the political backstory of their production, and the museum itself. Moreover, the course provided students with opportunities to learn important skills about form and function—from working with compound angles and tools in the woodshop to designing exhibition pieces that don't compete with the work on the walls.
"It is really important for [students] to start to face the reality of working with an actual material and with actual tools; that kind of reality check is very helpful both during the term and also during their [careers]," Bonamici says.

Click on an image below to view the image gallery.