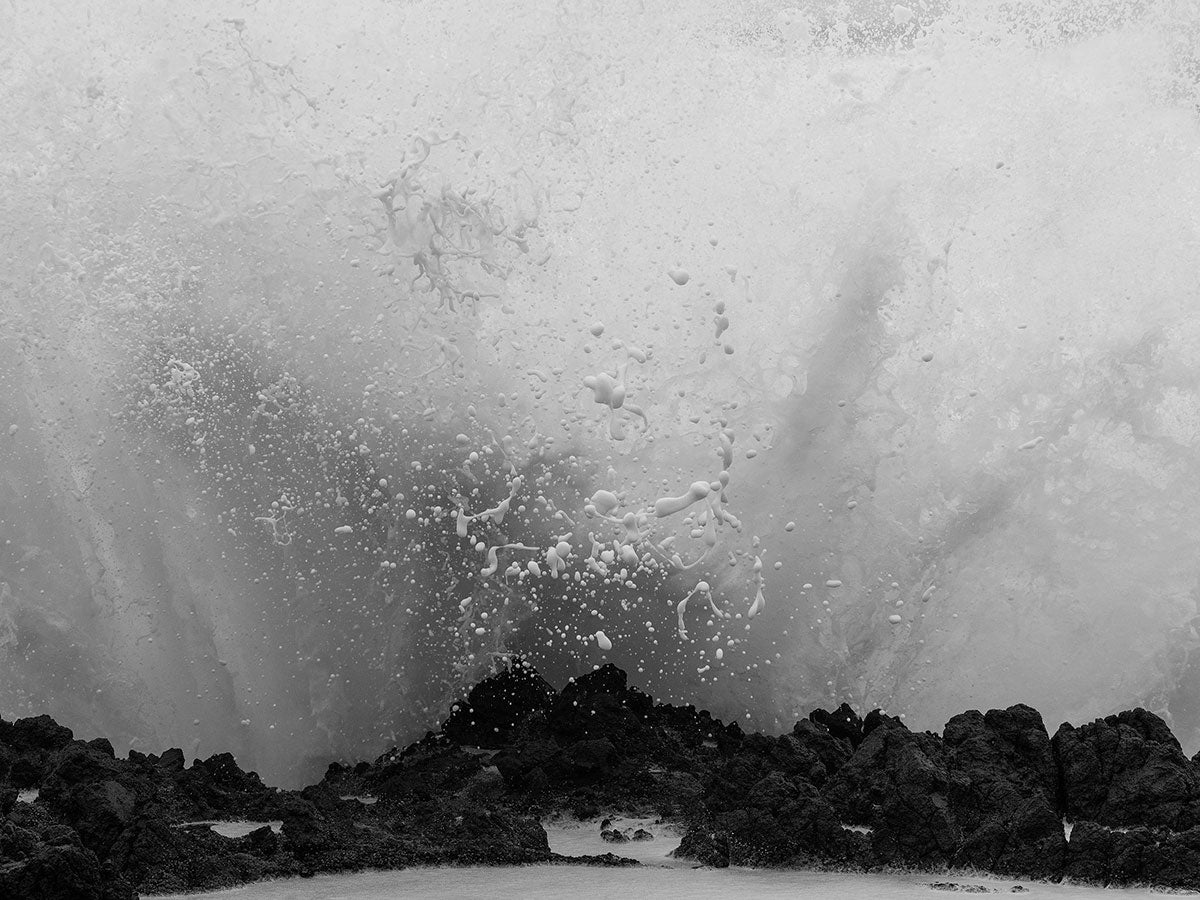 'Sea Foam Impact,' 2020, is part of Ron Jude's 12 Hz photo series and book.
Two years ago, the Los Angeles Times described Ron Jude's 12 Hz photo series as "intimate," "ravishing," and "jaw-dropping." At the time, the ongoing series included 19 large-format (56 by 42 inches) black-and-white print photos of natural forces and formations, including a sea cliff and a lava tube, which were on display at the Gallery Luisotti in L.A.
The series by Jude, an art professor and photography coordinator in the School of Art + Design's Department of Art, now includes more than 50 images—taken across Oregon, California, New Mexico, Hawaii, and Iceland—and they have been encapsulated in the hardcover book 12 Hz, published by Mack Books, an international London-based publisher, in September 2020.
'Volcanic Fissure Vent,' 2020
Through this project, completed with support from the Guggenheim Fellowship Jude received in 2019, he aims to capture a wisp of the ungraspable scale of the earth's machinations, be that the life cycles of a forest, a river, or a lava field, and gain a less human-centric perspective.
Jude chose the title 12 Hz, as it is "the lowest sound threshold of human hearing. It suggests imperceptible forces, from plate tectonics to the ocean tides, from cycles of growth and decay in the forest, to the incomprehensibility of geological spans of time."
The entire series will be a traveling exhibition beginning in fall 2021.
The College of Design caught up with the photographer to discuss 12 Hz:
Why is it important to see these images as a collection in a book?
I've been involved in book publishing for about 15 years, and I'm drawn to the book form for a number of reasons, not the least of which is the accessibility it offers to a much wider audience than strictly showing the work in galleries. Books also offer a different way to think about the images in terms of the syntax of sequencing choices. The transformation that happens to photographs in books can be radical and quite different from the gallery experience. All of that being said, this particular body of work was conceived of as an exhibition. I even had a little hesitation about making a book of these photographs, as the scale of the physical pieces is very important. I worked with my publisher, Michael Mack, to find a way into this project through the book, and I think we arrived at something that satisfies my expectations for the work.
Most of your other photo collections are shot in color. Why did you choose to shoot this collection in black and white?
I hadn't worked in black and white since the late 80s, due mainly to some basic ideas I have about the medium and its fundamental descriptive properties. I've always felt that the immediate abstraction of black and white siphoned off some of the immediacy and blunt vulgarity of what photography has to offer in the context of art. In the spirit of mixing things up after working in a very particular way for such a long time, I took it as a challenge to see what I could do with black-and-white landscape photography, which is fraught with the potential for superficiality and triteness.
What did you learn from this project and photographing these landscapes and phenomena, particularly in Oregon?
More than anything, I learned to step back and really look at the things I was photographing. I know this sounds like an obvious thing for a photographer to say, but I think there's a shared tendency to project a human agenda onto just about everything we look at, and doing this work was an exercise in keeping that impulse in check. On a basic, anecdotal level, making this work gave me the opportunity to explore the vast geological diversity of Oregon. Having just relocated here to take a job at the University of Oregon in 2015, the landscape was in stark contrast to Upstate New York, where my family and I had been living for a couple of decades, and an amazing thing to explore while I made photographs. Along the way, I also started gravitating to a particular genre of environmental writing, which I consumed a decent amount of. The cornerstone of that genre is Barry Lopez (another Oregon resident). I'm currently working with Barry and a new foundation that's been established in his name to create a traveling exhibition of 12 Hz, which will open in the fall of 2021.