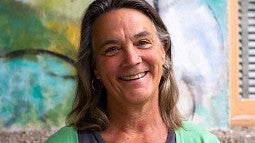 Director of Student Services and Senior Instructor Kassia Dellabough's commitment to student success has reached almost mythic proportions within the College of Design community.
Case in point: Architecture alumna Alaina Ladner (MArch, '08) recalls being on the precipice of quitting the architecture graduate program when a classmate told her to take Dellabough's Exploring Design Careers class.
"I did and I fell in love with Kassia and her approach to the world," said Ladner. Ladner not only stayed in the architecture program, but she began working with Dellabough in Student Services, or what was then the Office of Professional Outreach and Development for Students (PODS). Ladner expressed her interest in interior architecture to Dellabough and, in no time, Dellabough had not only recommended her for a summer internship at the Huntsman Architecture Group in San Francisco, but also arranged for Ladner to live in her sister's detached garage studio apartment in the city.
"To say how she influenced my life is to say how I got where I am right now," said Ladner, who is now a senior associate architect at the Huntsman Architecture Group.
There are countless stories like these, of Dellabough going above and beyond for her students during her more than three decades at the University of Oregon, and 13 years at the College of Design. Dellabough is retiring June 30. The College of Design would is hard-pressed to thank Dellabough enough for her passion, commitment to student success, and help creating a healthy and dynamic college community—including, but not limited to, bringing her baby goats into the office just to brighten people's days.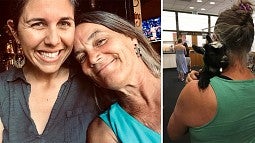 Alaina Ladner and Kassia Dellabough; Dellabough with one of her goats
"Kassia is a singular human being—generous to a fault, always game to take risks, and ready to go to bat for someone who needs help," said Laura Vandenburgh, interim dean of the College of Design. "We will miss her, but her commitment and conviction will live on in the work we all do."
At the College of Design, Dellabough has been an innovator, helping countless students and alumni find their voices and their professional pathways. In May, the University Senate chose Dellabough for the 2020 Wayne T. Westling Award, which is given to someone who has demonstrated "outstanding and long-term leadership and service to the university."
In 2011, Dellabough completed her doctorate at the UO in Educational Policy and Leadership with a focus on arts engagement. Prior to that, she graduated with a Master's in Art Education from the UO in 1989. She has also taught Portfolio Development and Exploring Design Careers.
Perhaps the biggest impact Dellabough leaves behind is College of Design Student Services, which started as PODS in 2005 with a budget of $30,000 and became Student Services in 2016. The office provided the first-ever professional advising staff in the history of the College of Design (then the School of Architecture and Allied Arts).
The integral office has grown to eight professional staff and six student administrators and advisors who help students with career and academic advising, as well as providing advocacy and support for student-led initiatives and groups.
"Literally inventing the College of Design Student Services, Kassia's ethic of seeing and supporting each student as an individual—understanding their unique experience, challenges, and dreams—informs the work of the entire team she has built," said Vandenburgh.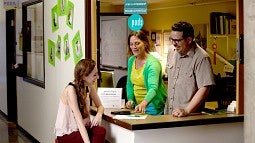 Dellabough (center) at the former PODS office in Lawrence Hall
"The college gave her a desk in the hall, and she grew PODS literally out of pennies," recalled interior architecture alumna Linda Parker (BIArch, '85), vice president of the Huntsman Architecture Group, who met Dellabough when she served on the Board of Visitors (now known as the College of Design's Dean's Council). "The first time I met her I was so struck by her vitality and enthusiasm in helping students."
Student Services is now supported by the general operating budget of the College of Design and annual gifts by donors. Growth in the office was made possible in part by a large multi-year gift totaling $100,000 and a $1,000,000 endowment. 
Parker explains that she got involved with the board because, prior to PODS, the college needed support in connecting students to internships.
"What I feel is unique about Kassia is she can bridge so many levels of communication," Parker said, adding that Dellabough was able to engage professionals, students, and faculty. "Kassia was able to bridge the communication between all three of those groups."
Architecture student and American Institute of Architecture Students (AIAS) Chapter President Ryan Al-Schamma (BArch, class of 2020) recalls how Dellabough mentored students both as individuals and in their roles in student organizations. She advocated not only for students' academic and professional success, he said, but also for their mental health and well-being. He points to how the Student Services office had a pantry for students experiencing food insecurity and a couch for napping. Her attitude—where there is a will there is a way—rubbed off on student groups.
"In recent years, it seemed to be one of her main missions to push us and believe in us, to enrich the student experience at the College of Design," Al-Schamma said. "Kassia is cool because we could ask her about anything."
When art history undergraduate student Sophie Agocs wanted to start a new student group, the UO Fine Arts Society, Agocs said Dellabough's help was essential.
"Kassia helped me build an entirely new student group from scratch," said Agocs, who also worked for Student Services. "On top of how much she encouraged me and supported the group, her extra efforts and generosity had a huge impact on the group itself and on me. I learned so many important things from Kassia, not just about leading and starting a student group, but about working in the arts as a leader in general."
Product design undergraduate student TJ Low went to Kassia for career help. "Kassia drastically and efficiently improved my resume and portfolio design. I think it's safe to say she played an integral part in landing my first internship with the great help she had to offer," Low said. "I think her legacy will be as the one who actually helps you get the job."
Dellabough, in a letter to colleagues, explained that she has had a surprising career. "I have been able to establish what I consider an oasis for students trying to navigate the very institution I felt so alienated from— to support them to trust their own intuition and learn skills to glean all they can and not compromise who they are and who they aspire to be. I have advocated for staff and faculty in the same way," Dellabough wrote. "I am grateful for my time here and hopeful that the spirit of challenging debate and respectful disagreement will flourish."
Dellabough continued, "I still believe educational institutions need a major overhaul to truly achieve equity and to foster and support all of us to think for ourselves 'freely' and be active in shaping our collective future. I will be rooting for this over the next few years and find new ways to engage."
Parker says her legacy is helping so many students launch their careers. Ladner calls Dellabough one of her greatest mentors. Al-Schamma describes her as an advocate for students above all else, someone who would never say no to a new idea.
"She's not limited by what she knows right now but what is possible. I think that's how the PODS office came to be. That's how most people found her. She opened their mind to possibilities they had never even considered before," Ladner said. "It's really hard for me to imagine the college without her."
Dellabough says she's looking forward to a new chapter of life. After a period of reflection, she says her creative spark will surely lure her to another exciting and rewarding adventure. "I am certain I will continue working to support people to discover their path in life, to be able to live life fully, and contribute their unique gifts to our global community."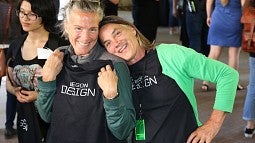 Dellabough (right) with her sister Marlitt Dellabough, a graphic designer in UO Communications, at the launch celebration for the College of Design.