Listening to Jerome Silbergeld, the first director of Princeton University's Tang Center for East Asian Art, you wouldn't peg him as having been a goatherd in the New Mexico Rockies, dropping out of two PhD programs, or being arrested as a pacifist war protester. He describes himself during his university years as a "bad boy" who "fought the good fight"—until he arrived at the University of Oregon, where a young art history assistant professor, Esther Jacobson-Tepfer, "gave me a green light to chart my own direction, as long as it was done well." 
His path was set. 
Since 2001, Silbergeld has served as the P. Y. and Kinmay W. Tang Professor of Chinese Art History at Princeton's Department of Art and Archaeology. The bulk of his research has been divided between traditional arts in the Song and Yuan dynasties (10th through 14th centuries) and modern-contemporary Chinese art. He maintains "an interest in artists' political and economic motives, in history without heroes, a love of ambivalence and ambiguity, uncertainty and good questions without answers."
Silbergeld's more than ninety authored and edited publications include the Encyclopaedia Britannica entry on Chinese art, the earliest book-length study of any 20th-century Chinese artist, the first full study of an artist from the People's Republic of China, and the only books on Chinese cinema by an art historian.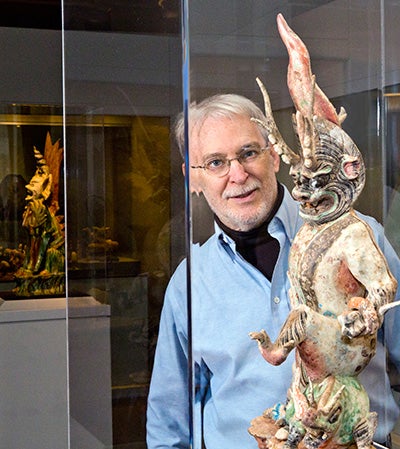 Above: Jerome Silbergeld, the 2016 Ellis F. Lawrence Medalist, pictured at Princeton University Art Museum with a rare, painted lion-faced tomb guardian figure from the Tang dynasty, 8th century. Photo by Denise Applewhite.
In honor of his distinguished career, the UO School of Architecture and Allied Arts will present the school's Lawrence Medal to Silbergeld during commencement ceremonies June 13. Silbergeld is the nineteenth recipient of the school's highest alumnus award.
Silbergeld, who sports a short gray beard and wire-rimmed spectacles, lectures widely. In videos of those lectures—where sometimes he wears a suit and tie, and once a white long-sleeved turtleneck under a black short-sleeved shirt—he comes across as kind, reserved, thoughtful, and capable of deeply informed answers to questions on topics unwitting outsiders might deem arcane.
His interest in Asian art came gradually, initially when he first discovered the art form at the Freer Gallery in Washington, DC, while working as a Senate intern on a break from studying legal history, slave codes, and Jim Crow laws. He ventured into Asian art further after arriving in Eugene, where he'd moved in fall 1970 so that his wife could study special education at UO.
"There were few places in the country teaching Asian art back then and it took several months in Eugene before realizing that Eugene was one of them," he said. "With lucky timing, I was admitted into the UO master of art history program mid-year," he said.
Silbergeld completed his art history master's degree in 1972, then earned an art history PhD at Stanford two years later. He served as a visiting professor at UO for a year before accepting a permanent appointment at the University of Washington, where he stayed for twenty-five years and was named the Donald E. Petersen Professor of Arts in 2000. He served as chair of Art History and as director of the School of Art, Art History, and Design at UW before joining the faculty at Princeton in 2001.
In 1980 he made his inaugural visit to China "accompanied by the greatest living connoisseur, collector, and traditional painter, C. C. Wang, who opened up a new avenue of study for me in 20th-century arts," Silbergeld wrote in his "Reflections" for the Lawrence Medal.
Jacobson-Tepfer, who was also invited on that journey, recalled that she was "deeply appreciative of Jerome's friendship" during the adventure, which was when China was still a closed society. "Seeing China with Jerome, and with one other friend on the trip, made it all positive. He is a good person, a loyal friend, and an unusually thoughtful observer."
Jacobson-Tepfer added that Silbergeld as a student "had the spirit of inquiry, the independent mind, and the basic historical focus that promised he could become a major scholar … which he has."
Silbergeld wryly notes that while contemporary Chinese art "has been a hot subject for two decades now, almost no one was interested in it [early in his career], so I got a head start," he said. "I curated a major exhibition and wrote a full-length book study on C.C., the first of their kind (ever! hard to believe today). That prepared me for a second, more important project, the first detailed study of an artist's life in the PRC—Contradictions, on Li Huasheng, the national model 'bad artist' in the political re-education movement of 1983."
Since then he's split his time "between old and new, always relating the former to the latter and adding modern media" such as cinema and photography. He's curated and co-curated nine exhibitions on contemporary Chinese art, including the earliest American museum solo exhibition by a contemporary Chinese artist and the only American exhibition of documentary works by Chinese photographers.

Above: Silbergeld on the UO campus in 1972. "I think I'd just gotten (back) into Stanford and was 'hitchhiking away,' " he says. Two years later he'd completed his PhD. Photo courtesy Jerome Silbergeld.
Silbergeld remembers the University of Oregon as the launch pad for his career. He fondly characterizes faculty members at Oregon as "so personal and dedicated. Esther Jacobson was the best teacher I ever had in art history. She set a high standard. One of her strategies was to show students a detail and oblige us to analyze the whole work. Her visual and intellectual rigor were second to none. If you went to an office hour, you got fifteen minutes, no more, and you learned to use it well."
Other teachers at UO "were wonderful too," he said, "and serving as teaching assistant to Bunji Kobayashi, the premier specialist in Japanese architecture visiting from Tokyo, helped me become one of the few teachers of traditional Chinese architecture today."
Silbergeld views his research area as "still such a young field, with many unexplored areas. I've had a great time in some of them, from political iconography (horses, willow trees) to old age style and theory (paint badly and you'll die young), from 'bad' art (negative aesthetics) to paintings of architecture (how they relate to real architecture), to periodization of Chinese art history (I think we've mis-placed and mis-explained the rise of literati painting by two hundred years), to gardens (regional styles) and cinema (is there really a 'Chinese' film style? I think not, but there is China-specific information an audience needs to know and China-specific visual information that filmmakers use to evade the state censors).
"For all of which," he adds, "I am forever grateful to Esther and the U of O."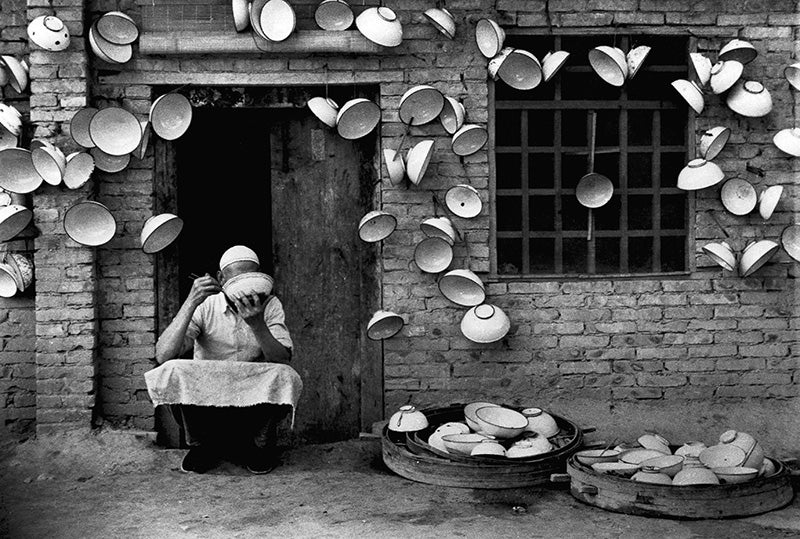 Above: Hei Ming, Iron Rice Bowl, 2000, gelatin silver print, Guandong Museum of Art. From curated exhibition, "Humanism in China," China Institute in America, New York, 2009, first exhibition in America by Chinese documentary photographers.