A University of Oregon team of landscape architecture students has defeated professional competitors again, this time by winning the Living Product Prize in the Biomimicry Global Design Challenge.
The team's design, Living Filtration System, would create healthier soils by preventing nutrients from leaving fields in runoff. Their $10,000 Living Product Prize win was announced at the Living Product Expo in Pittsburgh, Pennsylvania.
This is the third award the project has won since October 2015, when they won an initial $10,000, advancement to a prototype round, business incubation support, and an opportunity to win $100,000 and move their design to production.
In July 2016, their concept won an additional $2,500 in the statewide Portland State University Cleantech Challenge. They'll find out October 22 if they've won the $100,000 Ray of Hope grand prize from the Biomimicry Institute.
The UO team's design is based on the earthworm's digestive system with inspiration from "villi in the small intestine, wetlands, and the soil/biotic cycle," their project overview states. The goal of the Living Product Prize is to spotlight products that mimic nature's design principles.
The team members—Wade Hanson, Casey Howard, Matt Jorgensen, Alison Lewis, and Krisztian Megyeri—began working together in a spring 2015 design studio taught by UO Department of Landscape Architecture instructors Anne Godfrey and Emma Froh. Megyeri returned to Hungary after graduating in June 2016.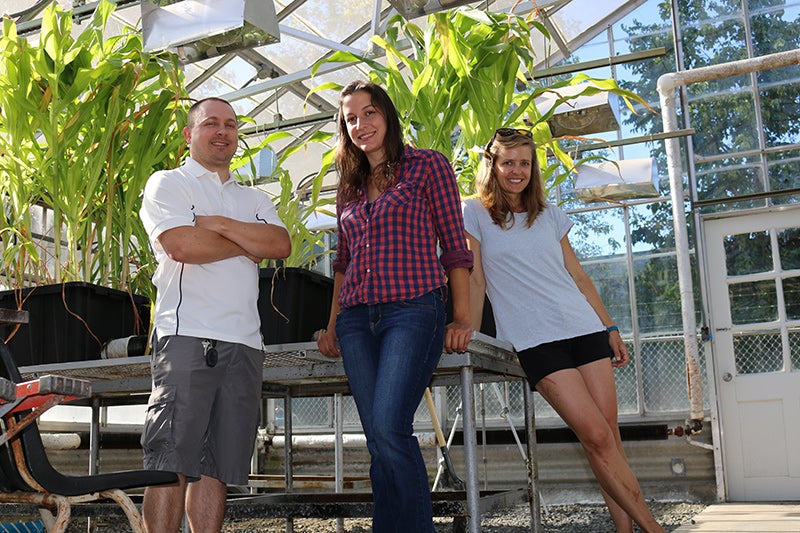 Above: (from left) Matt Jorgensen, Casey Howard, and Alison Lewis are team members who developed the Living Filtration System, a way to treat agricultural runoff. On October 22, they'll learn if they've won a $100,000 grand prize in a national business accelerator competition.
"They are not afraid to keep taking risks," Godfrey says of the team. "But more than that, I think they've had such good success because they work very well together, respect each other's skills, had a lot of fun, and really experimented—they made a lot of stuff, they laughed when it didn't work, they moved on and kept generating new ideas."
The team adapted lessons learned from each competition phase into subsequent iterations of their design. Those decisions ranged from business planning and manufacturing options to social considerations.
"When we created our original design, we took inspiration from nature for the form and function of our product. The Living Product Challenge helped us think about the impact of our product," Howard says. "Though our design was created to have a positive impact in the world, we needed to take a hard look at the full lifecycle of our product and its manufacturing process. LPC challenged us to look to the future and think about the kind of business we want to have, ways we can give back to the community and how our manufacturing process can become net zero in energy consumption."
Howard noted that the encouragement of Nathan Lillegard, program manager of the Lundquist Center for Entrepreneurship, helped move their project forward from a business perspective.
"We had the opportunity to get extensive business coaching over the summer, attended countless presentations by business professionals, entrepreneurs, investors, and professors and sat through business workshops that helped us develop our business strategy," she said.
The Living Product Prize offered two award categories—a $1,500 prize for the student category and a $10,000 prize for the "Biomimicry Accelerator" category, which included entries from professional design firms. The UO team chose to compete in the accelerator category because of the potential for business incubation support.
Seven teams in the Biomimicry Accelerator are competing for the $100,000 grand prize, which will be announced October 22 during the three-day National Bioneers Conference in San Rafael, California.
The Living Product Prize is a new initiative of the Biomimicry Global Design Challenge, an annual team competition hosted by the Biomimicry Institute and the Ray C. Anderson Foundation that focuses on nature-inspired solutions to critical sustainability issues.