The Jordan Schnitzer Museum of Art (JSMA) and Master Capital Management are hosting an inflatable architecture design contest inspired by the 1970s designs of an experimental architectural group and artist collective. Submissions are due February 1.
All architects, artists, designers, students, faculty, and members of the public are welcome to enter. The JSMA encourages both professionals and amateurs to create teams of three to five people to explore the possibilities of inflatable design.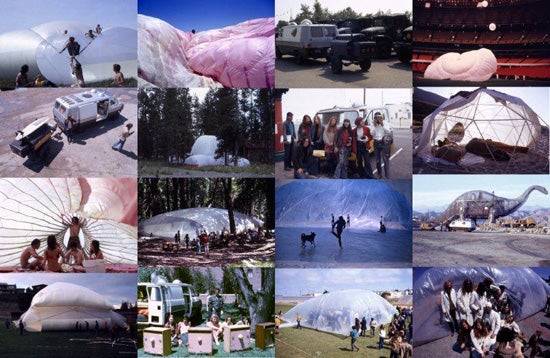 Above: Ant Farm: Examples of inflatables from the Truckstop Network Nomadic Performances, 1968-72. Images courtesy Chip Lord.
Four teams will be selected as finalists and be supplied with basic materials to build their inflatables for the First Friday Art Walk on March 1. The inflatables will be featured in the corner storefront of Master Capital Management, 835 E. Park Street in Eugene, where visitors can explore the insides of each inflatable. The winning team will be chosen by a public vote and receive a cash prize.
The contest is hosted in conjunction with the upcoming JSMA exhibition, "West of Center: Art and the Counterculture Experiment in America, 1965-1977." All submitted proposals will be displayed at the exhibition opening.
Inflatable architecture has been around for at least 40 years, with roots as a counter-culture art movement. Designs have been featured at festivals, conferences, schools, and the Rolling Stones' concert at Altamont.
Ant Farm, an innovative design collective founded in San Francisco in 1968, is the chief inspiration for the JSMA inflatable contest. The group toured the United States in the 1970s with "architectural performances" utilizing portable inflatable spaces. Ant Farm later self-published the how-to book, Inflatocookbook, opening the world of inflatables to anyone eager to learn.
Those unfamiliar with inflatable architecture can find a brief history and examples at fastcompany.com.
Full contest instructions can be found online. For more information, contact Jessi DiTillio at BeHereNow@uoregon.edu or call (541) 346-0980.