As a graduate student of art history, Sloane Kochman has been asked frequently what she plans to do with that degree. Luckily, she has a great answer.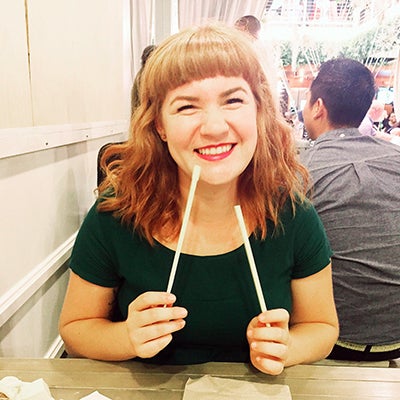 Above: Sloane Kochman. Photo courtesy Sloane Kochman.
"I started thinking about, as an art historian, how do I want to engage with things I want to change in the world?" said Kochman, alluding to an expectation for artists to be activists or otherwise push certain messages through their work. "I figured the typical path of an art historian may not let me do what I want to do."
Kochman initially pursued an art history master's degree to seek work in museum education. For her thesis, Kochman researched Anni Albers, a German textile weaver, designer, and teacher. Kochman says Albers' teaching philosophy inspired her to pursue a different career path:  teaching kindergarten or elementary school.
Albers first studied textiles and printmaking at the progressive art school The Bauhaus, which had departed from the traditional arts curricula by focusing on craft and experiential learning. The school imposed on its young students a teaching method of minimal guidance.
A year after Bauhaus closed in 1932, Anni and her husband, Josef Albers, came to the United States to teach at Black Mountain College, an experimental liberal arts school in North Carolina. Albers' innovative teaching style motivated Kochman to pursue experiential teaching.
"Strategies that Anni Albers used allowed her students to build confidence in their ideas of knowledge, to possess knowledge rather than just be the receivers of knowledge," she said.
Before coming to the UO, Kochman graduated from the University of California, Santa Barbara with a bachelor's degree in art history. This June, just ten days after she graduates from the UO, Kochman will return to UCSB to earn her teaching credentials and master's degree in education.
With two master's degrees—art history from the UO and education from UCSB—Kochman believes the potential to enact change within a school district is great.
During spring 2017, Kochman's thesis advisor, Assistant Professor Jenny Lin, asked her to write the catalog essay to accompany the Department of Art's Master of Fine Arts thesis exhibition.
"Sloane is an exceptional student who is able to bridge artistic practice with in-depth art historical research in meaningful ways," said Lin. "It's quite rare that art historians collaborate so much with artists, so it's really special that she undertook this project."
Kochman spent nine one-hour studio visits to interview the MFA students individually about their respective art practices, works, and artist statements.
"I was interested in understanding each artist and where they are trying to take their practice," said Kochman, "… and trying to articulate that myself."
In the exhibition's catalog essay, Sloane wrote: "Each of the nine artists … challeng[es] audiences to explore new ways of thinking about and moving in the world through infiltration, translation, and humor. Yet in all of the artworks presented, the viewer 'is born' not at the expense and death of the author, but through a shared insistence on the importance of the relationship between artist and viewer, artistic presence, and/or the laying bare of the production apparatus."
This year's MFA catalog is not Kochman's first foray into catalog essays. In June 2016, Kochman helped curate "I Stay to the End" as part of a class on curating contemporary art. She also wrote the catalog essay for that exhibit.
The UO Art MFA Thesis Exhibition will be installed through May 28 at the Disjecta Contemporary Art Center in Portland. The gallery is open Thursday–Sunday, noon–5 p.m. The exhibition is free and open to the public.