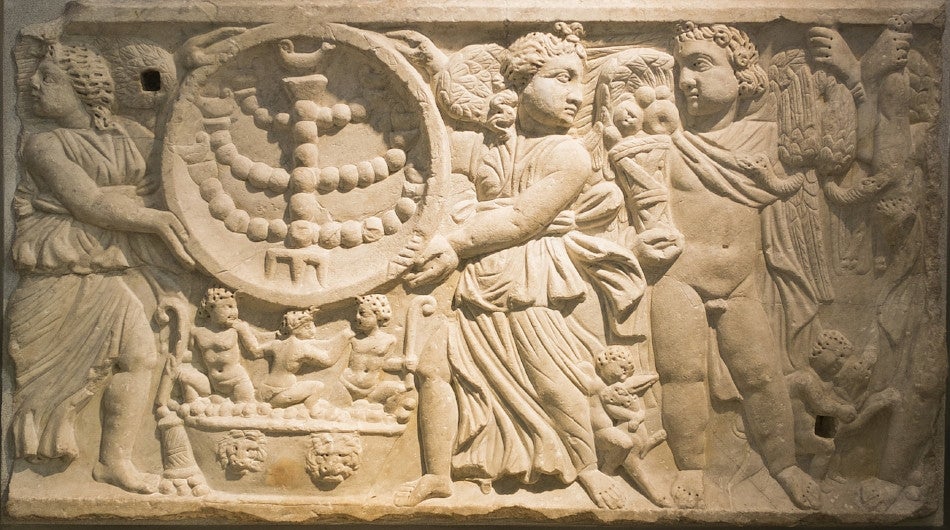 Seasons sarcophagus with menorah in the clipeus. From the Vigna Randani catacombs, Rome. Musei Nazionale Romano, Terme di Diocleziano, Inv. No. 67611. (Photo: Sean P. Burrus)
A new interdisciplinary course from the Department of the History of Art and Architecture is popping up this spring, courtesy of associate professor Kris Seaman.  
Ancient Jewish Art and Architecture (ARH 321) will investigate intellectual and cultural questions related to Jewish involvement with art and architecture throughout the ancient Mediterranean.
"Jewish art and architecture were significant elements of ancient cultural production, but they are largely ignored today," explained Seaman. "Such an absence in both scholarship and the classroom has led to what Steven Fine has called a 'rhetoric of Jewish artlessness,' the misconception of scholars, students, and the general public that Jews were not active participants in artistic production and art criticism in the ancient world."
Other topics explored in the class include investigating how Jewish rulers communicated their power and identity through art and architecture and understanding how Jewish art and architecture interacted with Greek and Roman culture.
Supported by Seaman's 2021–22 Sherl K. Coleman and Margaret E. Guitteau Professorship at the Oregon Humanities Center, the 4 credit course features six virtual lectures from eminent scholars throughout the term.
The online sessions are free and open to the public and require registration. To learn more or register for a lecture, click on the title of the lecture.
---
---
---
---
---