Assistant Professor Tannaz Farsi of the UO Department of Art is among three visual artists named 2014 Hallie Ford Fellows in the Visual Arts by The Ford Family Foundation. The annual award recognizes Oregon visual artists for the demonstrated excellence of their work and potential for significant advancement in their practices of art. Each will receive a $25,000 unrestricted award.
In her art, Farsi "challenges herself—how do you make visible something that is seemingly invisible? It is as if you are trying to capture breath, air or light," the panel of critics wrote. "Her work is very rigorous and elevates the discourse in the region. She is one of Oregon's best kept secrets. Her work pivots around the personal and the political: big ideas, social conditions, and global issues cast in personal dimensions that it makes it easier for an audience to relate. She has always worked above and beyond her reputation and her financial limitations, pushing herself to the next level."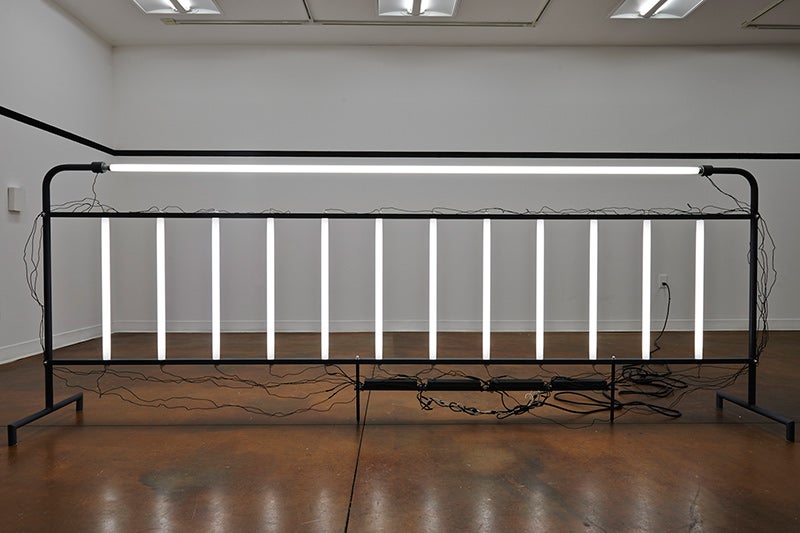 Above: Barrier, by Tannaz Farsi. 120" x 15" x 38," steel, fluorescent bulbs, wire, ballasts, color gray.
The panel of five jurists perceived that each artist is at a pivotal moment of potential transition in his or her career, and an infusion of resources now may help to catalyze their practices in transformative ways.
Farsi's work "is a particularly meaningful wedding of medium and ideas. It is very deliberate and beautifully arranged, powerful work; not arrogant but earnestly probing," the jurists commented. "There is a fresh feeling around the use of technology, seamlessly interweaving it with objects. She is thinking a great deal about democracy and the role of language in literature. She balances conceptual rigor with an experiential quality of work."
In her artist's statement, Farsi notes that "I use readymade objects as an identifiable language to reconstruct history. I also use readymade forms—the Iranian flag, my Gmail account, consecrated building structures and texts that hold collective resonance in order to deconstruct and reassemble meaning. Over the past seven years my practice has gravitated toward using objects that function as a sign, and contextually start from a collective experience found in moments of rebellion against systems of power."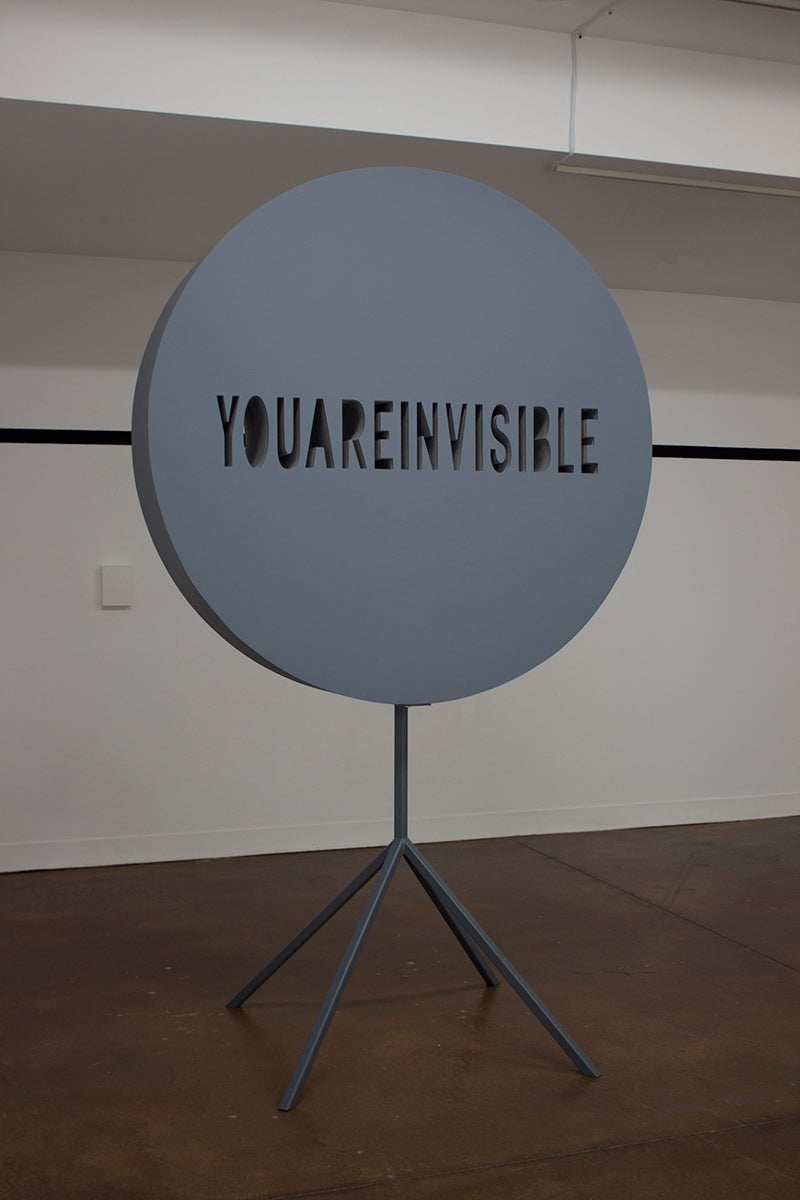 Above: INVISIBLE, by Tannaz Farsi. 48" x 18," 84," Wood, steel, color gray.
Born in Iran, Farsi received her BFA from West Virginia University and her MFA from Ohio University. She joined the UO in 2008. She has been exhibiting in solo and group exhibitions for the past ten years in the Pacific Northwest, California, Ohio, West Virginia, Delaware, and Massachusetts. She has been a finalist for the prestigious Brink Award (Seattle) and the Contemporary Northwest Art Award (Portland) as well as being the recipient of several honors for creative and faculty research, artist fellowships, and travel awards. She received several artist residency grants to attend Djerassi, Ucross Foundation, MacDowell Colony, and the Bemis Center as well as being a frequent lecturer at colleges, universities, and art centers throughout the United States.
"The Hallie Ford Fellowship is the biggest honor available to artists in the state, honoring just three midcareer artists with exceptional accomplishment in the field each year," said Laura Vandenburgh, head of the UO Department of Art. "Tannaz Farsi is very deserving of this recognition, as her inquiry makes unique cultural contributions. Exploring pressing questions of diasporic experience, her work combines poetic and political gestures. Farsi's installations involve shifts between object, image and site, allowing us to consider the tensions between individual and collective experience, between subjectivity and authority. We are incredibly fortunate to have Tannaz Farsi as a colleague and a vital member of the community of artists here."
Panelists included Cassandra Coblentz, independent curator and former curator of the Scottsdale Museum of Contemporary Art, Santa Ana, California; Anne Ellegood, senior curator, Hammer Museum, UCLA; Ben Mitchell, art editor, Basalt, and independent curator and writer, Grand Rapids, Michigan; Cristopher Moss, Linfield Gallery director and instructional associate, Linfield College, McMinnville, Oregon; and Stephanie Snyder, Anne and John Hauberg director and curator of the Douglas F. Cooley Memorial Art Gallery, Reed College, Portland, Oregon.
Storm Tharp and Geraldine Ondrizek, both of Portland, are the other 2014 Hallie Ford Fellows. Ondrizek is preparing for an exhibition this fall at the Jordan Schnitzer Museum of Art in Eugene.
The fellowships are one of seven program components of The Ford Family Foundation's Visual Arts Program established in memory of Hallie Ford, a co-founder of the foundation, to accelerate an enhanced quality of artistic endeavor by Oregon's established visual artists who are at pivotal points in their careers, and to improve Oregon's visual arts ecology. The foundation's mission is "successful citizens and vital rural communities" in Oregon and Siskiyou County, California. The foundation is located in Roseburg, Oregon, with a scholarship office in Eugene.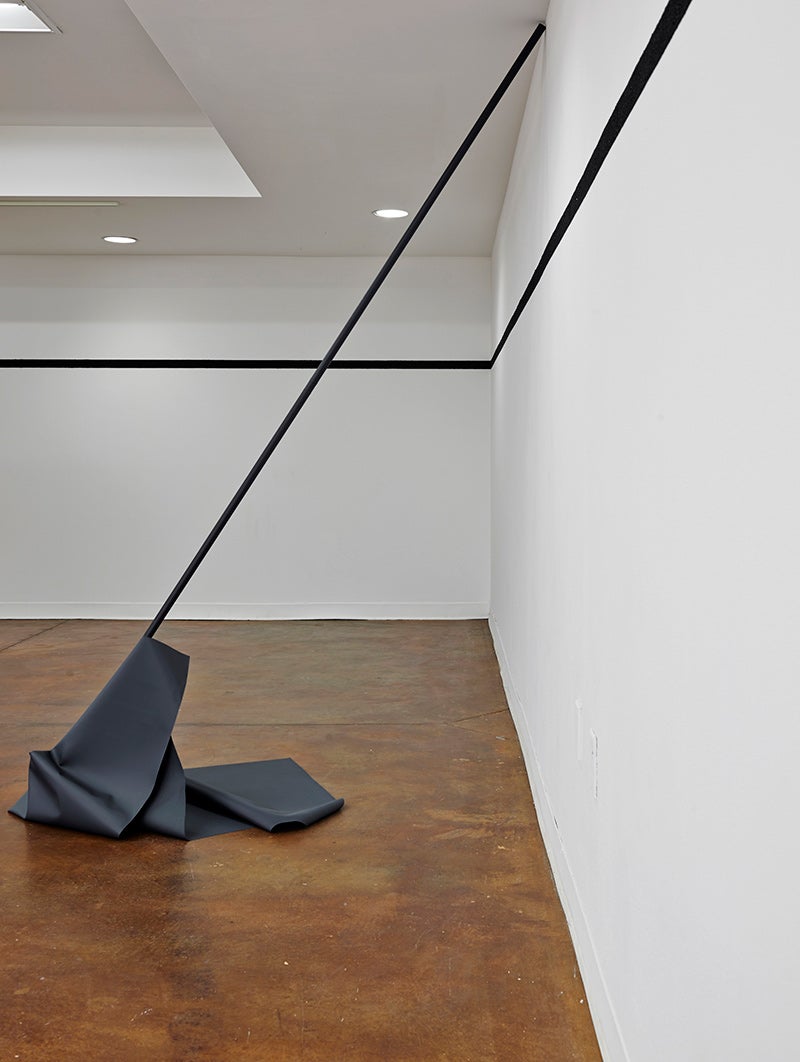 Above: Flag #6, by Tannaz Farsi. 18" x 18" x 108," steel, black heat shrink, cloth, color gray.