Robert Gamblin, artist and business owner of Gamblin Artist Colors, Co., will receive the school's highest honor, the 2014 Ellis F. Lawrence Medal, at the A&AA commencement ceremony this spring. He is a 1970 graduate of the UO's Department of Art.
"It was a wonderful phone call to get. I am truly honored, and a bit stunned," Gamblin said after receiving a call from Frances Bronet, dean of the UO School of Architecture and Allied Arts, to inform him he was selected to receive the Lawrence Medal.
Based on faculty nominations, the Lawrence Medal is awarded by the school's faculty and presented by the dean each year. Gamblin is the seventeenth recipient of the school's distinguished alumnus award.
"Robert epitomizes the best of the school's creative and inspired alumni. His work in the arts, as an entrepreneur and creative product developer, has aided artists and museums around the world," says Bronet. "He takes art making seriously and produces outstanding products that help artists give full expression to their ideas. We are excited to honor Robert with the Lawrence Medal."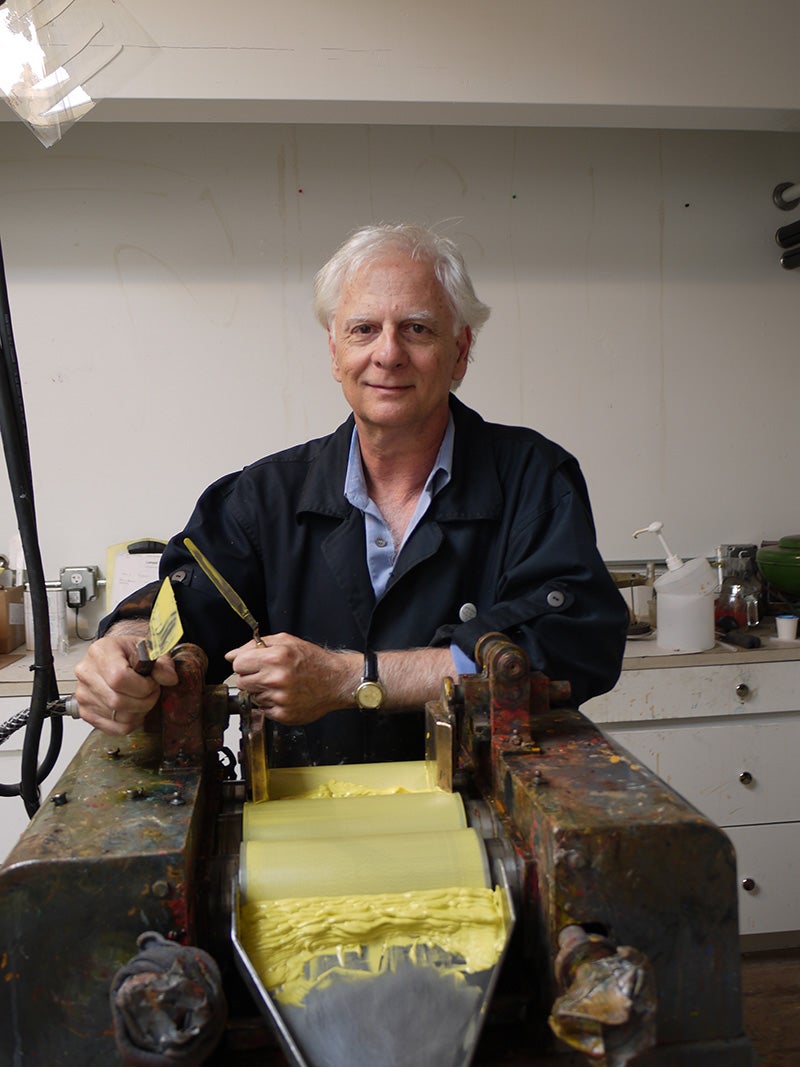 Above: Robert Gamblin at the painting mill in the Gamblin Artist Colors testing area. The company, founded by Gamblin, is headquartered in Portland, Oregon. He is the 2014 Ellis F. Lawrence Medal recipient, the school's highest alumni honor.
The word "Dedicated" is a trademark of Gamblin Artists Colors Company and a word that captures the spirit of innovation that is the work of Gamblin himself. As stated on the company's website, the company views its mission to lead oil painting and printmaking into the future. With Gamblin's leadership, the company has produced tools for artists that focus on high quality oils, varnishes, solvents, sizes and grounds, as well as a line of conservation colors that have been used to restore work by important artists in the most famous galleries in the world. His dedication to the artists and the success of their creative production is evidenced by many of the additional resources he shares about his materials and techniques. He has developed written tips and instructions, video demonstrations, a DVD, and animations to illustrate the rich color world available to artists, with many of these tools available on the company's website.
After graduation from the UO, Gamblin studied at the San Francisco Art Institute and was increasingly drawn to painting, especially setting up and painting outdoors. He left the school and traveled and painted in Europe. When he returned to California, his focus was to have a job, any job, to support his painting.
In 1980, while looking for a new career, Gamblin decided to experiment with making paint and learning the art supply business.  He began in his garage with a Hobart mixer and a three-roll mill and decided to make white oil paint. Three colors of white to be more precise—Titanium White, Titanium-Zinc White, and Zinc White.
Today, his company makes more than 200 colors in an environmentally safe production method in southeast Portland. Renowned for their working properties, Gamblin paints are used by some of today's great painters, including David Hockney, Jim Dine, Chuck Close, James Rosenquist, Wolf Kahn, and Nathan Oliveira.
In 2000, he founded a new product line called Gamblin Conservation Colors. The company makes color for conservators and restorers worldwide to use in the repair of damaged artwork. It started when Gamblin was invited in 1989 to give a talk about contemporary oil colors at a symposium the Smithsonian had organized on modern materials for conservators. He became fascinated with the challenges and the dedication of those involved in fine art conservation.
In 1994 he was invited to join a small team consisting of Rene de la Rie, Mark Leonard, and Jill Whitten, all top conservation leaders at major museums in the U.S., who were working on developing a new kind of conservation color that safely worked with priceless master works. Diving into the chemistry and research on resins, binders, pigments, and testing trial batches to establish correct ratios of pigment and binders with other properties considered critical to a successful paint for conservation use, such as finish quality, viscosity, and sheen, Gamblin eventually produced a line of conservation colors for the 21st century. More than 250 museums around the world now use Gamblin's "Con Colors" to restore works by such artists as Van Eyck, Da Vinci, and Van Gogh.

Above: View from San Giorgio, Oil on canvas on panel, 18 x 24 inches, 2010
The company also is recognized for its commitment to artist health and product safety. The paints are nontoxic and lead-free; their solvent, called Gamsol, is an odorless nontoxic mineral spirit. The air in the production areas where the company handles dry pigments is filtered so employees are not exposed to pigment dust. Each year, they recycle these high quality pigments into an annual blend called "Gamblin Torrit Grey"; its pigments vary each year and the vintage, much like a special bottle of wine, ranges from medium dove grey to dark earthy grey. The tubes are dated so artists can collect them and over 11,000 tubes are produced. The Torrit Grey Painting Competition, conducted annually in the fall, attracts artists willing to take the challenge of using grey, black, or white in their creations.
Gamblin keeps his hand in the business, remaining part of the marketing and product development teams at Gamblin Artist Colors Company but leaving the day-to-day operations to a team of twenty skilled people. He is a dedicated landscape painter and can now pursue his own painting and studio work. Gamblin regularly teaches workshops. He has lectured extensively on artists' materials in art schools and art associations to help painters select and use their materials in support of their work to the highest degree. Gamblin was featured on the History Channel's program, Modern Marvels, and Oregon Public Broadcasting's Oregon Art Beat. In addition, he has been written about in Smith Journal, Fine Arts Magazine, American Artist Magazine, and the Portland Tribune. Gamblin created "Navigating Color Space," a DVD on color mixing now available for view on the website. In addition, he served on A&AA's Board of Visitors from 1994 to 2000.
Gamblin says that his story honors the work of the University of Oregon School of Architecture and Allied Arts, which is passed on from administrators and faculty members to those who come next. He cites the late Professor Emeritus David Foster as an influential teacher and mentor. Gamblin studied with Foster in the late 1960s and attributes Foster with teaching him that image making was a medium of communication.
Recalling Foster's advice, Gamblin says he learned "what is implied is you have something to say, and second that you say it in a way it can be understood by your audience. I was so fortunate to learn this at the UO before I started my career."
The Ellis F. Lawrence Medal will be presented to Gamblin on June 16 at the school's commencement ceremony on the University of Oregon campus in Eugene.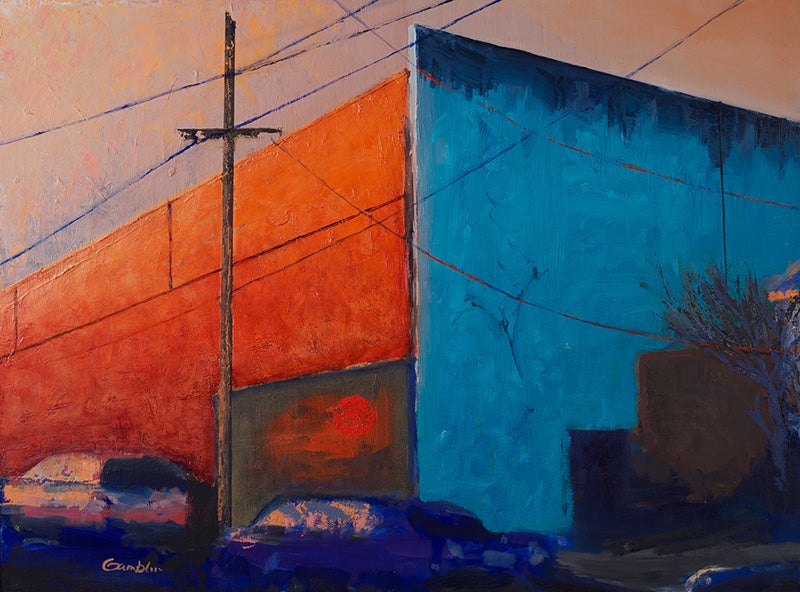 Above: Grant at 11th, Oil on canvas on panel, 18 x 24 inches, 2012