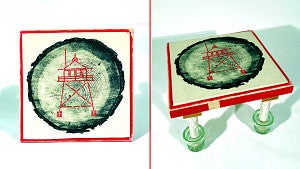 College of Design Visiting Professor David Buckley Borden is taking his show on the road, courtesy of Simmons University. His exhibition, Ghosts Forests, is currently running through Friday, October 21, 2022. This latest collaborative art and design exhibition "explores cultural response to dead and dying ecosystems through silkscreen prints, fabric works, wayfinding systems, speculative-futures sculpture, and other interdisciplinary installation work that defies simple categorization."
Featuring a number of collaborators and work, including numerous students from the Bachelor's of Landscape Architecture (BLA) and Master's of Landscape Architecture (MLA) program, Ghost Forests is funded by Simmons University's Trustman Art Gallery, the Fuller Initiative for Productive Landscape at the University of Oregon, Oregon State University Foundation's Andrews Forest Fund, and the Bullard Fellowship in Forest Research at the Harvard Forest. 
For more information about the exhibit, read on at David's website, Ghost Forests, or the Trustman Gallery's Press Release.