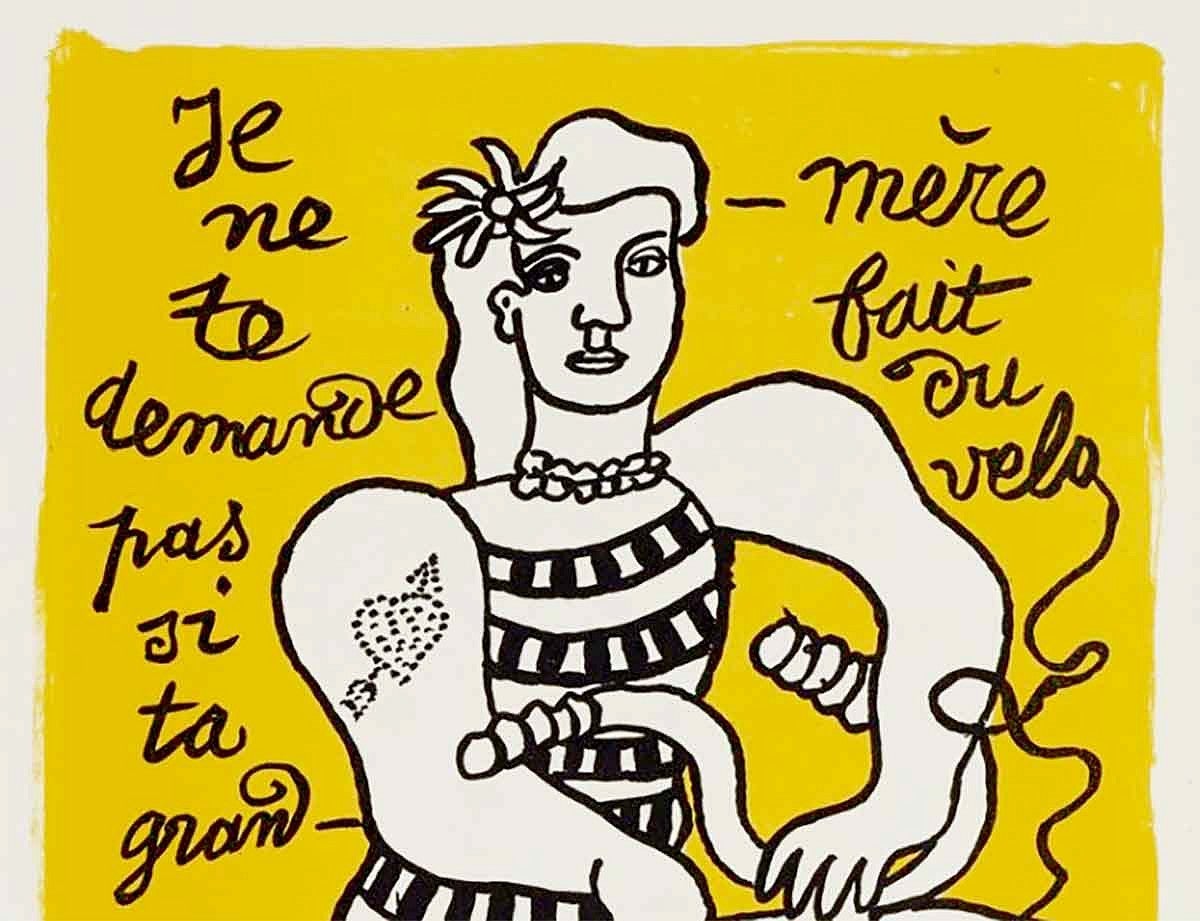 Je ne te demande pas si ta grand-mère fait du vélo, cubist Fernand Léger wrote in a loose, black script around an image of a tattooed woman on a bike. This translates to, "I'm not asking if your grandmother rides a bike."
Absurd? Yes. Cirque (1950), a handmade book complete with 83 lithographs, is full of Léger's playfulness, both in images and his handwritten musings, which focus on parallels between rural and circus life such as the prominence of cycling in both.
Cirqueis a livre d'artiste, or an artist's book, that Léger created in Paris with publisher Tériade, who commissioned 27 of these large-format artists books. Because Tériade encouraged the artists he worked with to take creative control over both the images and text, these books provide intimate insight into the workings of their creators. 
Emily Shinn, a graduate student in the College of Design's Department of the History of Art and Architecture (HA&A), curated the exhibit Fernand Léger's 'Cirque' and the 'livre d'artiste', on view now through March 24 at the Jordan Schnitzer Museum of Art (JSMA). With the supervision of McCosh Associate Curator Danielle Knapp (a graduate alumna of HA&A), Shinn curated the exhibit as part of her terminal project.
"I think the exhibition, my experience behind the scenes,and the final product open to the public, will provide a much-needed example of an MA terminal project in Art History,"Shinn said in a press release. "It demonstratesthe relationships possible for students between the Department of the History of Art & Architecture and the JSMA."
Shinn and Knapp will give a gallery talk at 5:30 p.m. Wednesday, Dec. 5, on "Modernism in Europe and the Americas." The talk is free and open to the public.
Read more about the project in Artdaily's story "University of Oregon student curates exhibition of 1950s French artist books."