There is cause for celebration in the Institute for Health in the Built Environment (IHBE), courtesy of a nearly $1 million award from USDA National Institute of Food and Agriculture (NIFA). The dedicated team of researchers learned of the award Thursday afternoon and were excited to share their success.
"When we learned about the award, we were ecstatic," said Project Director, Gwynne Mhuireach, a Research Assistant Professor in IHBE. "Collaboration is likely a key to our success, specifically the hard work and leadership of co-Project Directors, Brad Gaolach of Washington State University and Gail Langellotto of Oregon State University."
The specific project is focused on providing solutions for urban-based agriculture. With an uncertain climate future ahead, urban agriculture is increasingly becoming critical to ensure nutritional security, community resilience, and equitable access to healthy foods for growing urban populations. However, the lack of open space and surging land prices present a constraint to the establishment of new urban farms and gardens.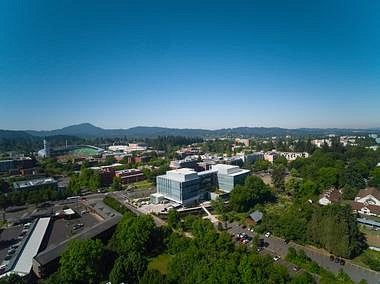 A possible solution and a way to establish new agricultural sites is to produce food on and in buildings using methods like rooftop farming, green facades, and controlled environment agriculture. Further co-benefits can be gained by creating a closed-loop system where building outputs are recycled as inputs to the agricultural system, and agricultural outputs ultimately provide inputs to building systems and users. Despite the many potential benefits of such building-integrated agriculture (BIA), there are currently no working examples of commercial BIA food production.
This is due to a lack of qualified experts and a research base since BIA requires multi-disciplinary expertise, as well as other challenges and barriers, with an overall goal to identify critical challenges, barriers, benefits, and opportunities while creating a network of professionals to further develop BIA through academic training, applied research, extension programs, and industry engagement.
IHBE will accomplish this goal through a series of integrated objectives that are rooted in leveraging the Institute's strong research partnerships. IHBE will work together with architecture and engineering firms to develop research and demonstration projects, moving this work beyond merely concept development to implementation and application. In addition, the Institute will develop a seminar and design studio to train future practitioners and connect IHBE's work to global knowledge and expertise through the University of Oregon's study abroad opportunities.
IHBE was founded by the Energy Studies in Buildings Laboratory, the Biology and the Built Environment Center, and the Baker Lighting at the University of Oregon, the Institute is dedicated to focusing on equity for individuals and communities who face health disparities due to the creation and operation of built environments.
---
Learn More