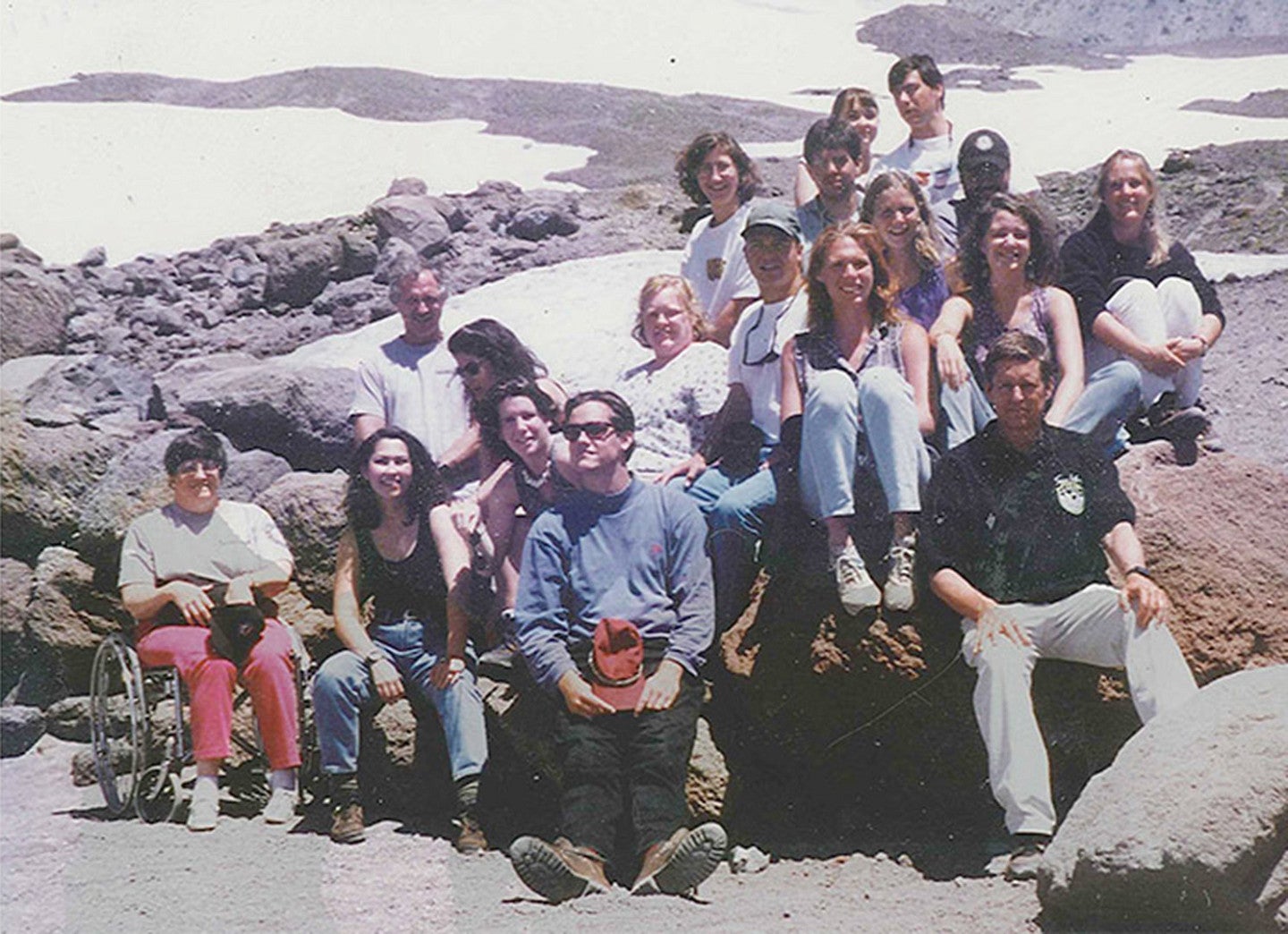 One of the visionary leaders of the School of Planning, Public Policy and Management (PPPM), David Povey, 83 years old, died on May 2, 2023. The family held a celebration of life for friends and family on August 27. Povey was an incomparable academic, thought leader, and adventurer whose storied academic legacy includes spearheading numerous groundbreaking programs that make up the unique educational programs of PPPM and the College of Design (DSGN). 
These programs were created in response to Povey's innovative theory concerning the relationship between academia and the community. 
"David was the most unusual academic I ever met," explained Bob Parker, co-director of DSGN's Institute for Policy Research and Engagement (IPRE) and longtime collaborator and mentee of Povey. "He was entrepreneurial in his approach and was at least two decades ahead of academia with his ideas concerning the relationship between academia and the community. David firmly believed that we should be bridging the gap between communities and higher education." 
Povey was an advocate for connecting the resources of academia to the needs of the local community. Students were an untapped resource that could be used to help improve local community outcomes while providing a unique, service-minded educational experience. 
This mentality led to the creation of a number of different student-focused educational programs, including the Resource Assistance for Rural Environments (RARE) AmeriCorps program, a University of Oregon-administered program since 1994. 
Now in its thirtieth year and with an alumni base numbering over 500 members, RARE is recognized throughout the state as a premier capacity-strengthening solution for nonprofits, native tribes, and state and local governments, especially in our rural communities. 
Povey helped develop this impactful program in the wake of the collapse of the timber economy and was instrumental in laying the foundation for this and other programs' future success, thanks to his leadership and insight when it came to communities and his students. 
"David was here from the beginning and was one of a few pillars upon which RARE was built," said Titus Tomlinson, RARE Program Director. "He mentored and shaped many impactful RARE alumni, none more so than our previous program director, Megan Smith, who was our rockstar leader for many years. When she tragically passed away in 2018, we were absolutely devastated and David was there to help. I'm thankful for David's kindness and help that was offered during that time and can see how much he cared for his community. He will be sorely missed." 
As a lifelong Oregonian, Povey was passionate about using the resources and expertise in academia and putting them forth into the local community. Not only would the students gain valuable real-life experience but the community would be able to lean on the resources of the PPPM has a storied history of creating passionate community builders and is consistently rated as one of the top public affairs programs in the country. Even though Povey retired in 1998 from the university, he wasn't done teaching, working as a ski instructor alongside his wife LaVonne in the early 2000s. 
Povey would continue to lead a busy life, with him and his wife spending time between their homes in Mosier, OR, and Sun Valley, Idaho, leaving behind a legacy rooted in love for his community, family, and friends.
---