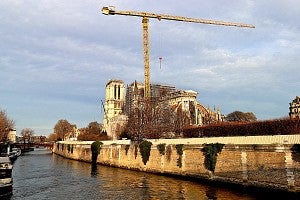 By 2024, five years after a conflagration that blazed for four hours, it is projected that the Notre Dame in Paris will be well on the road to recovery and restoration, and open to visitors once again.
In that fire, large portions of the centuries-old cathedral were destroyed, including art, statues, and artifacts.
However, many of the movable objects were saved, and visitors will again be able to see them in their intended context—an important experience says Maile Hutterer, an associate professor in the Department of the History of Art and Architecture who specializes in Gothic architecture and Medieval art.
"There's a richness of experience that comes with seeing these objects in their ritual setting," Hutterer recently told InsideHook. "When you go into a museum you may be looking at a relic or painting against a white wall in a quiet space that's relatively sterile, devoid of ambiance. When you see it in the cathedral, you have some degree of that whole sensorial experience that really changes the way you interact with the object."
In 2019, Hutterer—who this spring was awarded a UO Faculty Research Award for her work on "Architecture in the Medieval Imagination"—wrote about Notre Dame in the wake of the fire in the article "Notre Dame's history is 9 centuries of change, renovation and renewal" for The Conversation.
Read the full InsideHook story "Notre Dame Wants to Reopen by 2024. How Is That Possible?"