Sculptor and educator Mark Sponenburgh died December 6, 2012, at his home on the Oregon Coast. He was 94. He taught at the University of Oregon School of Architecture and Allied Arts from 1946 to 1957. Sponenburgh was devoted to the study and practice of the arts with special focus on sculpture and art history. He established an endowment fund in 1997 at the UO Foundation to support a lectureship on the history and aesthetics of sculpture and for a graduate student research award.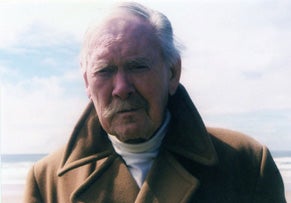 With the Sponenburgh Fund, the Department of the History of Art and Architecture has brought leading scholars and curators to deliver public lectures on the history and aesthetics of sculpture, including Marla Prather, Jerome Pollitt, Christopher Johns, and Alexander Potts.
Sponenburgh, Fellow of the Royal Society of Arts, studied sculpture at Cranbrook Academy of Art, Wayne University, and L'Ecole Superieur des Beaux Arts, Paris.
 
Above: Mark Sponenburgh. Photo courtesy Lin Cook Harpster.
During World War II, Captain Sponenburgh served with the Army Corps of Engineers cartography section of the 9th Engineers Command. He oversaw the recovery of stolen art that the Nazis had hidden in the Altaussee salt mines near Salzburg, Austria. Among the works was Michelango's marble sculpture, Madonna of Bruges.
Sponenburgh had a remarkable career as an artist and educator.
"Years ago, I was fortunate to be launched on a teaching career at the University of Oregon School of Architecture and Allied Arts" wrote Sponenburgh to Assistant Dean Karen J. Johnson. "My subject was sculpture – technical, theoretical and applied. In 1955, I introduced a course on the History of Sculpture, the first of its kind on the Pacific coast. Following my leaving the university, the history of sculpture was discontinued and assimilated into the curriculum of general art history." After careful thought, Sponenburgh proposed a gift to the school "to support an annual lecture emphasizing the importance of sculpture, giving attention to historical, theoretical, and aesthetic aspects of a truly great tradition."
At the UO, Sponenburgh, along with painter and colleague David McCosh, taught the Basic Design course along with his other courses in sculpture.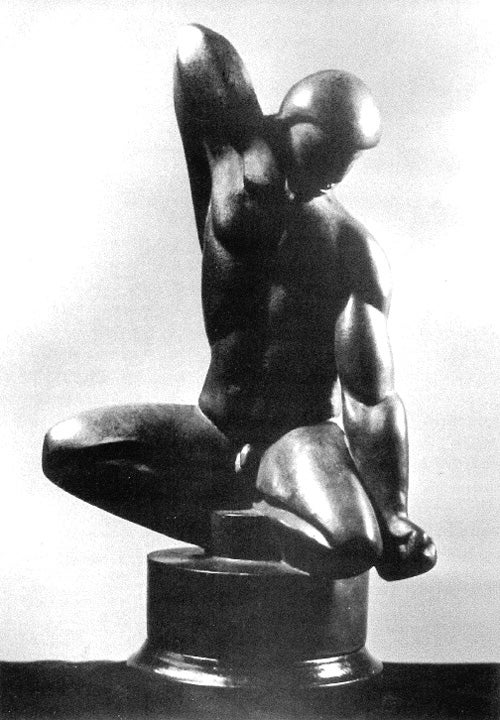 Above: Archer, 1940, 18", plaster, electroplated.
In 1951, he took a leave of absence from the UO and traveled to Egypt as a Fulbright Research Scholar at the American Research Center in Cairo. He spent two years conducting research, writing, and preparing for a solo exhibit at the Museum of Modern Art in Cairo. He also was a visiting research lecturer in Egyptian Art at the Royal College of Art in London during his 1956-57 sabbatical year.
He left the UO and accepted a commission from the government of Pakistan to help create a new National College of Art in Lahore from 1958-61. In 1961, Gordon Gilkey, then chairman of the art department at Oregon State University, invited him to teach art history in Corvallis and he returned to Oregon. Sponenburgh taught at OSU until his retirement in 1983.
In an interview with Roger Hull, professor emeritus of art history at Willamette University, Sponenburgh estimated that he had made more than 170 works of sculpture. Three sculptures by Sponenburgh are included in the UO's Jordan Schnitzer Museum of Art's permanent collection and his work is in numerous public and private collections worldwide.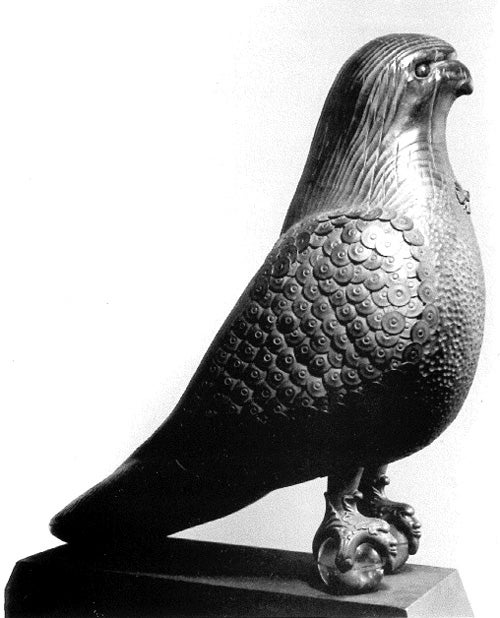 Above: The Caporal, 1960s, 28", redwood, iron, glass.
For more on Sponenburgh, read the December 22 obituary by David Stabler in The Oregonian.
Read Capt. Sponenburgh's listing on the Monuments Men Foundation for the Preservation of Art.
The print version of an art catalog by Roger Hull, "Sculpture by Mark Sponenburgh: A Retrospective, 1940-1995," was presented by the Triad Gallery in Seal Rock, Oregon, in 1996.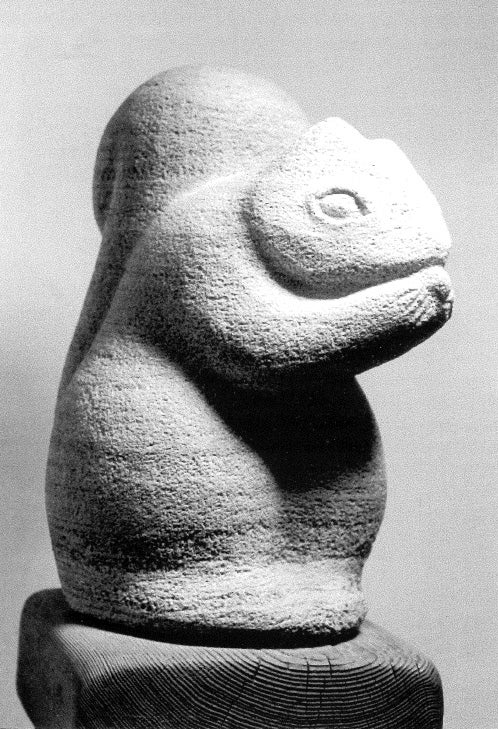 Above: The Collector, 1970s, 22 ½", volcanic stone.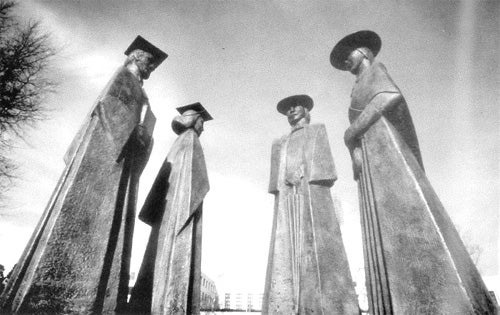 Above: Town and Gown, 1992, 48", cast bronze.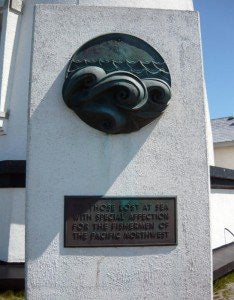 Above: Eternus, 1987, pylon 120", bronze tondo 36". The inscription on this memorial pylon at Yaquina Head lighthouse on the Oregon Coast reads: "To those lost at sea with special affection for the fishermen of the Pacific Northwest."
 
Story by Karen Johnson