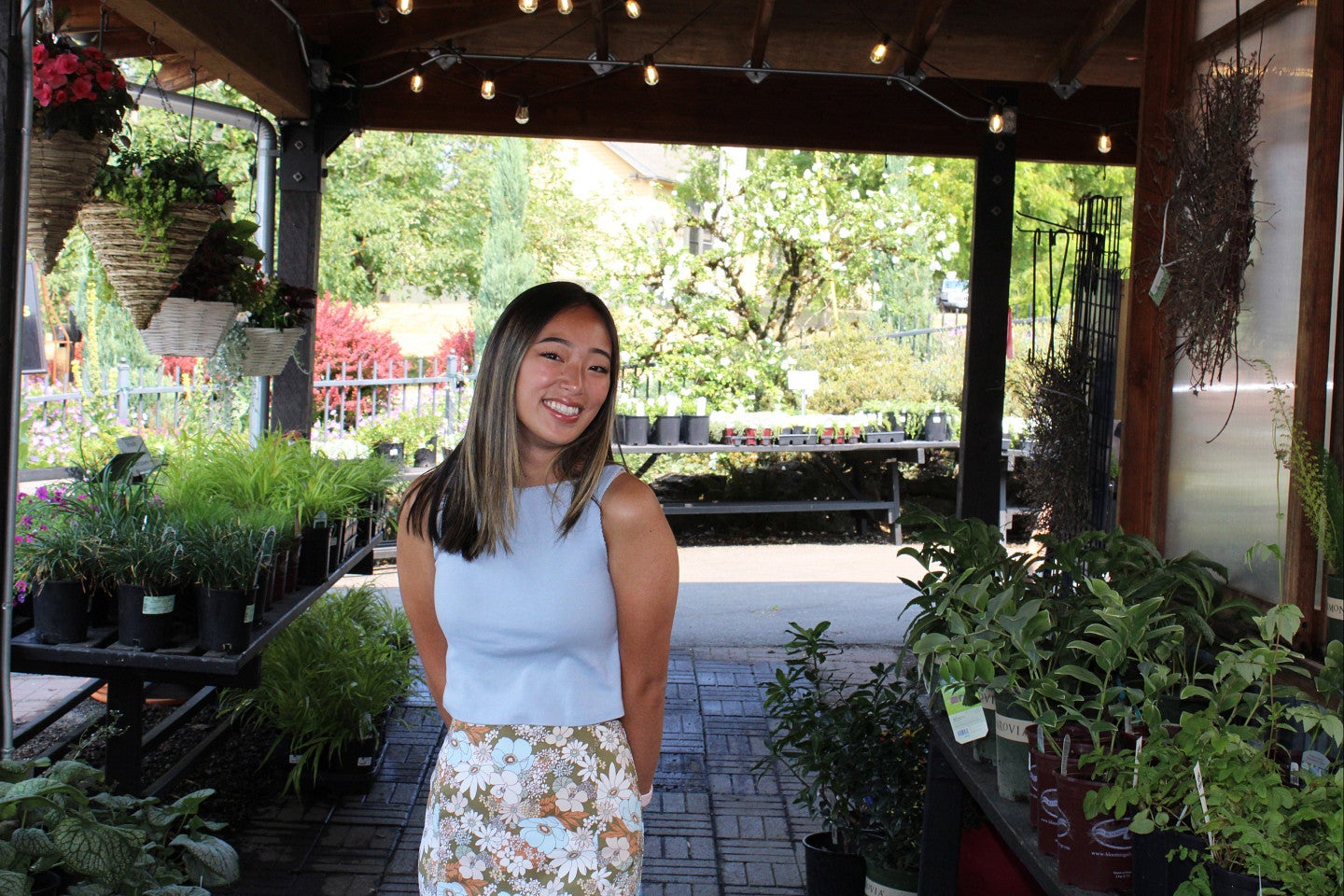 The Oregon Design Ducks (ODD) flock at the College of Design is made up of promising students, award-winning faculty, and passionate staff. The following profile is just one way our ODD flock is standing out and making its mark on the world.
Kiera Patterson is currently working towards a bachelor of fine arts degree in Product Design through the School of Art + Design (A+D). She works with our communications team from University of Oregon Portland's White Stag Block as a Student Ambassador for the College of Design. We spoke with her about the UO, her transition to UO Portland's campus, her work towards creating accessible tools to those with arthritis, and more!
Here's what she had to say!
---
What led to your decision to choose the University of Oregon?
I decided to apply, primarily for the Product Design program. I knew it was one of the only programs in Oregon, and it was at a large university. I really wanted to attend a large school with a diverse community and student population. Another reason I chose to come to the UO is, it was close to home in Portland, but not too close. It was important for me to be close to my family, but leaving home to go to school is a good idea. I also had friends that I knew were coming, so I knew it wouldn't be an isolating experience. Finally, I toured the campus in the fall and loved what I was seeing. It was very easy to envision myself being at the UO for the next four years!
---
Why did you decide that you wanted to become a Student Ambassador?
When I was looking for a job, I knew I wanted to do something that was in Lawrence, or at least within the College of Design. I applied for being an assistant in the Dean's Office, but my class schedule did not really mesh with the work schedule of that term. After that, I saw the Student Ambassador role posted and I thought, "Oh this is really cool because it would mean I can be more involved with the design community!" It was my junior year, and I'd been in the Product Design program for a while, so I feel like I knew what I was doing and that a knew a lot about Lawrence and my program. It just felt like the right fit for me!
---
What was your experience like transitioning from Eugene to the Portland campus?
It was definitely a shift for me. I had been in Eugene for the first 3 years of college, so in the beginning, it was sad to move back to Portland. I didn't want to leave my friends, and I knew the campus well, and I had really fallen in love with Eugene. But transitioning to the Portland Campus was good! A lot of our instructors also are actively working in the field, so it's nice to experience working with professors in that setting. Plus, the Portland campus is really nice! All of us get our own work desks with storage to put all of our things – which is different from the classrooms at Eugene.
One advantage for me personally, is I am able to live at home in Portland so I don't have to pay for rent and I get home-cooked meals pretty often. It has also been really fun exploring the city and guiding my cohort. We are all close to each other, and it's been nice telling them about certain spots and restaurants around the city.
---
Tell us about UO Portland's White Stag Block! What are some of your favorite spots in and around the building?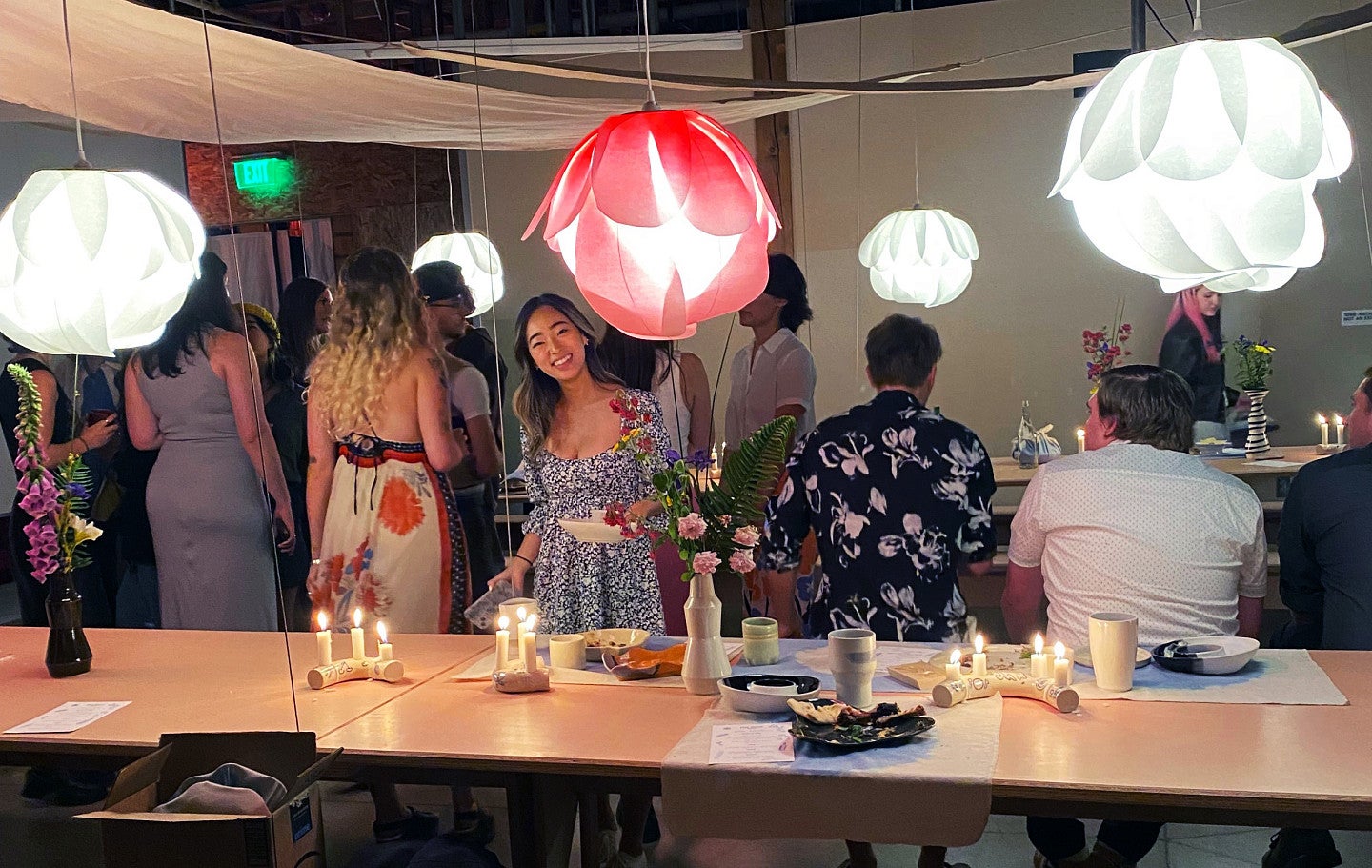 Product Design shares the White Stag building with Sports Product Design, Architecture, and a few other programs outside of the College of Design. Product Design's classrooms take up the entire 4th floor. I always enjoy being there in the classroom because of the social environment. Sometimes it can be hard to get our work done in those 3 hours because we want to get to know each other in that time!
Outside of the building, the area can be gorgeous. Just out front are waterfront parks overlooking the Willamette River. Portland is also great for food and coffee, and of course, the Old Town area has its own hub for that. Just a short walk away is a restaurant called Luc Lac Vietnamese Kitchen. They have the best tofu spring rolls – they even have gluten-free spring rolls which are hard to find! I've been going there for lunch which is always a treat for me after class.
---
Can you tell us a bit about Product Design and why you chose it as your major?
When I was younger, I really enjoyed creating things. When I got to high school, I went into our school's art program and I really enjoyed making things with my hands and being able to be creative in that way. At the time, I didn't realize product design was a field you could go into. I didn't know much about design fields at all. My friend was applying for the program, and I had read about it and thought, "That is really cool. Maybe I should apply! After applying, I thought, "maybe I'll get in, maybe I won't." I was accepted, and I have really enjoyed the experience from the start.
It has been awesome getting the opportunity to be creative and actually make a physical product that you've designed from the first sketch. I think most people don't understand how much actually goes into that process. You can go through 400-500 sketches before finding one iteration you like of an idea. Then you build off of that to get to your final sketch. The process starts with ideation and research, then an iterative prototyping process until we reach our final design. The whole process is a lot of fun to be a part of – doing all of that and then being able to present your final product to everybody at a final review.
I've also been doing a lot of 3D modeling for my internships, which is a relatively new skill that is emerging. That's another thing that drew me to the program. It is extremely innovative. I know everything in the world seems like it's changing, but Product Design seems to be at the forefront of innovation. It's very cool to be a part of that change.
---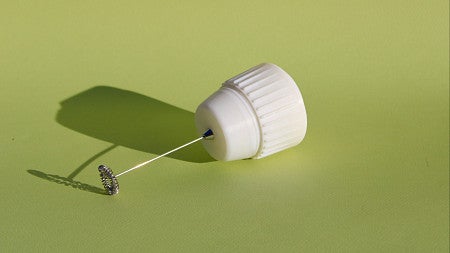 What would you say you've found most interesting about your studies in product design?
There are so many branches of product design, and a lot of them are very interesting, but what sticks with me is universal design – accessible design for everybody. The UO Product Design program touches on universal design in several classes. It's really an important area of study that can benefit everyone. A great example of this type of design that I like to talk about is OXO brand's potato peeler. They re-imagined this product to have an easier grip, and so that it can be used by people who have arthritis in their hands. Inspired by this product, for a project last term, I designed a milk frother for people with arthritis. Hearing about how we can make design accessible to everybody has been very interesting and something I may pursue in the future.
---
As you approach graduation this Spring, take a look back at your time at the University of Oregon. What is it that you are going to miss about this place?
I've had professors Erdem and Hale Selek teach multiple courses and I love them as people and as educators. Tom Bonamici has been incredible. I'm really going to miss the people there ­­– my friends and the family-like community we've built. It's such a great place to meet people and really figure out who you are as a person. I feel prepared and excited for what comes next, but I am really going to miss seeing those friends that I won't get to see very often. One of my best friends is from California's Bay Area so we are at the point we know we might not be just a car ride away from each other anymore. I really am going to miss this place.
---
What would you say to potential students who are considering studying at the University of Oregon College of Design?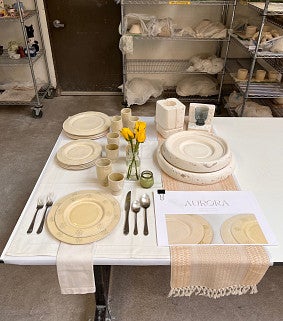 My main piece of advice would be to try everything you can. The College of Design has so many things to offer students – whether that's the courses they offer, clubs, guest lectures, and an array of other resources. Even something as simple as finding a space you like in Lawrence can be beneficial to your student experience. The 4th floor of the Design Library was my favorite place to study because you can overlook the EMU and everything in between.
I've taken classes in interior architecture and graphic design. I've taken "other" product design courses that weren't required. I've taken a lot of classes within the College of Design that allowed me to find what I like to do and what I don't like to do. Try everything, especially in your first two years when there's more uncertainty. Be open to things you might not even want to do. Sometimes you may be surprised at what you find. It can either reinforce that the path you are on is the right one, or it can point you in the right direction of where you should be. Even if a course doesn't take you down a different path, it will teach you valuable skills that you can integrate into your current work. For example, my interior design courses gave me an opportunity to explore concepts of color theory and lighting therapy, which I have been able to implement into my work in Product Design. Try everything!