The Oregon Design Ducks (ODD) flock at the College of Design is made up of promising students, award-winning faculty, and passionate staff. The following profile is just one way our ODD flock is standing out and making its mark on the world.
Trent Nesbitt is working towards his bachelor's of fine arts degree in Product Design through the School of Art + Design (A+D). He is currently in his third and final year at UO's Eugene campus, before transitioning to UO Portland for his final year of study. Nesbitt is extremely passionate about his work in product design and takes pride in his ability to find solutions for any design problem that may need solving. This year, he has worked with a team to design and fabricate an architecture exhibition on the world stage at the 2023 ECC Venice Biennale.
The college and A+D had an opportunity to speak with Trent Nesbitt and learn about his experiences at the UO, the Product Design program, transpecies design, and more!
---
What lead you to realize that you wanted to study Product Design?
Since I was a kid, I think I've always somewhat known that I'd end up doing some form of design. In high school, after trying a variety of different things and experiencing a lot of different kinds of artistic endeavors, I found that my creative interests weren't in telling my own story, but instead in articulating others' stories.
For me, that's probably the most exciting part of product design – working within boundaries that are set by others, articulating ideas, and solving problems that are assigned to me as opposed to me trying to find problems that need solving on my own.
---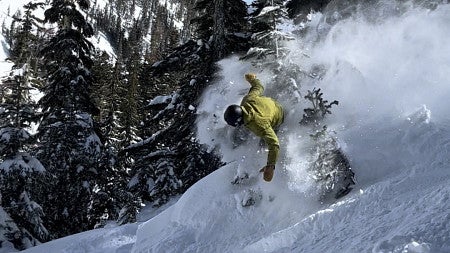 Why did you decide to attend the University of Oregon?
Being from Portland, the University of Oregon seemed like an obvious choice, considering the university was in "my backyard." I also decided to come here for academic reasons and a number of other factors.

I actually looked at a lot of other schools. No other school had both the program that I was interested in and was able to pair it with this kind of access to the mountains and the outdoors. At this point in my life, the Pacific Northwest is pretty hard to beat!
---
As you're rounding off your third year of in the Product Design program, would would you say the most interesting aspect of your major?
My absolute favorite part of product design is simply responding to briefs and working with constantly changing subject matters. I love the process of design and the cyclical nature of working from a project's ideation to its final production. I like working with such varied projects and not being faced with the same redesign or brief every single time. It has been fun for me to work in a cycle, then be able to pass it along and start something new.
---
One subject that the College of Design has heavily focused on in recent years is Transpecies Design – an other-than-anthropocentric approach to regenerating, restoring, reinvigorating, and replenishing the natural environment. What does transpecies design mean to you?
Transpecies Design is an interesting topic to me. I think there's a lot of work to be done to get it to a place where consumer goods really support more than the human species. Transpecies Design to me means that humans aren't the sole beneficiary of what we produce.
In architecture, there have been great strides toward eliminating humans as the sole beneficiary of buildings and structures, but I think product design still has a long way to go. Personally, I believe that the focus should be on production and manufacturing – finding unique ways to utilize unused materials and limit waste is the first step toward design in which people aren't the only consumers.
---
You've been working with Dean Adrian Parr on a transpecies design project destined for the 2023 ECC Venice Biennale. Can you tell us about this project and your experiences working on it?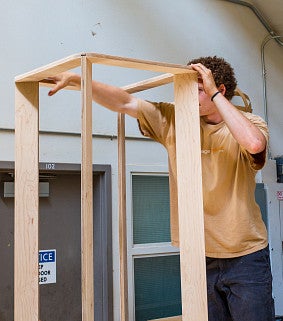 I've been working alongside Dean Adrian Parr and [architecture student] Yash Akhouri to design and fabricate an architecture exhibition that highlights work from students and staff in the university whose focuses are on transpecies design. Our main goal as the fabrication design team of the exhibition has been to find ways to reflect the values of transpecies design in the structures that the work is being shown on.
For us, that meant utilizing sustainable materials, limiting costs and energy, and working in areas like shipping. All of our structures were built to be fully flat-packable so that we could limit our impact in the shipping process. We also worked with local manufacturers to source all of our materials. It's really been such an exciting project that has fit well with my interest in working within the boundaries of others.
It has been a lot of fun to work on a different set of boundaries than I'm used to working with. I'm having to work my way through new issues – many of which have been about designing to make things fit a certain aesthetic. Learning to solve problems specific to this project has been really enjoyable.
---
Now that the Transpecies Design project is coming to its conclusion, what do feel you've gained from the experience?
One thing that I was not anticipating at all going into this internship was the amount of work that I would be doing with outsourcing or coming up with plans to source materials. Often, we had to outsource fabrication processes that our team just wasn't able to handle.
I think the biggest skill that I gained from this experience is the ability to effectively communicate in a professional setting. I spoke with people from many different companies and have been working with a budget at a scale that I haven't ever worked with before. Having to reach out to people and say, "Hey, I'm a student at the University of Oregon. This is the project I'm working on. We need this many sheets of plywood. This is how we want to use them to achieve our goal. It's been exciting to be a student and work on such a large-scale project like this.  That communication aspect has had a huge impact on the way that I work with people at both a personal and a professional level.
---
What are some of your goals for yourself once you've earned your degree?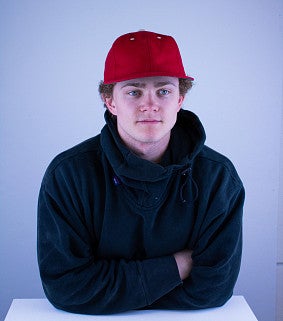 I have lots of goals – the main one being working with people who share the same interest in values. I think it's been pretty exciting to look back at where I was when I started school, thinking that I understand what my interests are and values are in terms of what I want to see in design, and then feeling entirely different about those interests and values the further I delve into my education.
Now I have a much better understanding of what my interests are, and I have stronger values. Another goal that I find important is finding a group of people who share those values. Also, just designing items and products that I can be proud of is a huge goal of mine. I want to enjoy my career. I want to enjoy what I do, and I'm certainly enjoying it right now at the UO. My goal is to continue that into my career.
In terms of the physical things that I want to be producing, I'm really interested in furniture, home goods, and other hard goods. That's really what I want to focus on and then, maybe someday, I'll operate my own studio. I think that would be a lot of fun! Maybe, I will get to a point where I'll have a group of people around me that I can work with in a studio in a consultancy-style environment. That's the end goal. That would be awesome!
---
After this term, you will moving on to the University of Oregon's Portland campus. What are your thoughts on making this transition?
I have mixed emotions about moving up to Portland for my final year. I'm excited to be there, and I am starting to look ahead at my future as it relates to graduating and then starting work, hopefully before next summer, which is a unique opportunity and position to be in.
It's also hard to move away from Eugene. I have made a lot of friends here, and my Freshman and Sophomore years were impacted by COVID so it feels like I only will have two "real years" of college. That said, it's just a hop down I-5, so I can come back, visit, come for game days, and all that good stuff. It can be a bit tough, but I am very excited to take this next step.
---
Who has been your biggest influence in design at the UO?
Hale Salek. She has been hugely responsible for how I've started thinking about design differently. As I mentioned earlier, a lot has changed about my views on design since before I came to the UO. I've taken about five classes with Hale, including my very first upper-division studio during sophomore year. I think her material and the way that she thinks about design have really influenced me on a personal level, to the point where I've made connections with previous students of hers that have the potential to lead to long-term professional relationships. I think she's probably the biggest influence that I've had in my time at the University of Oregon.
---
What would you say to potential students who are considering studying Product Design at the UO?
I would say, "Do it." I came to the UO with what I thought was a clear understanding of what product design is. Despite that, nothing could have prepared me for how fulfilled I've felt just in three years in the program. Even after my first year, I went home feeling like I knew exactly what I'd be doing for the rest of my life.
Now, I give tours of the product design program for the university. I don't give these tours because it's a job that pays a ton. I do it because I love speaking on behalf of the program, sharing my experiences, and telling students about what they might be able to enjoy as they enter into the program.
I make jokes all the time about how late students stay up working on projects in studios on campus, but the truth is we do it because we wouldn't want to be doing anything else. We want to be there at three in the morning because we are excited about the projects we're working on. We are just a hard-working group of kids who are extremely passionate about the work that we do.