Dean Adrian Parr had the opportunity to talk with Metropolis Magazine about transpecies design, the European Cultural Center Architecture Biennale, and the University of Oregon's impact and potential leadership in an uncertain climate future. The following is an excerpt taken from the Metropolis Magazine story, Transpecies Design at the 2023 ECC Architecture Biennale.
The original article can be found on the Metropolis website, here.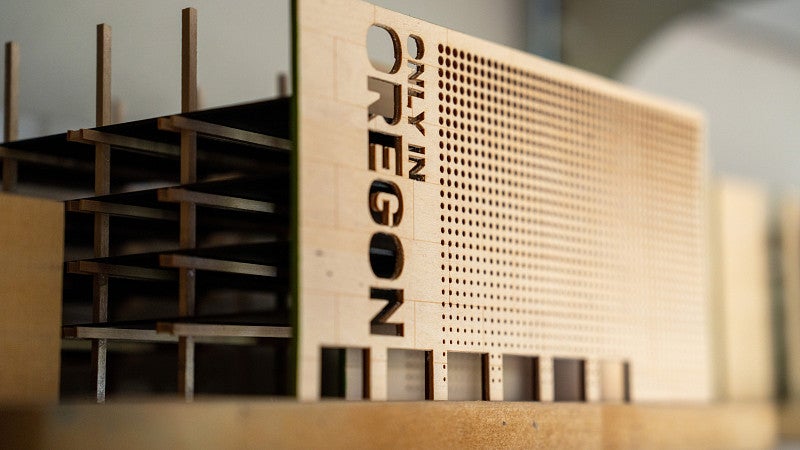 Dean Adrian Parr of the University of Oregon College of Design curates an exhibition for the European Cultural Center at the 2023 Venice Architecture Biennale to shed light on transpecies design, the idea of design as an "other-than-anthropocentric approach to regenerating, restoring, reinvigorating, and replenishing the natural environment."
Transpecies design—as the College of Design Dean, Adrian Parr, at the University of Oregon describes it—shifts the human from being the central focus of design to considerations of other-than-human species wellbeing in the design process. Parr maintains this shift in design thinking and practices is crucial for design to positively affect multiple ecosystems, biodiversity, and the environment as a whole. This year at the European Cultural Center's Venice Architecture Biennale, Parr curated an exhibition on Transpecies Design and held a symposium of the same name to shine a light on how transpecies design deepens and expands sustainable design. The exhibition will run until November 2023.
"The University of Oregon has a fabulous legacy of environmental design dating back to the '60s. And the idea of transpecies design—design that facilitates the flourishing of a variety of species, homo sapiens included—is really just a logical extension of many of the principles underpinning environmental and sustainable design," explains Parr, who is also senior fellow of Design Futures Council and the UNESCO Chair on Water and Human Settlements.
Parr's work as an environmentalist, educator, filmmaker, and theorist has informed her assertion that environmental devastation and climate change are crimes against humanity. Working at the intersection of environmental politics, sustainable development, and the built environment, Parr advocates for more transpecies design and a shift in creating architecture that not only improves the quality of human lives but also the lives of other life forms that share our planet.
"Species are going extinct at an alarming rate (1,000 to 10,000 times the baseline rate) because of human activities," Parr stresses. "Our land-use patterns, the design and development of our built environments, and biodiversity demise are connected, and, as such, the architecture community is now presented with a wonderful opportunity that can expand and deepen the ecological impact and contribution of the architecture professions by addressing species extinction as a design challenge."
Read more: Transpecies Design at the 2023 ECC Architecture Biennale