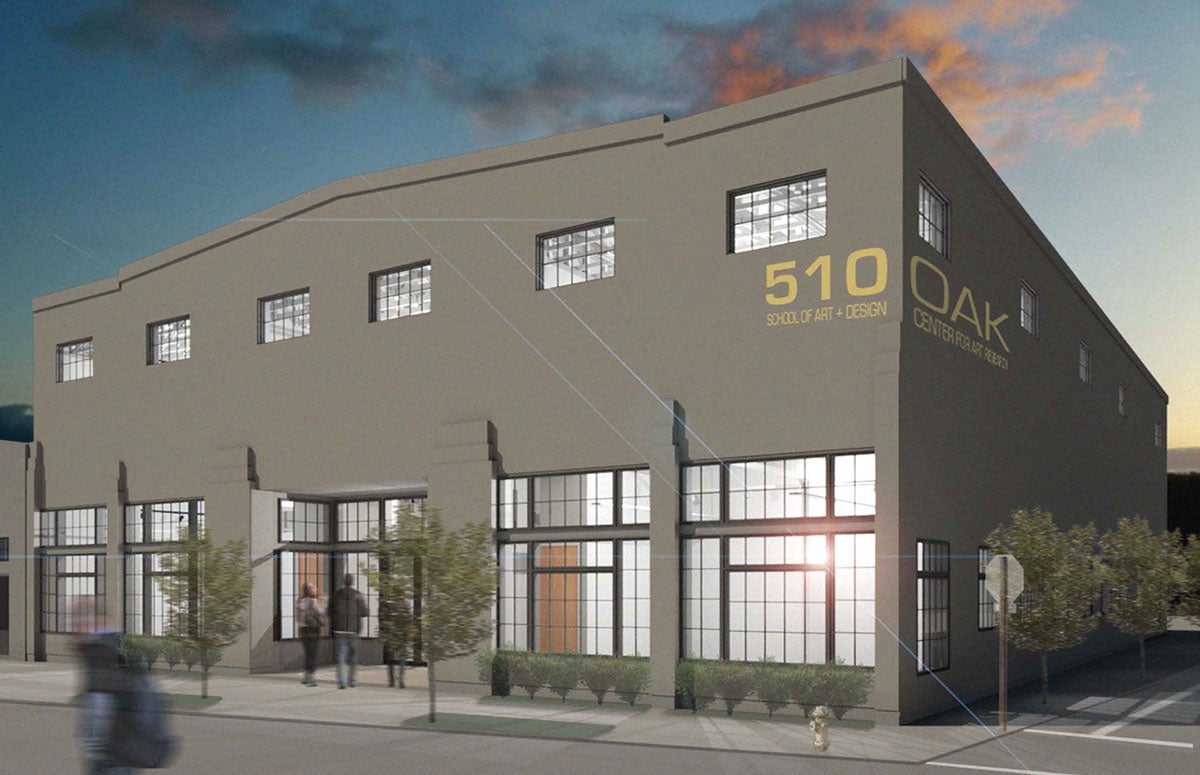 As students move into new apartments and residence halls around campus, faculty from the College of Design's School of Art + Design are also moving into a new home this week — a 14,000-square-foot art and design research building located at 510 Oak in downtown Eugene.
The newly renovated 510 Oak building, purchased by the University of Oregon in 2017, will house Art and Product Design faculty research studios as well as the new Center for Art Research. Eugene-based 2fORM Architecture led the project.
Many Thanks!
2FORM:
Richard Shugar AIA, Design Principal
Hans Minder, Project Manager
Amy Winton, Interior Design
GBC Construction:
Joel Freeman, Project Manager
James Miller, Superintendent
UO:
Glen MacDonald, Project Manager
"This represents a landmark moment; bringing faculty studios into one place will make 510 Oak a hive of art and design studio practice and enable us to better connect with the larger community," said Laura Vandenburgh, head of the School of Art + Design and associate professor of art. "A downtown building dedicated to art and design research — where colleagues can work alongside one another and share our work with visiting critics, curators, artists, designers and the community — will catalyze and extend the work of our remarkable faculty."
The Center for Art Research, located in the heart of the new building, will be a think tank for artmaking. The center's public-facing space on the ground floor will help to increase the visibility of the school's artistic activities in downtown Eugene as well as internationally. Center programming is expected to include artists-in-residence, lectures, exhibitions, symposia, publications, performances, and experimental projects. A generous gift from Robert Gamblin, BS '70, artist and owner of Gamblin Artist Colors, Co., provided seed funding for the center.
"We are excited that this building will create opportunities for collaboration and community engagement around creative practice and research, while aligning with our desire to be active and visible in downtown Eugene," said Christoph Lindner, dean of the College of Design.
The need for a new home for art and design studios emerged as result of the expiration of leases at another site in downtown Eugene and the development of the Phil and Penny Knight Campus for Accelerating Scientific Impact on the north side of Franklin Boulevard. The College of Design worked closely with university leadership to identify a solution that would provide the space needed for School of Art + Design faculty to further their research objectives.
"I am delighted that we were able to make this investment in the creative work of our [School of Art + Design] faculty," President Michael H. Schill said in an earlier story about the purchase of the building.
The School of Art + Design will host an opening celebration at the new building later this fall.
The School of Art + Design offers degrees in an array of disciplines, including digital media, ceramics, fibers, jewelry and metalsmithing, photography, painting, drawing, printmaking, sculpture, product design, and sports product design.
 
Click on any image to view a slideshow of 510 Oak as it transforms into the new home for art and design faculty research studios and the Center for Art Research.