Arts Management and Cultural Policy Research, a new book coauthored by Assistant Professor Eleonora Redaelli, UO Arts and Administration Program, was published in June by Palgrave Macmillan.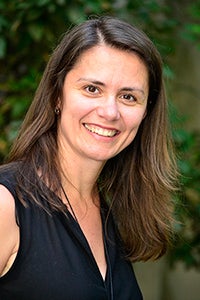 Above: Assistant Professor Eleonara Redaelli
"This is an original and highly informative synthesis of a wide-ranging literature that will prove to be of great interest to not only students of cultural policy and arts management and administration, but also to policy-makers," stated reviewer Clive Gray of the University of Warwick in Coventry, England.
 "I come to the academic world from working as a practitioner in the cultural field and understanding the specificity of this kind of research has always been my underlying question," Redaelli says. "What kind of research is done in arts management and cultural policy? What is its specificity? What makes it different from other academic fields of inquiry? These questions became even more prominent after I came to UO and I started working on research with students."
Redaelli's coauthor, Jonathan Paquette, is associate professor at the School of Political Studies, University of Ottawa, Canada. The two met at a conference in London in 2009, after which Paquette asked Redaelli to contribute a chapter to a book he was editing. That led to a workshop with other contributors to the book during which Redaelli and Paquette "spent a week discussing our chapter and developing a great intellectual bond. After this experience he suggested to work on a book that could bring together the themes of our conversations," Redaelli says. "I am glad I had the opportunity to delve into these question with the collaboration and support of a knowledgeable scholar like Jonathan."
The book constitutes an introduction to students while providing scholars and practitioners the seeds of an intellectual debate on the research community. It builds on two assumptions/propositions: that arts management research and cultural policy research evolve in an academic space that is loosely connected yet united; and that the field contains a greater diversity of knowledge producers than often assumed. 
"Practicing outside academia," the authors write in the preface, "many arts managers, policymakers, advocates, and other professionals still connect and mediate knowledge in spaces that are interconnected, and perhaps even more integrated than we would readily admit. What we offer here is a map." 
Chapters include "Academic Beginnings," "Functions of Management as Disciplinary Bridges," "Cultural Policy as Conventional Public Policy," and "Institutional Settings of Knowledge Production," among others. 
Redaelli joined the UO Arts and Administration Program faculty in 2013.