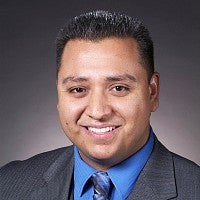 Dean of the College of Design, Christoph Lindner announced the College's new Dean's Fellow for Diversity. This two-year, part-time appointment will lead the College's Equity and Inclusion Committee.  Working closely with the dean's office and college leadership team, the Fellow will play a significant role in designing and leading strategic initiatives, including implementing the College's Diversity Action Plan.
"As we look toward the coming academic year, we will continue to prioritize our commitment to diversity and inclusion. As part of this commitment, I am pleased to announce that Gerardo Sandoval, associate professor in the School of Planning, Public Policy and Management, has been appointed to be the first Dean's Fellow for Diversity," said Lindner.
The position carries one course release annually and manages an annual budget of $5,000 to support diversity and inclusion projects and initiatives. Sandoval will start in this new role on September 17, 2018.