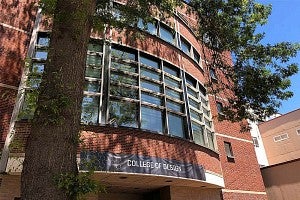 The College of Design cheers new placements for our existing faculty and welcomes several new faculty members across the college!
"We are excited to announce new placements for our current faculty, and welcome extraordinary new faculty members to the College of Design," said Dean Adrian Parr. "We look forward to working with such a talented and visionary group of visiting and pro tem faculty in all our programs throughout this academic year."
Akiko Walley, the Maude I. Kerns Associate Professor of Japanese Art, recently completed a residency as a Getty Scholar, working on the project "A Single Drop of Water Is the Entire Ocean: Fragmentation and Assemblage in a Tekagami Calligraphy Album." Walley now returns to her post as head of the department.
"I am grateful that I had the opportunity to focus on my research as a Getty scholar during the 2020-21 academic year," said Walley. "I look forward to building on [Marion D. Ross Distinguished Professor of Architectural History] Keith Eggener's leadership and continuing our work on programmatic initiatives within the department and beyond."
HAA also welcomes Career Instructor Simone Ciglia, Visiting Assistant Professor Victoria Ehrlich, Pro Tem Instructor Kyrie Kellett, and Visiting Assistant Professor Benjamin Murphy. 
Professor of Architecture Kevin Van Den Wymelenberg has stepped into the role of interim director for the School of Architecture & Environment, following Professor of Architecture Erin Moore, who served as director 2018–2021. Moore will be returning to her usual teaching role.
"I am excited to provide interim leadership for the School of Architecture & Environment in collaboration with Dean Adrian Parr, our faculty, staff, and students to enrich the academic experience within the school and expand the impact of our work in the broader community," Wymelenberg said. "We have great ambitions to cultivate the potential of design to improve social equity, reverse climate change, and improve human health and wellbeing."
The Department of Landscape Architecture welcomes Visiting Assistant Professor Leslie Ryan; the Department of Architecture welcomes Pro Tem Instructors Andrew Cohen, Michael Great, Carla Bonilla Huaroc, and Ramin Rezvani; and the Historic Preservation program welcomes Pro Tem Instructor Katherine Rispoli Keaotamai.
SAE is also thrilled with its new cohort of visiting faculty for the Design for Spatial Justice Initiative.
Professor of Art Laura Vandenburgh, who served as the College of Design interim dean through March 2021, has returned to her previously held role as director of the School of Art + Design. Vandenburgh also serves as the associate dean for Facilities and Student Affairs.
The Department of Product Design welcomes Pro Tem Instructors Karen Lee, Carly Mick, Cia Moorey, and Brad Winn. The Department of Art welcomes Visiting Assistant Professors Julieta Gil and Sun You and Pro Tem Instructors Ryan Kitson, Kristin Sarette, and Shelly McMahon.
Director of the School of Planning, Public Policy and Management Rich Margerum will be resuming his role as associate dean for Faculty and Academic Affairs
PPPM also welcomes Visiting Assistant Professor Leanne Giordono.
The Institute of Policy Research and Engagement (IPRE) welcomes Applied Research Faculty Member Malembe Dumont Copero and Applied Research Faculty Member and Program Manager Melissa Graciosa.
Dumont Copero is a Fulbright fellow and Graciosa, MCRP '21, a community organizer and planner, was on the award-winning Oregon Heritage Resilience Community Planning with IPRE in 2020. Their research interests include equitable community planning, public health and planning, environmental planning, housing as a social determinant of health, socio-environmental and spatial justice, and international urban development.