Architecture and landscape architecture students in the "OregonBILDS 2" studio at the University of Oregon are designing prototypes for an annual series of classes that will design and build a residence every year, with profits from each unit's sale poured into a fund to make the program self-perpetuating. A grant from the UO Meyer Fund for a Sustainable Environment helped launch the idea.

Above: Thallon's initial OregonBILDS studio built this mock-up of the building envelope.
While design-build options in the School of Architecture and Allied Arts have existed for decades, they've focused on pavilion-type projects rather than A-Z whole-building construction. Associate Professor Rob Thallon's studio series, with its goal of annually designing and constructing a building with a complete envelope including functional systems, aims to change that.
"Students need to understand the integration of all the systems that go into a building – the insulation, plumbing, heating, cooling, all those kinds of things you don't get when you're doing a pavilion," Thallon says.
The studios will design up to five residences on a .3-acre site in west Eugene. It's hoped that construction of the first unit will begin January 2014 on the donated site. Thallon is actively seeking community partners and investors.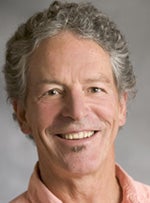 The class series is also unusual because it will bring together architecture, landscape architecture, interior architecture and product design students, and serves students at both UO and Lane Community College in Eugene. "We'll involve students from LCC's advanced technical training program in the design process so there will be a lot of cross-fertilization between Lane and Oregon students," Thallon says. Lane's program trains carpenters, plumbers and electricians.
OregonBILDS – for Building Integrated Livable Designs Sustainably  – will take place through the academic year. In fall, students will design the house, apply for permits, and develop a construction schedule and budget. Construction, and further studio work, will take place during winter, spring, and possibly summer terms.
Above: Associate Professor Rob Thallon.
The Meyer Fund for a Sustainable Environment awarded Thallon $26,000 in 2010 after he submitted a grant proposal entitled "A Sustainable Model for Residential Design-Build Education." The grant enabled him to research other academic institutions doing what he envisions at UO: building one housing unit per year. He found just three – the University of Kansas, Tulane University and Yale University – and visited each, meeting the people behind them and learning about legal and financial implications, risk issues and other concerns. He then spent a year assembling practical aspects of the curricula.
OregonBILDS will incorporate existing courses. "We're not trying to build a brand-new curriculum (but) we are looking toward potentially some sort of certificate program" after completing the first two or three houses, Thallon says.
OregonBILDS will likely be organized as a nonprofit and initially plans to partner with NEDCO, a community development corporation in Springfield, Oregon, that will help to identify and qualify buyers for the homes, which would sell between $150,000-$275,000 depending on size and location.
The price will be kept low by a number of factors, starting with the donated site. "We get the land effectively for free and we get lots of free labor," Thallon says. "We get that back when we sell it, and that's what keeps our program rolling." Thallon expects the program to become self-supporting after the first year.
The program aims to consider all aspects of best practices in sustainability, from the size of the building to distance from mass transit. "We will want to include every sustainable feature that is affordable," Thallon says. "We will want to make it a really good design. We're not making a building for the sake of making a building."
For more information, visit the BILDS studio blog.
Story by Marti Gerdes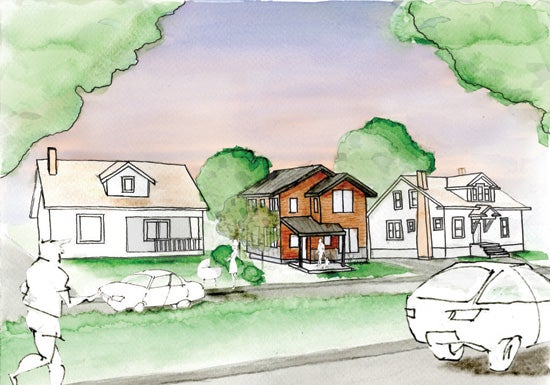 Above: Students in the first studio studied local houses to understand building elements and relationships. Issues of scale and form were integrated with an emphasis on sustainable principles.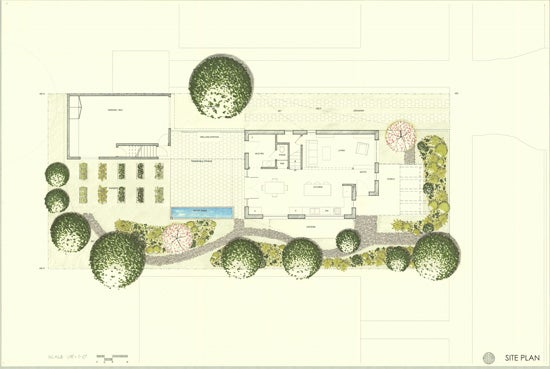 Above: A proposed house and garage/accessory dwelling unit are pushed toward the northern property line to allow for the greatest amount of sunlight. Major rooms relate to outdoor spaces and the garage is connected to the house with a covered walkway that doubles as a covered porch at the north edge of a large terrace. The pool at the south edge of the terrace is part of the rainwater catchment system.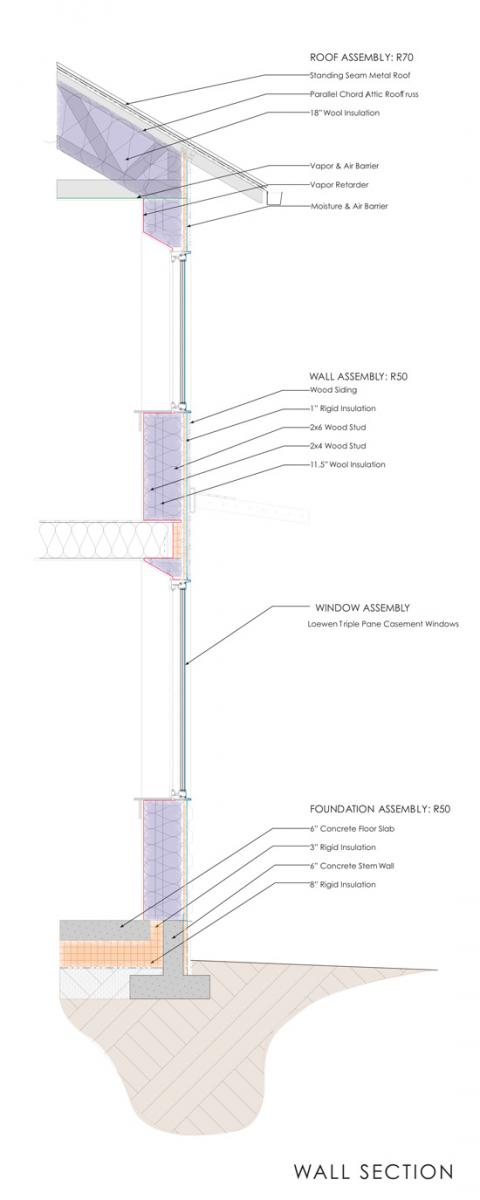 Above: Students researched a range of building systems. This wall section shows the economical and buildable assembly of structure and insulation that meet Passive House standards.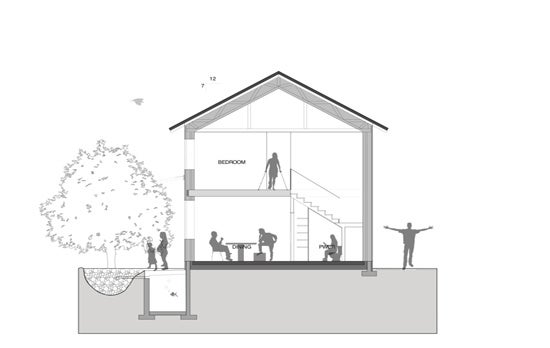 Above: This section shows a bio-swale, a rainwater catchment tank repurposed from the basement of an earlier building, the two-story house insulated to Passive House standards, and the driveway to the north. The 7:12 pitch roof mirrors neighborhood roofs, and the uninterrupted south slope will support solar water heating and photovoltaic panels.