A significant new edition of Professor Leland Roth's Understanding Architecture is due out this month by Westview Press, a division of Perseus Books. The revised edition includes a quadrupling of the number of color plates, new black and white illustrations, and six new essays on each of the major non-Western architectural traditions: Indian, Chinese, Japanese, African, Islamic, and the architecture of the Americas.
Notably, this third edition also features, for the first time, a co-author: Amanda Roth Clark, who has taught art history at Gonzaga and Whitworth universities and is current interim associate director of the Whitworth University library in Spokane, Washington. Clark holds bachelor and master degrees in art history from UO ('01 and '05, respectively). She also is Roth's daughter.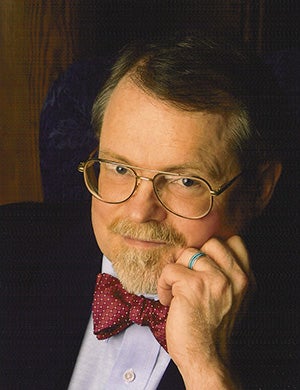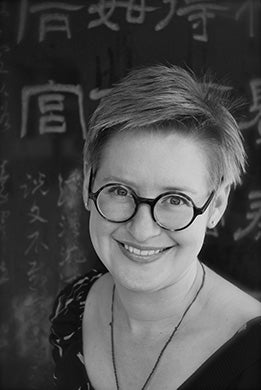 Above: Emeritus Professor Leland Roth, Amanda Clark, BA '01, MA '05. 
"The idea for the third edition was broached by a Westview editor who anticipated yet another edition in the future," Roth says. "She asked if I had another author I could think of who could take on [future editions] should anything happen to me." Roth's wife and longtime editor, Carol, and he "quickly agreed that Amanda would be our choice of co-author, since she has the academic background and knows intimately how I view architecture."
A voracious student, Clark—who has a PhD in global book arts and a second master's, in library and information studies—took "nearly all" of her father's classes while an undergraduate at Oregon. "It was a fantastic opportunity to be mentored by him in architectural history," she says. For her master's program, she studied Renaissance and Baroque architectural history under UO's Andrew Morrogh.
Clark, who is Roth's only child, was challenged early on about how she might follow her father's substantial legacy. "I remember Russ Donnelly, a professor of physics at the UO, once said to me, 'Your father once helped save the Robie House in Chicago; what will you do?'  That question haunted me, and I feel I have finally found a most satisfactory answer."
For the new book, Clark "was a great help on the new Asian material, as well as on the current directions in architecture," Roth says of his daughter's work; Clark speaks Chinese and travels frequently on research trips to Asia. "She was a great help in editing and revising the 20th and 21st century chapters especially, as well as the new essays on global architecture."
Together the co-authors added to and/or revised a number of sections of Understanding Architecture. "The original editor wanted to broaden the book to make it more inclusive than just presenting Western architecture," Roth says. "This was a challenge, since the editor did not want mini-survey histories. What Amanda and I did was to provide an introduction to architectural and community design principles in each of those regions, the better to make understandable the great differences with ideas in the West, using selected case study buildings as examples."
Roth also added an extensive discussion of green roofs and green design, focusing on the work of architect Ken Yeang. "His firm, in my estimation, is at the forefront of architects practicing 'whole-life' or 'life-cycle cost' design," Roth says. The new edition discusses and illustrates Yeang's Solaris Building in Singapore. "Yeang argues that it is the architect's task and responsibility to educate the client in the long-term benefit of creating such a Platinum-ranked LEED building," Roth notes.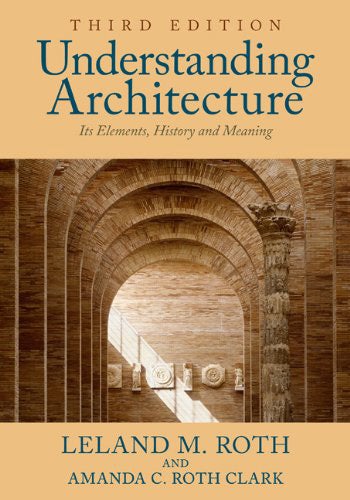 The original edition of Understanding Architecture came out in 1993. The second edition was published in 2006. Roth and Clark began work on the third edition in April 2012, with printing under way by November 2013.
"I've never done a book so rapidly," says Roth, author of nearly a dozen volumes on architectural history. He attributes the speed of the book's editing and production to advances in electronic technology, which streamlined communication not just among Roth, Clark, and the editors but also for tasks such as researching and gaining approval for new photographs.
The book is not the first time Roth and Clark joined forces for a writing project. "Several years back dad and I teamed up to work on some encyclopedia entries," Clark says, so "working on a book revision seemed like a natural progression in our father-daughter teamwork. I've always felt very close to his work—we often talk shop at the dinner table about architecture and architects."
Her interest in her parent's profession began precociously. "Dad was happily lured away from his typewriter when four-year-old-Amanda asked to be read to from a Frank Lloyd Wright biography," she says. "But as years went by I found that I loved design; I still have little sketches of floor plans I made when I was nine years old. In a way I feel like I inherited some sort of genetic encoding to love architecture and architectural history."
The Roth household was an extraordinary place to grow up. "Of course, I didn't grasp as a child that my father was a noted architectural historian and my mother a gifted editor. I just thought dad was wonderfully interesting and full of amazing 'factoids' about nearly everything," Clark says. "All our family vacations revolved around architecture. My childhood was a series of adventures through architecture. In an old-world way I feel like an apprentice to this remarkable family legacy. I honor the spirit of his work and will always be, I expect, in awe of his writings."
For his part, Roth says he feels enormously gratified that Amanda is becoming part of the writing process. As he wrote in the preface for this third edition, she brings "the benefits of her perspective as a student, teacher, critic, and now, colleague." 
Clark says it feels "incredibly natural" to be selected as a successor for Roth's publications. "My primary goal is to stay true to his original vision and offer future readers, for as long as possible, access to his profound words. It's quite rare, and delightful, that a child is able to follow in the wake of such a tremendous legacy and keep such beautiful prose available to future generations. Working in libraries, and now as a library director, I have witnessed first-hand the relatively short life cycle of books. If I can assist in keeping his works in print, I will have achieved something truly worthy. I am indeed honored to call him my father and mentor—what a gift!"
Roth is currently writing John Yeon Design, a study of the life and work of early Oregon modernist, landscape architect, and preservationist John Yeon, and Building Eden: A History of Architecture in Oregon.

Above: La Venta, one of the oldest Olmec sites in Mexico and, apparently, the first pyramid built in the Western hemisphere. The pyramid was being built by at least 390 BCE. Drawing by Leland Roth.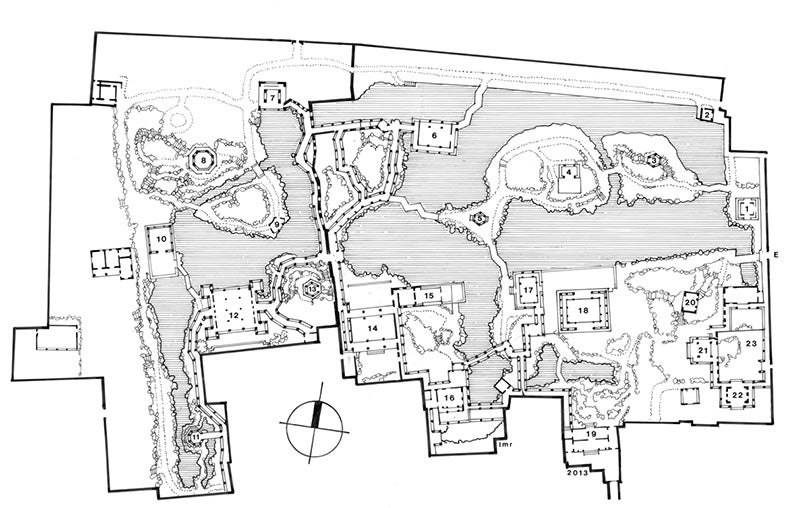 Above: The sumptuous Garden of the Humble Administrator in Suzhou, China, begun around 1510 CE. Both drawings are for the new non-Western essays in Understanding Architecture. Drawing by Leland Roth.