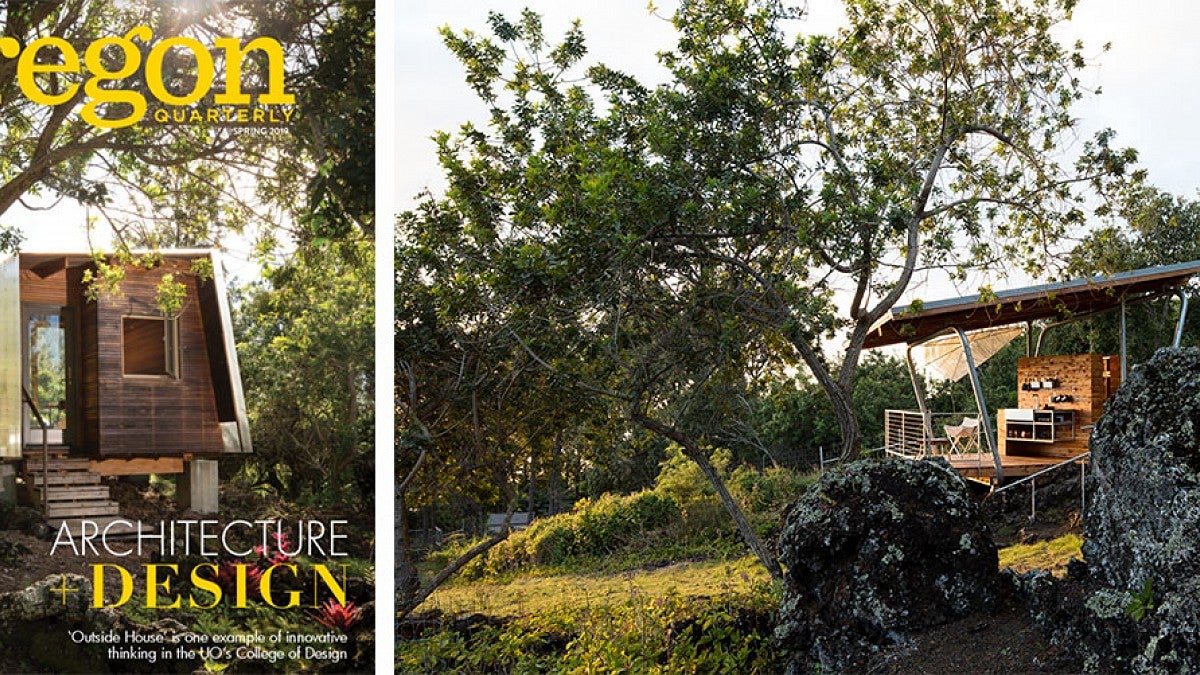 The College of Design is featured in the spring issue of Oregon Quarterly, in mailboxes and online now. From art and product design to landscape architecture and public planning, the issue explores the many facets of the College of Design.
Here's a quick guide to what you can find in the issue, accompanied by links to the online version.
On the Cover: Inside Out
The experimental 'Outside House,' designed by Architect Erin Moore—head of the School of Architecture & Environment and associate professor of architecture and environmental studies, graces the cover of the spring issue. Read the story behind the cover image at "Inside Out: Architect Erin Moore reflects on prioritizing the land with her experimental 'Outside House' in Maui, Hawaii."
Diversity in Design

An introduction to the College of Design and how it is shaping the future of design. The college is dedicated to equity and inclusion, representing voices and cultures in its educational community to better reflect the diversity of society.
Read more at Oregon Quarterly.
Harmony at Hollering Place

Amanda Craig's landscape architecture skills serve the Confederated Tribes of Coos, Lower Umpqua, and Siuslaw Indians, including her own tribe, the Hanis Coos. Craig, a Master of Landscape Architecture student, is helping design the tribes' interpretative center by balancing function with a focus on traditional materials including native species.
Read more at Oregon Quarterly.
 A Very Civic Engagement

The Access and Equity Research Group, a new research team based in the School of Planning, Public Policy and Management, studies how underrepresented populations participate in the public process. Associate professors Gerardo Sandoval, José Meléndez, and John Arroyo comprise the research team, which will investigate the civic engagement of underrepresented groups in Oregon, including Latino, indigenous, African American and Asian American populations.
Read more at Oregon Quarterly.
Spotlight: Jenny Lin, Assistant Professor, Department of the History of Art and Architecture

Lin—who teaches courses about contemporary Asian art, design, and urban culture—talks about falling in love with Shanghai in her twenties and how that experience shaped her scholarship, culminating in her 2018 book, Above Sea: Contemporary Art, Urban Culture, and the Fashioning of Global Shanghai.
Read more at Oregon Quarterly.
New Books and Projects from the College of Design

A roundup of recently published and upcoming books, papers, and exhibitions from the College of Design faculty, including PPPM Associate Professor Saurabh Lall, Assistant Professor of Architecture Siobhan Rockcastle, Associate Professor of Jewelry and Metalsmithing Anya Kivarkis, Associate Professor of Art Jack Ryan, Associate Professor of Sculpture Tannaz Farsi, and Assistant Professor of the History of Art and Architecture Jenny Lin.
Read more at Oregon Quarterly.
Making Their Mark

From luxe large-format paintings to a hot new ceramics line, this School of Art + Design collection features the work of students and alumni on the rise. Learn more about the work of Sarah Mikenis (MFA, '16), Morgan Rosskopf (MFA, '13), Irene Chau (Class of 2019), Izzy Cho (Class of 2019), and Julia Sherman and Thomas Sprott (BA, '18).
Read more at Oregon Quarterly.
Fantastic Plastic

Read about three recent UO graduates, including material and product studies alumni David Crinnion and Tanner Stickling, who launched Algotek, a business that developed a plastic alternative to help solve a pressing environmental challenge.
Read more at Oregon Quarterly.
Building Relationships

Alaskan architect and alum C.B. Bettisworth (BArch, '67) recounts how a friendship he made with Seattle-based architect Johnpaul Jones while they were students in the architecture department has informed a decades-long design collaboration that puts people first in the native communities of Interior Alaska.
Read more at Oregon Quarterly.