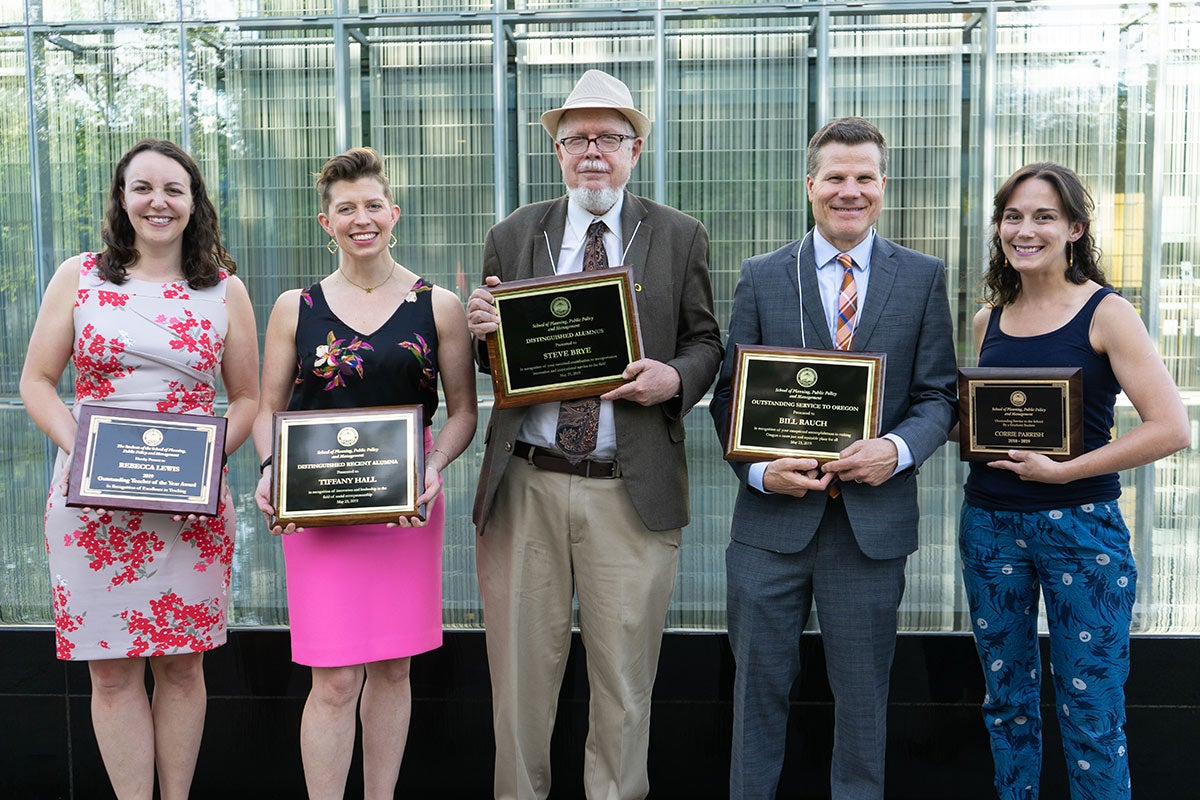 Rebbeca Lewis, Tiffany Hall, Scott Brye, Bill Rauch, and Corrie Parrish
The School of Planning, Public Policy and Management (PPPM) honored outstanding professionals, alumni, students, and faculty for their contributions to the school, their communities, and the State of Oregon at the annual PPPM 2019 Awards Ceremony.
Event attendees included graduate and undergraduate students, faculty, professionals, alumni, PPPM advisory board members, government employees, and members of the organizations that work with the honorees.
Outstanding Service to Oregon
The Award for Outstanding Service to Oregon recognizes members of the general public who have given extraordinary service over an extended period of time to the state of Oregon. Bill Rauch, artistic director of the Oregon Shakespeare Festival, was this year's recipient.
Rauch graduated in 1984 from Harvard, where he received the Louis Sudler Prize in the Performing and Creative Arts for outstanding graduating artist. He's directed plays at numerous theaters, including the South Coast Repertory, Mark Taper Forum, Yale Repertory Theatre, and Lincoln Center Theater. He co-founded the Cornerstone Theater Company, now in Los Angeles, where he was its artistic director from 1986 to 2006 and directed more than 40 plays.
Rauch has taught directing and community-based theater at the University of California at Los Angeles, University of Southern California, California State University at Los Angeles, and University of California at Irvine. In 2009, he received the Margo Jones Award, founded by Inherit the Wind authors Jerome Lawrence and Robert Edwin Lee. The award honors "that citizen-of-the-theater who has demonstrated a significant impact, understanding, and affirmation of the craft of playwriting, with a lifetime commitment to the encouragement of the living theater everywhere."
Rauch's directorship at OSF will come to an end in August 2019, when he will leave to become artistic director for the Ronald O. Perelman Center for the Performing Arts in New York.
Distinguished Alumnus
The Distinguished Alumni Award is given to a graduate of PPPM who has developed a distinguished reputation in his or her chosen field over an extended period. This year's recipient is Steve Brye (MUP '82), senior manager, Transportation Planning, Los Angeles Metro.
When Brye, who is from California, wanted to attend graduate school, none of the colleges there would let him write a master's thesis on rail transit. He asked them where he should go, and was told he needed to be at the UO's Planning, Public Policy and Management department.
During his acceptance speech, Brye mentioned that his grandmother was involved in the Suffragette movement and cited her as a major inspiration in his life. He advocated for civil rights, in both his time at UO and later during his professional career.
As part of his work at Los Angeles Metro, Brye worked on the planning of eight rail transit lines (including the subways) and managed the planning of one subway extension and two light rail lines. His 35-year career at Los Angeles Metro has taken him from assistant planner to senior manager. Brye has a bachelor of arts in history from the University of California at Berkeley and a master of urban planning from the University of Oregon.
Outstanding Recent Alumna
The Distinguished Recent Alumni Award is given to more recent graduates, usually within fewer than 10 years of graduation, who have shown extraordinary success within the period since finishing their UO degree. This year's recipient, Tiffany Hall (MPA '11), is executive director of Recover Alaska.
Hall grew up in Anchorage and earned a bachelor of arts in Classics from Pomona College and her master of public administration and graduate certificate in Nonprofit Management from the UO. She returned to Alaska in 2012 to work for Providence Health and Services, first as a philanthropy officer, then as the state advocacy program manager.
She came to Recover Alaska as executive director in 2016 with experience in fundraising, program development, public relations, and government affairs. In her role there, Tiffany advocates for policy change to create a safer and more equitable built environment and connects people to organizations and organizations across sectors for both community and system-level change.
Since returning to Anchorage, Hall has been involved in the community, volunteering with multiple organizations, serving on the Anchorage Women's Commission, participating in Leadership Anchorage and Catalyst for Nonprofit Excellence. In 2016, she was selected as one of Alaska's Top 40 Under 40.
School Service Awards and Outstanding Teacher of the Year Award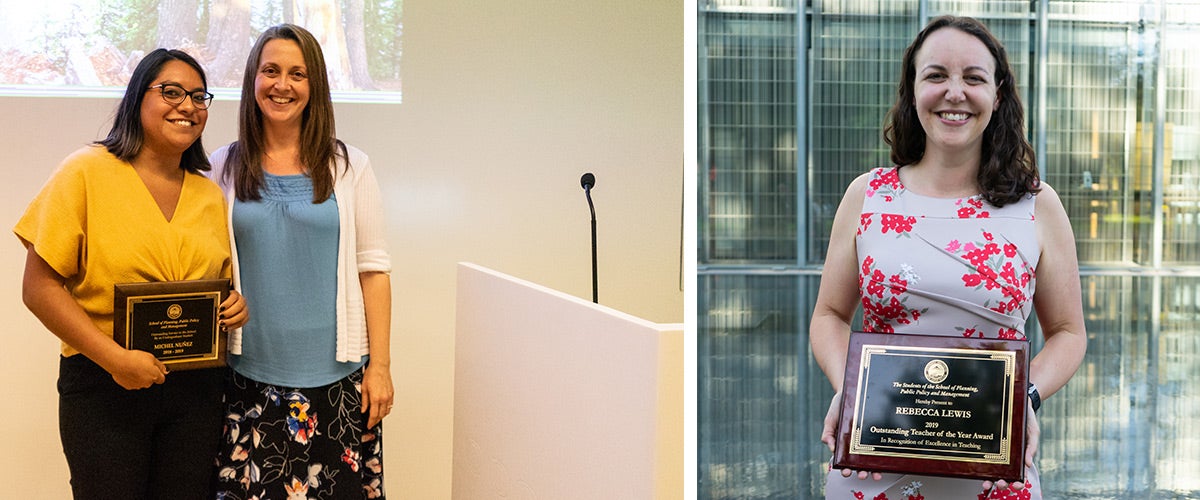 Michel Nuñez and Undergraduate Program and Internship Director Jessica Matthiesen; Assistant Professor Rebecca Lewis
Current PPPM student Michel Nuñez received the award for Outstanding Service to the School by an Undergraduate Student. Corrie Parrish received the award for Outstanding Service to the School by a Graduate Student.
Rebecca Lewis, Assistant Professor, received the PPPM Outstanding Teacher of the Year award for the third time. The Outstanding Teacher Award is chosen by all PPPM students, in conjunction with a member of the PPPM Advisory Council.
Student Research Poster Awards

Professor Richard Margerum with student at PPPM Awards poster presentation
The awards event also featured individual and team projects by students in the Nonprofit Management, Public Administration, and Community and Regional Planning graduate programs.
"Students are doing great research and work with agencies and government partners," said Richard Margerum, Head of School for PPPM and director of the Master of Community and Regional Planning program. "They are taking concepts from their classes and applying them to the real world in innovative ways."
Attendees had the opportunity to cast ballots for the best research poster.
Anna Greenberg, a graduate student in Community and Regional Planning, received the individual Student Research Poster Award for her work on how state, county, and city governments are addressing the recycling of plastics after China instated "National Sword," a 2018 ban on importing foreign recyclables.
"Especially in the West, we haven't built up infrastructure to process plastic," Greenberg explained. The project's main findings were that the U.S. needs to shift its focus to waste prevention and craft harmonized, simplified messaging at the state level.
Masters of Nonprofit Management students Rosemarie Oakman, Brice Mercer, Clarissa Parker, and Willow Norton received the team Student Research Poster Award for their project, "Woodfield Microhood," which explored community building and placemaking in one of Eugene's unique neighborhoods.

Graduate student Anna Greenberg; Graduate students Clarissa Parker and Rosemarie Oakman