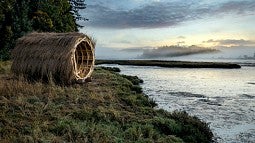 Erin Moore, director of the School of Architecture & Environment, is using architecture as a form of protest against the construction of the Pacific Connector Pipeline, she recently told Metropolis, a magazine about sustainable architecture and design.
The story explores Moore's "Pipeline Portals," three pavilions installed along proposed routes of the contested Pacific Connector Pipeline, a 229-mile gas line planned for construction across the Pacific Northwest.
Moore designed the pavilions and constructed them with students in 2019 as part of her design research practice, FLOAT. The structures are wood cylinders with locally harvested thatching, which provides shelter and collects rainwater.
"That's the protest," Moore told Metropolis. "Putting something of value in the path of destruction in order to draw attention to the wrongness of it."
Metropolis writes of the portals: "The pavilions both employ and interrogate the commodification of architecture to achieve their activist aims. Because healthy, biodiverse ecosystems have little economic value, they are easily lost to agriculture or development. By placing a work of architecture, which does have value, in an overlooked landscape, Moore alters a viewer's perception."
Learn more about the project in the Metropolis article, "Erin Moore's Pipeline Portals Are a Spatial Response to Fossil Fuel Infrastructure."