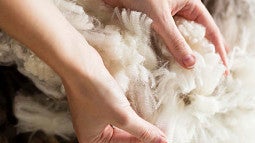 The Woolmark Performance Challenge tasked students with using Merino wool in innovative ways to make sports performance apparel.
Olivia Echols and Christel Thue Høgsted, both in their second year of the Sports Product Design master's degree program based in Portland, are finalists in the Woolmark Performance Challenge.
The challenge, in its inaugural year, drew 510 student competitors from 58 colleges and universities across Europe and North America. Echols and Thue Høgsted are two of just 10 finalists.
Competitors were asked to apply the unique benefits of Australian Merino wool to sports performance apparel. But just how they've done that will be kept under wraps until the winner is announced on November 9 at the Outdoor Retailer Winter show in Colorado. In the meantime, Thue Høgsted and Echols, who are on track to graduate in Spring 2019, have been invited to attend a design workshop in London this September with the rest of the finalists.
"We need to develop an alternative to the massive use of man-made fibers used in sports apparel," said Thue Høgsted. "With the newest innovations within Merino wool, we can now create high-performance products with low environmental impact."
What Echols finds most interesting about this wool is that it already has so many of the benefits that synthetics try to replicate. "Why re-create what already occurs in the natural world?" she asked.
The University of Oregon is the only school to have more than one finalist in the competition.
The Woolmark Performance Challenge winner will be awarded a cash prize of €10,000, as well as career development and commercial opportunities, including a three-month internship with sponsoring company, Adidas. In addition to the student's prize, their university's program will also be awarded €10,000, in recognition of developing and supporting the students' growth and innovation.
"Christel and Olivia did a great job of articulating their innovative ideas for this international competition. Their applications demonstrated novel ways of using the Australian Merino wool fiber to enable athletes to perform better for their sport," said Susan Sokolowski, director of the Sports Product Design program in the School of Art + Design.
"We're so proud of their accomplishments and pleased to have two finalists from the UO. We wish them the best of luck through the remainder of the competition," Sokolowski added.
Learn more about Susan Sokolowski's teaching strategies and the Sports Product Design program in this article in SGB Media.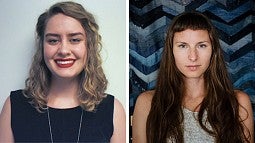 Above: Olivia Echols (L) and Christel Thue Høgsted (R)