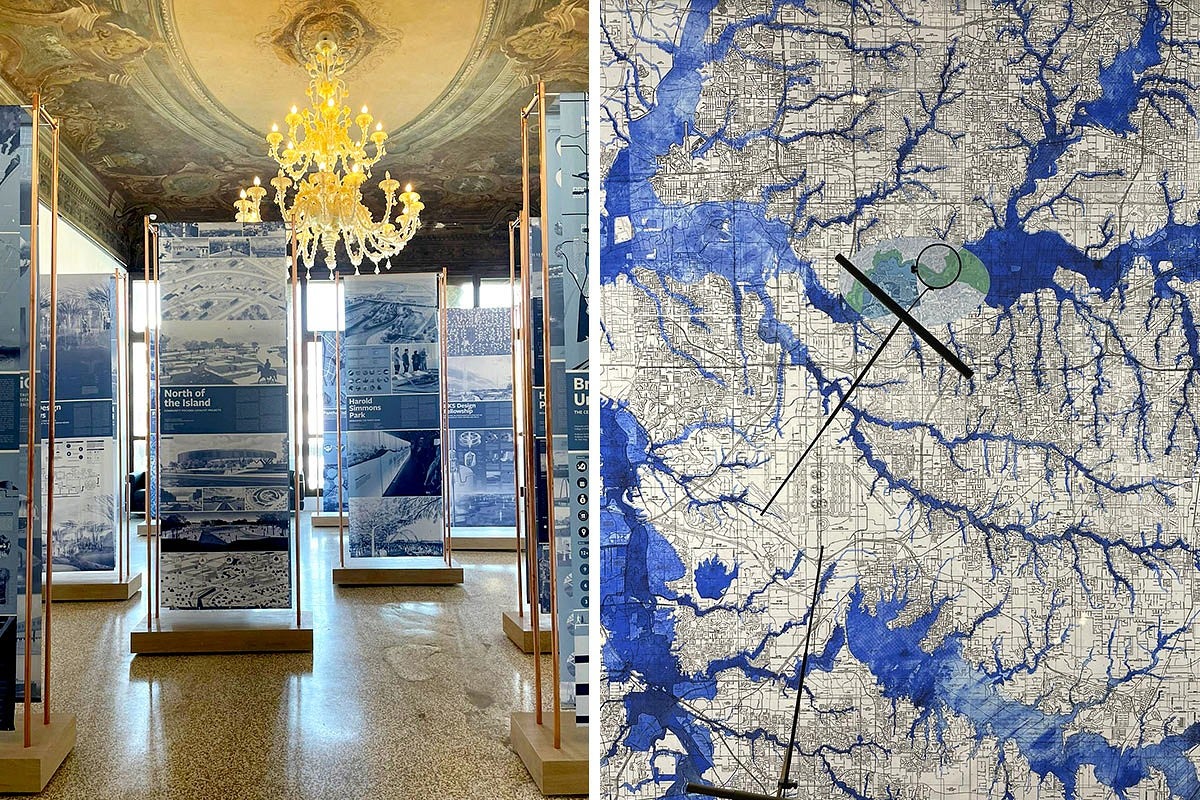 No matter the species, water sustains us all. That is the theme at the heart of Watershed Urbanism, the exhibit curated by College of Design Dean Adrian Parr, now on view in Venice, Italy—an apropos location as the city itself is defined by its historic canals.
"We have a responsibility to be sensitive to other species and our waterways," Parr said. "Although cities are human habitats, they are not only human habitats. They are home to a rich array of other than human species and ecosystems."
Parr's Watershed Urbanism exhibition is part of TIME SPACE EXISTENCE, the biennial architecture exhibition hosted by the European Cultural Centre at Palazzo Bembo, Palazzo Mora, and Giardini della Marinaressa. The exhibition runs through November 21, during the same period as the Venice Architecture Biennale. The exhibition includes a group of 212 international architects, artists, academics, and creative professionals tasked with investigating contemporary issues of climate change, migration, water, and rapid urbanization by "re-envisioning new ways of living and rethinking architecture."
"Although cities are human habitats, they are not only human habitats. They are home to a rich array of other than human species and ecosystems."
Architecture Professor Erin Moore is also an invited participant in the TIME SPACE EXISTENCE exhibition curated by the European Cultural Centre. Her installation, "Topography: Feminist Re-mapping of the Space of Fossil Fuel Transportation," is a series of wall-mounted topographical models. "We are repurposing the media of architectural design practice," Moore wrote, "to re-draw the space of fossil fuel transportation to include and reclaim the ecological, human, and non-human material whole." The installation was developed with her design research team FLOAT.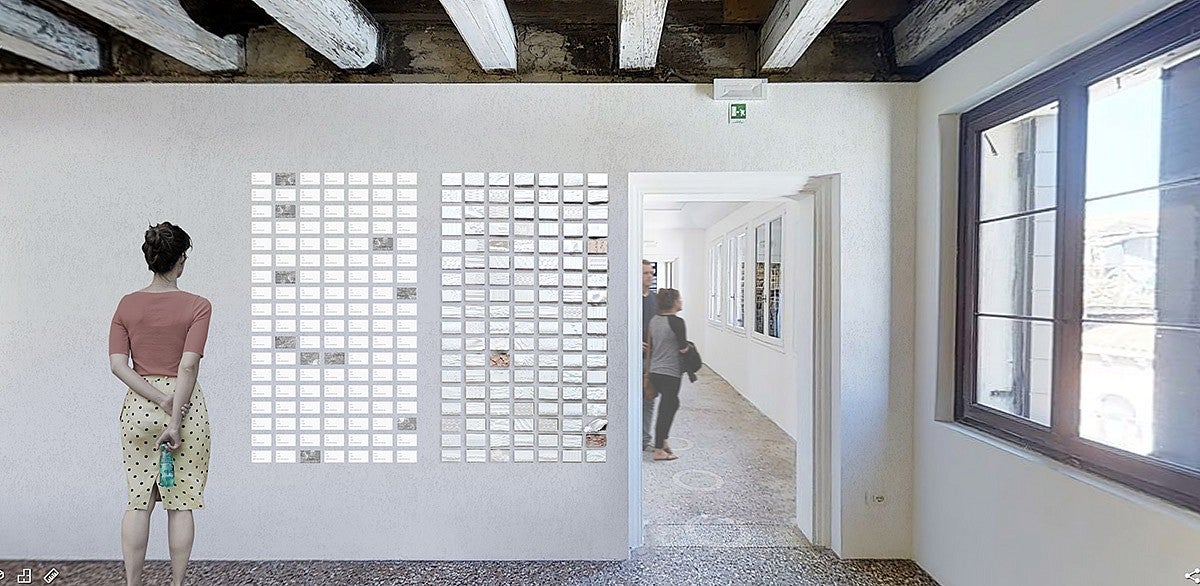 While these events were slated to open in Venice in 2020—events that bring more than 600,000 international visitors to the city—the pandemic pushed their start dates to May 2021.
Invited to curate in her capacity as UNESCO Chair on Water and Human Settlements, Parr decided to create an exhibition of speculative and real projects that explored the intersection of water, land, and the built environment throughout the Trinity Watershed. Parr uses the urban growth of the Dallas-Fort Worth Metroplex as a springboard to examine and reimagine ecologically and hydrologically sensitive forms of urban development.
These design projects on display include the work of faculty and students; professional work by international design firms HKS Architects, Perkins + Will, and Michael Van Valkenburgh Associates; and urban watershed development initiatives by the Texas cities of Arlington, Fort Worth and Lewisville.
Against a backdrop of Palazzo Bembo's frescos, chandeliers, and glass doors opening onto views of the Rialto Bridge and Venice's main canal, Parr's exhibit is like an installation in its own right. Projects are featured as blueprints on loosely hanging cloth that viewers wander through. Data visualizations appear on bright blue glass (paying homage to Italy's famous Murano glass) neatly lining the white walls at eye level. And a film installation of trans-species living serves as a threshold space between the speculative and real. The film is a montage of urban life oscillating between human and nonhuman happenings. Here, micro urban worlds are rendered visible and audible using poetic sequencing layered with evocative soundscapes of dissonance and polyphony. The third room presents a more traditional exhibition format as the real and planned watershed urbanism projects line the walls.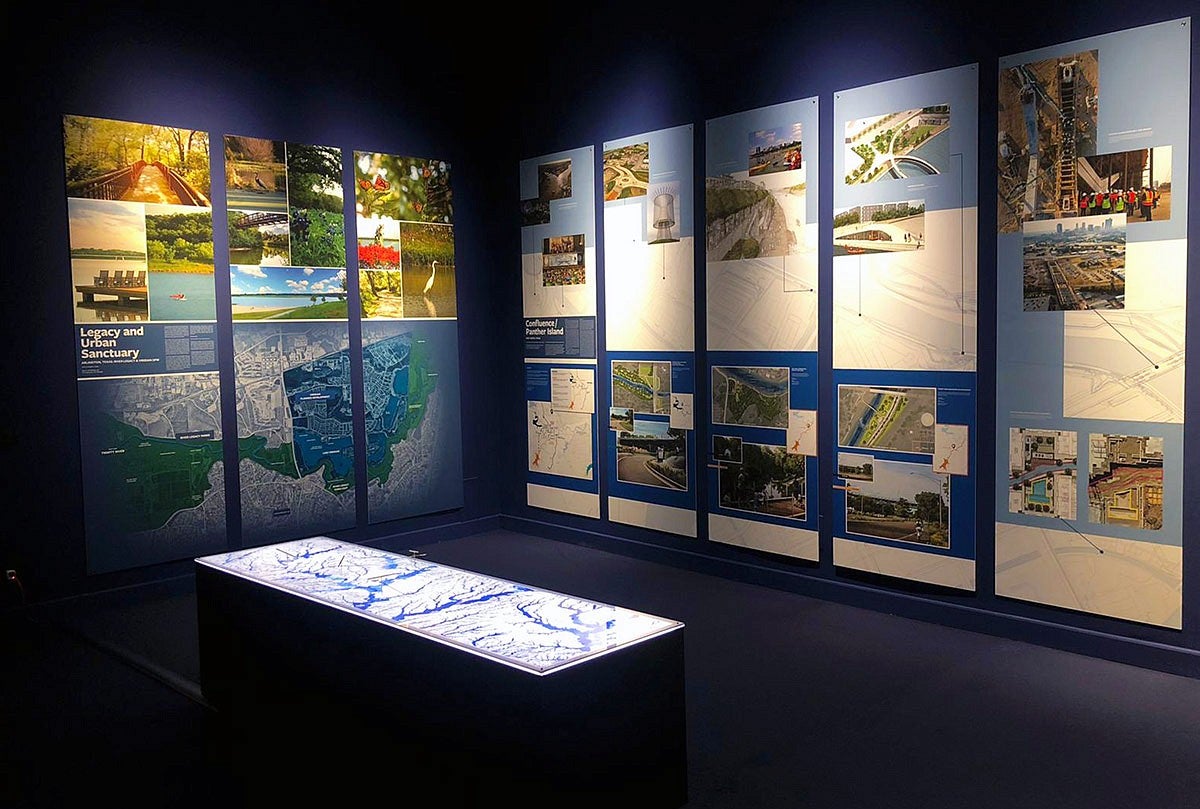 Moore's installation Topography is on view at Palazzo Mora on the Rio di San Felice. For this project, the FLOAT team included Department of Architecture graduate students Mike Kwilos, MArch '20, and Jeremy McCarthy, MArch '19, who collaborated on digital modeling and fabrication of the 3D printed models as well as undergraduate student Garrett Leaver (BArch, class of 2021) who contributed to the digital modeling. Department of Landscape Architecture graduate student Heather Tietz (MLA, class of 2021) developed data sets. The work builds upon student work from the architecture design studio "Lines, Pipelines, and the Contested Space of Transcontinental Fossil Fuel Transport in the Pacific Northwest" (2016) and FLOAT's 2019 Pipeline Project, which includes three built installations in protest of a major natural gas pipeline in Oregon.
"This is part of a larger body of work that is meant to question extraction-based power structures and to advance cultural thought on the role of design in the future of fossil fuels and the future of the climate," Moore wrote.
Parr plans to travel to Venice in October for a broad international discussion about watershed urbanism in collaboration with the Design Futures Council and the European Cultural Center. Moore will visit the exhibition and the Venice Architecture Biennale as soon as public health guidance allows.