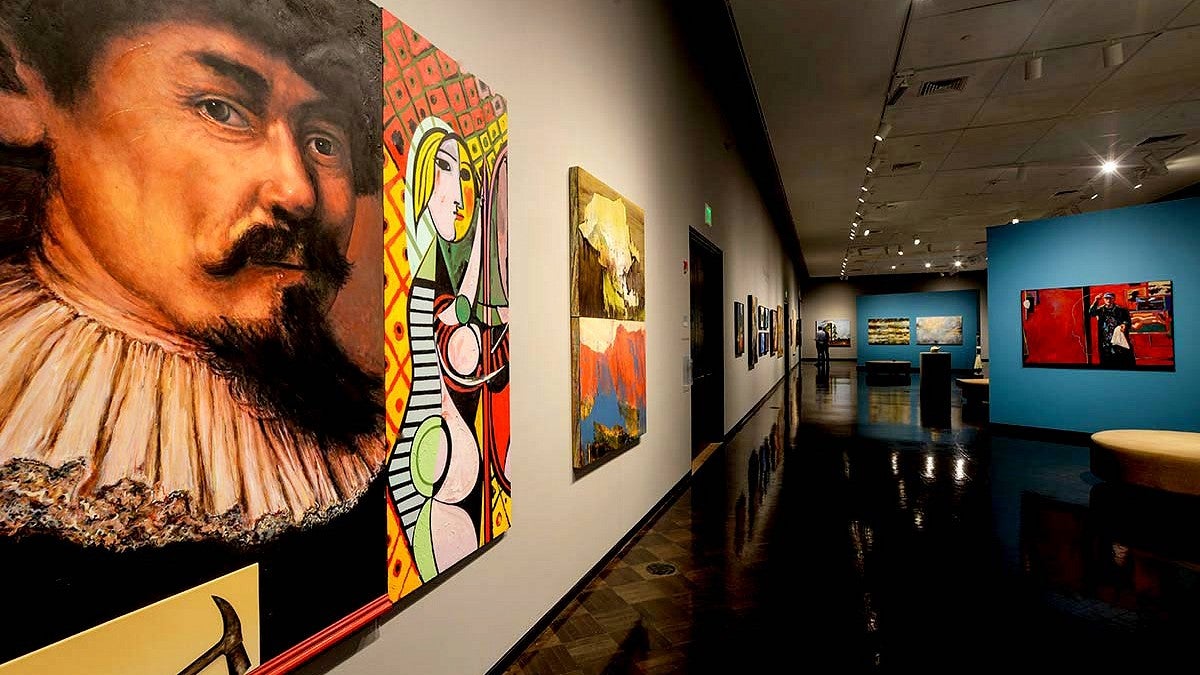 Standing in the Barker Gallery, curator Danielle Knapp waves to the dozens upon dozens of paintings surrounding her. From the walls emerge sunbaked fields, moody blue forests, and solitary Amsterdam canals; Johannes Vermeer's milkmaid reimagined as a paper doll, a seascape trompe l'oeil, and a bowl of juicy nectarines so realistic you'll want to bite into one.
The vast scope of artistic approaches and color palettes overwhelm the senses.
"We have over 2,000 years of collective creative practice in this gallery," said Knapp, the McCosh Curator at the Jordan Schnitzer Museum of Art. The show is Visual Magic: An Oregon Invitational, and it's unlike any other ever exhibited in Oregon. 
"The whole history of Oregon art has been changed because of an exhibit like this," added George D. Green, an internationally acclaimed abstract-illusionist painter and UO alum (BS, '66), who has two paintings in the show he helped curate.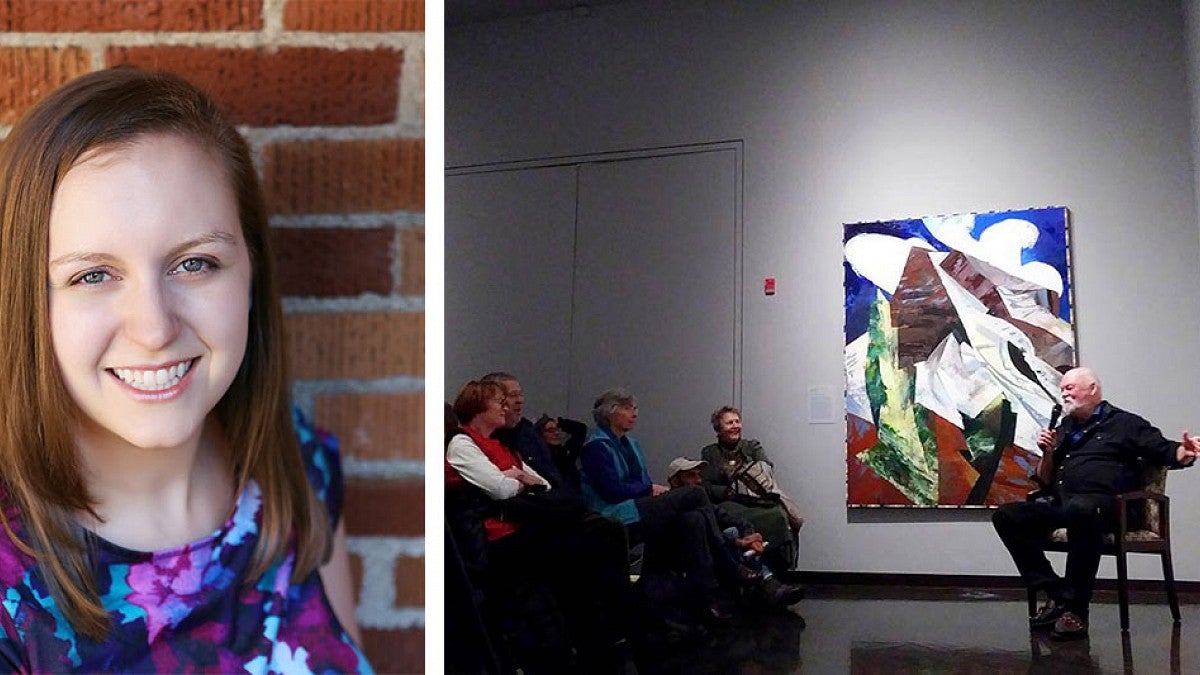 Curator Danielle Knapp (left) and George D. Green giving a February gallery talk
Visual Magic, on view through May 12, is the largest, most comprehensive exhibition the JSMA has ever produced by Oregon artists who came into their own during the 1960s and '70s, in the thick of a heady age of activism, postmodernism, and post-postmodernism. The work on view from 45 artists, however, is recently made—the majority created after 2014. 
"This is not a retrospective," Knapp said. "We really wanted to celebrate what artists are doing now."
Visual Magic also provides a snapshot of the College of Design's art department's lasting influence on the artists who learned under the tutelage of faculty such as David McCosh and Maude Kerns, as well as alumni Gordon Gilkey, Nelson Sandgren and Constance Fowler; Gilkey and Sandgren went on to be influential teachers at Oregon State University and Fowler left her mark as founding art faculty member at Willamette University.
In the Barker Gallery hangs the art of alumni and faculty such as Bets Cole, Robert Dozono, Cie Goulet, Jon Jay Cruson, Kenneth O'Connell, Robert Gamblin, Hugh Webb, Phyllis Yes, and the late Jan Reaves and Edwin Koch, creating a dynamic visual conversation about the creative legacy of the School of Art + Design's Department of Art. Additionally, current students in the College of Design's Department of the History of Art and Architecture (HAA) helped research and prepare exhibit materials including wall labels and teaching guides.
Visual Magic Events:
Gallery Talk: Landscape & Environment 
2 pm Saturday, March 2
Artists Robert Dozono, Sue-Del McCulloch,
Sandra Roumagoux, and Richard Thompson
discuss how they respond to landscape and
the environment in their work.
Curator's Lecutre: The Oregon Connection
5:30 pm Wednesday, April 3
McCosh Curator Danielle Knapp
discusses the artists in Visual
Magic and their education and
activities in Oregon in the 1960s and '70s.
Gallery Talk: The Human Figure 
2 pm Saturday, May 4
Jeri Hise, George Johanson, Connie
Kiener, and Laura Ross-Paul discuss
their paintings and how they approach
the human figure in their work.  
For Knapp, it is the largest show, as far as number of artists represented, she has ever curated.
Knapp herself is a graduate of the HAA MA in Art History program, where she specialized in Pacific Northwest art. She also attained a graduate certificate in museum studies and has been  a curator at the JSMA for eight years. The concept for the show came to Knapp from Green, an Oregon native, and his wife, fellow painter Jeri Hise, who for three decades, had lived the artist life in Soho, New York.
Over coffee one day a few years back, the now Portland-based pair, along with Oregon painters and alum Terry Melton (MFA, '64) and Susan Trueblood Stuart, thought up the idea for an exhibit of Oregon artists that didn't feature solely Portland artists—the norm for exhibits based on Oregon art, Green explained. They wanted to showcase artists from the Willamette Valley and farther afield, many of whom had national reputations but were not represented in their own state. Green and Hise laid the foundation for the JSMA exhibit through their own Visual Magic series of exhibits organized by the George D. Green Art Institute at three different venues in 2015, 2016, and 2017.
The result, with the culminating show at the JSMA, is "wildly individualistic," Knapp said. "Visual Magic shows how creativity and art knowledge transfer across generations." 
Standing in front of "Lapsed Pruning"—an enormous abstract canvas in peaches, pinks, and blacks painted by Reaves two years before her death—Knapp remembered discussing the exhibition with the artist. How do you represent an artist's work using just one piece, they wondered? The challenge was exciting to both of them.
"For Reaves, we wanted something big that speaks to her vitality, palette, and shapes," Knapp explained.
Knapp cautioned, however, that this show is in no way definitive, but rather an introductory sample of Oregon art. 
"Here, we present the opportunity to enjoy this collection of works one by one, for the singular experience each presents," Knapp wrote in the accompanying Visual Magic book. "And more holistically, as a snapshot of the current status of painting in (and in some cases, beyond) Oregon by artists who have been actively 'moving the needle' for fifty years."