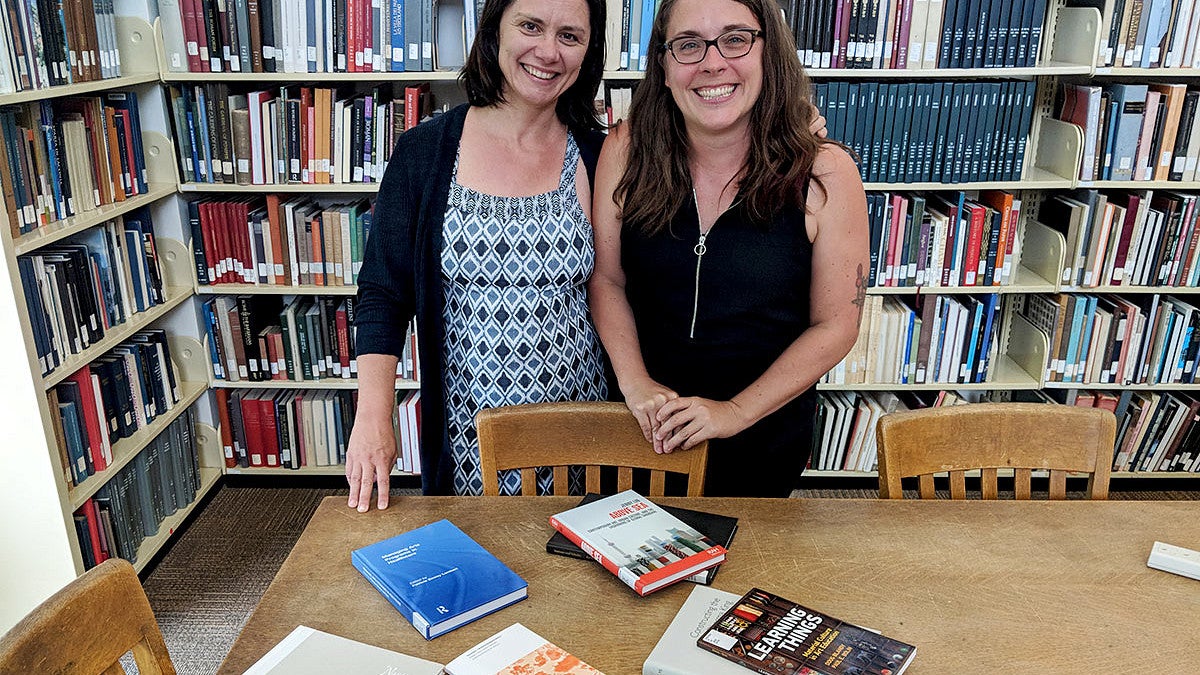 Eleonora Redaelli and Sara DeWaay in the Camilla Leach room at the Design Library
A few years back, when Eleonora Redaelli, an associate professor in the School of Planning, Public Policy and Management, came to the College of Design from the University of Wisconsin-Stevens Point, she loved exploring Lawrence Hall, Hendricks Hall, and beyond.              
Redaelli especially enjoyed browsing the syllabi and class abstracts posted outside classrooms, seeing how faculty work and interests overlapped. She wanted to find a forum for interdisciplinary conversations and a way to showcase faculty scholarship.
In 2016, she approached the Design Library in Lawrence Hall, and connected with Sara DeWaay, the then art and architecture librarian. (DeWaay has since left the University of Oregon to take a librarian position at Clackamas Community College.) 
"Eleonora envisioned this environment where people from all the disciplines within the college could come together and talk about things and really start to draw connections," DeWaay said.
Together the two formed the Books by Design colloquium series. For the series, each term (fall, winter, and spring) a faculty member presents a book they've authored, co-authored, or edited for a lunch-time talk in the Design Library's Camilla Leach room. Presentations run for an hour starting at noon and any College of Design faculty are encouraged to attend.
"I was working on my own book and it gave me insight into the process," Redaelli said. "You learn not only that there are different processes, but once a book is done, it's not really done—where do you get help to talk about it and promote it? In academia, you need to show that your work is having an impact." 
Redaelli and DeWaay say the series has also highlighted for the rest of the university that College of Design faculty author and edit books in addition to making art, buildings, landscapes, and more. 
"There is a perception that creatives don't write books," DeWaay said. "For example, architects don't only build houses and buildings; they also write books."
The series will continue at noon on Wednesday, November 13. Assistant Professor Emily Eliza Scott, who has a joint appointment in the Department of the History of Art and Architecture and the Environmental Studies program, will present Viscosity: Mobilizing Materialities, a book she co-edited, based on her participation with the ongoing collaborative art-research project, World of Matter.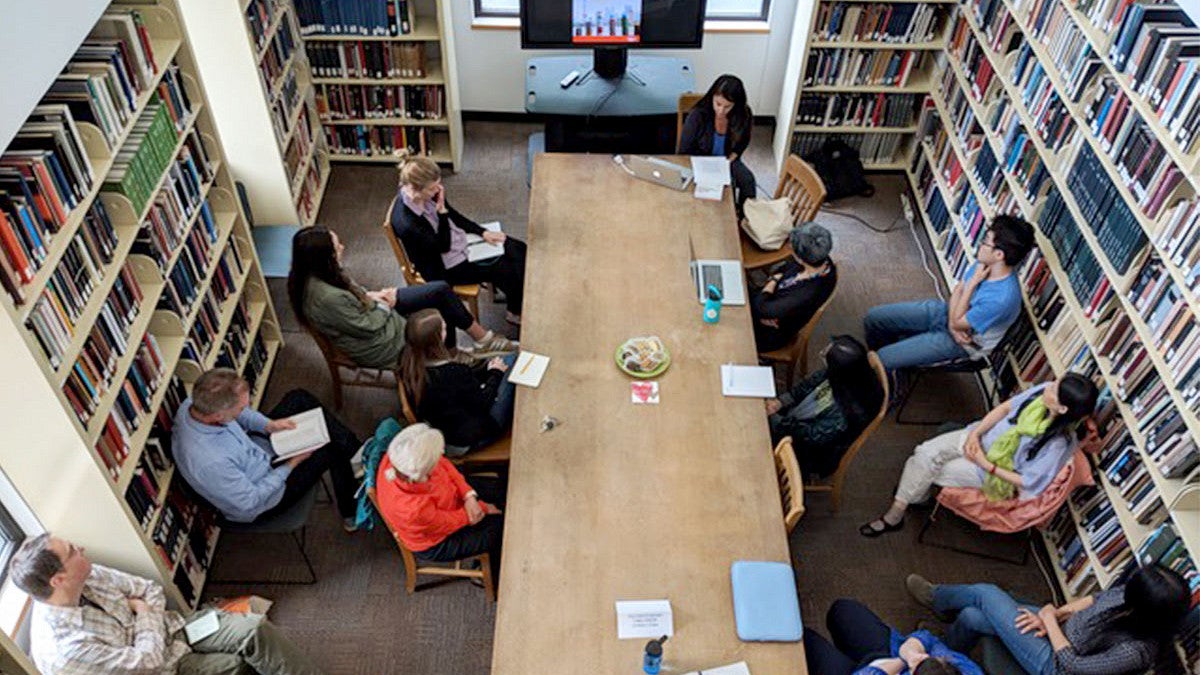 Jenny Lin, former assistant professor in the History of Art and Architecture department (now at the University of Southern California's School of Art and Design), presenting her 2018 book Above Sea
The ongoing book series has had nine presentations thus far including faculty members Akiko Walley (Constructing the Dharma King: The Hōryūji Shaka Triad and the Birth of the Prince Shōtoku Cult, 2015), Patricia Lambert (Managing Arts Programs in Healthcare, 2015), Christoph Lindner (Imagining New York City: Literature, Urbanism, and the Visual Arts, 1890–1940, 2014), Kristen Seaman (Artists and Artistic Production in Ancient Greece, 2017), Ron Jude (Nausea, 2017), Kate Mondloch (A Capsule Aesthetic: Feminist Materialisms in New Media Art, 2018), Doug Blandy (Learning Things: Material Culture in Art Education, 2018), Jenny Young (Making Places for People: 12 Questions Every Designer Should Ask), and Jenny Lin (Above Sea: Contemporary Art, Urban Culture, and the Fashioning of Global Shanghai, 2018).
As Redaelli is currently on sabbatical, UO Director of Branch Libraries Nancy A. Cunningham will host the series this year. College of Design faculty interested in presenting can contact Cunningham at nancyc@uoregon.edu.